Latte designs are a rediscovered hipster art, but they can be geeky too.
So when business was slow at Cafe Madeline in Brooklyn about two weeks ago, barista Marni Cohen turned a latte into a work of art inspired by one of the world's most famous video games.
And we're not talking about any ordinary video game or work of art. Cohen turned the top of the sugary drink into a scene from Super Mario Bros. featuring the plucky plumber, a Koopa, and a power-up box.
"People who haven't seen the latte art I do usually flip out when I give them a cat or a dog or a lizard in their latte, and I usually laugh and say, 'That's where my college degree went' or something cheesy," Marni told the Daily Dot. "Lots of people take pictures, post on their blogs or Facebooks, and tell me that I've got a gift."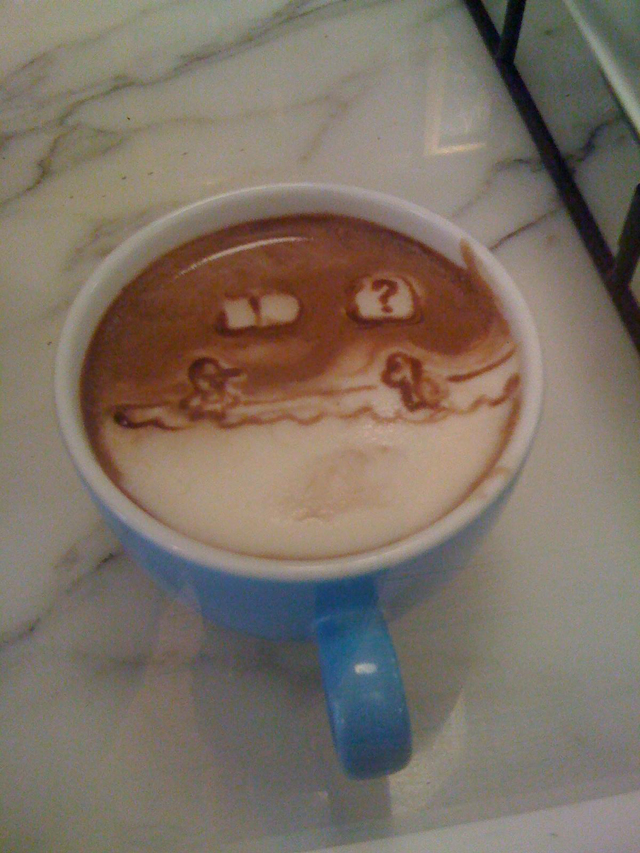 Cohen has been creating latte art for the last three months. She honed her skills back home in Portland, Ore., where she learned to draw hearts and make foam. And after moving to New York she perfected her skills and started a Tumblr to showcase her work.
"For display lattes—fancier and weirder ones—I usually make soy mochas cause the chocolate makes the colors more contrasted. I use a toothpick for all the details. It's like drawing or painting but you have to clean the toothpick between most every stroke," Cohen said. "If a customer orders a latte it probably takes an extra 20 seconds to draw the art which I avoid during rushes so not everyone gets fancy-looking lattes."
Marni posted the photo of the Mario latte on Reddit, where it reached the front page and collected more than 600 comments.
"She knows what mario is AND can make coffee," commented omnicow. "I'd fucking marry her."
Cohen was flattered by all the attention but doesn't plan on getting married anytime soon or working at the cafe forever. She plans on saving up some money and working and applying to some master of fine arts programs in video game design soon.
But in the meantime, she's going to stick with the latte art.
"I'm pretty stoked about being on Reddit," Cohen said. "It feels like I won the Internet."
Photo by Marni Cohen