Vasiliy Lomachenko is arguably the best pound-for-pound fighter in the world. Friday night he'll defend his lightweight titles against spirited underdog Anthony Crolla in an event that marks the first anniversary of ESPN+. You won't want to miss it—and you can watch it for free.
Here's everything you need to know to watch the Lomachenko vs. Crolla live stream.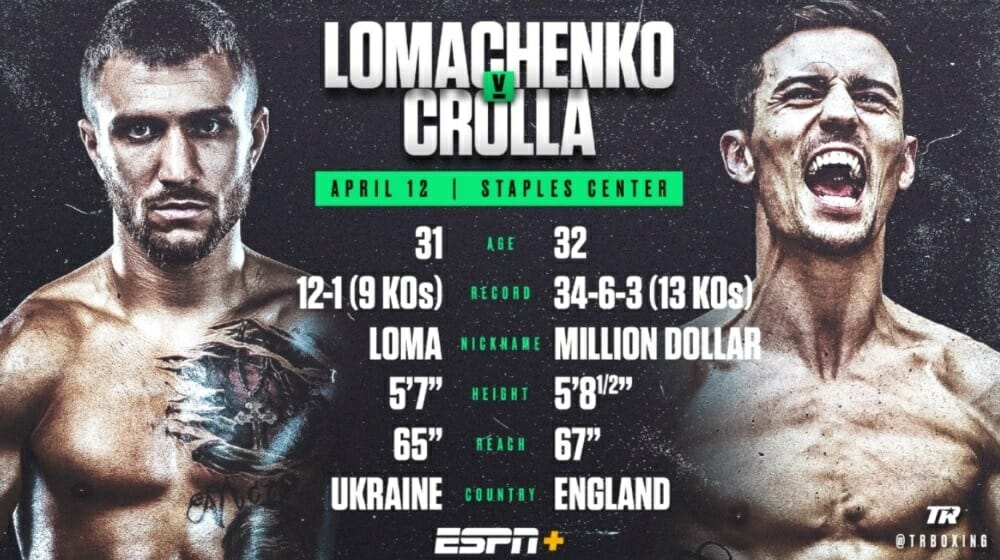 Vasiliy Lomachenko vs. Anthony Crolla
When: Friday, April 12 at 11pm ET
Where: Staples Center in Los Angeles
Streaming: ESPN+ (free with one-week trial)
Lomachenko vs. Crolla live stream: Watch Top Rank Boxing on ESPN+ for free
Sometimes, Lomachenko fights on ESPN. Sometimes, he fights on ESPN+. But that back and forth is a smart move by Top Rank Boxing—which promotes Lomachenko and which has a deal with ESPN through 2025 that calls for dozens of shows per year on the network and on the app. But don't worry: You can try ESPN+ for one week for free.
ESPN+ is the cheapest way to stream boxing on a monthly or annual basis. ESPN+ gives you a free one-week trial, so you can watch Lomachenko vs. Crolla without having to pay a dime (if you've never been a subscriber). After that, subscribers will pay $4.99 per month or $49.99 for the entire year. You're allowed to cancel at any time.
But there's plenty more to love about ESPN+ then just boxing. Basically, ESPN+ is an extension of the main ESPN app, and aside from boxing, it shows other original programming and a variety of live sports that you normally wouldn't see on ESPN broadcasts. The ESPN+ exclusive content is designated by the "E+" logo in the corner of the preview tile. For example, you'll get 20 exclusive UFC Fight Night events per year, 180 NHL games, at least one MLB game every day for the entire season, and a ton of college sports. You'll also be able to watch the entire 30 for 30 catalog on-demand. 
The ESPN+ app is available on Amazon Fire Stick and Fire TV, Google Chromecast, PlayStation 4, Xbox One, Roku, Apple TV, Android TV, and iOS and Android devices.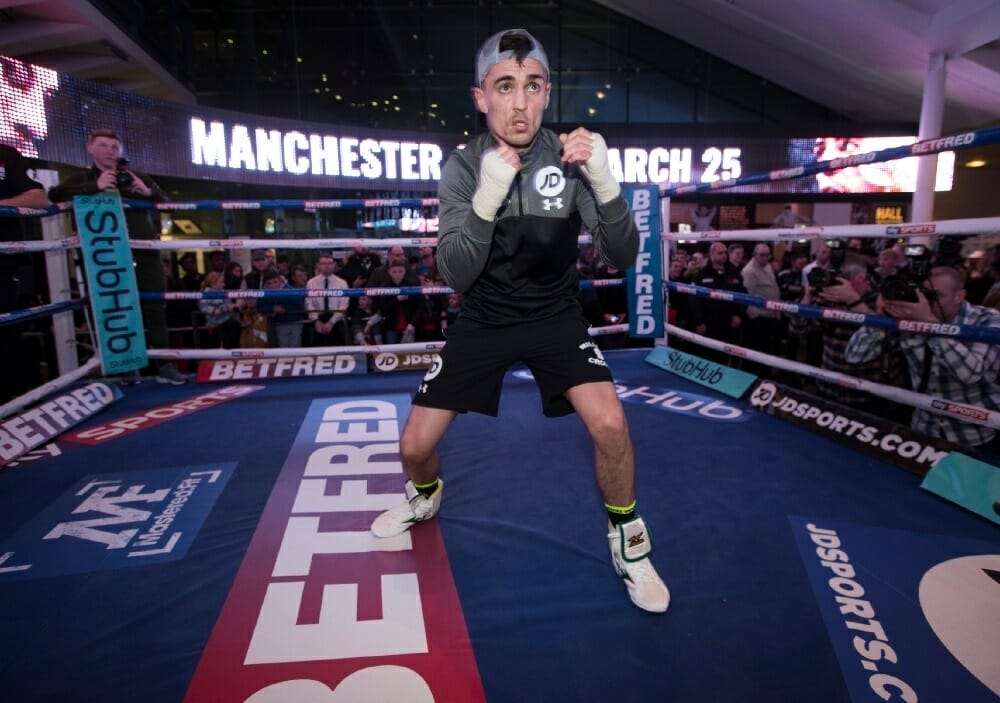 Lomachenko vs. Crolla: Why it matters
After his back-and-forth slugfest with Jorge Linares last May, Vasiliy Lomachenko (12-1, 9 knockouts) beat a relatively unknown opponent in Jose Pedraza, but he hasn't yet compelled the fighters that boxing fans most want to see him face—namley Mikey Garcia and Gervonta Davis—into signing a deal. Another potentially interesting match against fellow 135-pound titlist Richard Commey also fell through after Commey was injured in his last fight. None of that is Lomachenko's fault necessarily, but when he then signed a contract to face Crolla (34-6-3, 13 KOs), it all felt a bit underwhelming. But Crolla is ready to seize the opportunity.
"People will say that I have got nothing to lose," Crolla said, "but I am genuinely going over to L.A. to shock the world."
It would absolutely shocking to the oddsmakers. After all, Lomachenko is a -10000 betting favorite, meaning you'd have to wager $10,000 to win a measly $100.
"I cannot wait for this. These are the fights you are in the sport for," Crolla said. "Preparing for Lomachenko is hard because he's so unorthodox. He's that good that when he does something wrong he gets away with it. You wouldn't teach some of the things that he does. He's so unique in that respect."
Crolla is a solid fighter, but he'll likely be no match for Lomachenko. Crolla lost a pair of fights to Linares, and though he notched a couple of nice wins vs. Darleys Perez (in 2015) and Ricky Burns (in 2017), he's never beaten anybody near the caliber of Lomachenko.
When Lomachenko faced their mutual opponent, Linares, this is what happened.
Lomachenko, of course, has to continue winning to get those big money paydays. Considering that Garcia was smashed by Errol Spence last month at the 147-pound welterweight limit, there's a chance that he could return to the 135-pound division to meet Lomachenko. But Garcia has a terribly contentious relationship with Top Rank, and it seems unlikely a deal between the two could be negotiated. Davis and his promoter, Floyd Mayweather, also haven't shown much interest in moving up in weight to face Lomachenko.
That's why Lomachenko's next steps are unclear. But for now, he's not overlooking Crolla.
"Crolla is my mandatory challenger, and I like that he always comes to fight," Lomachenko said. "He's going to make the most of this opportunity."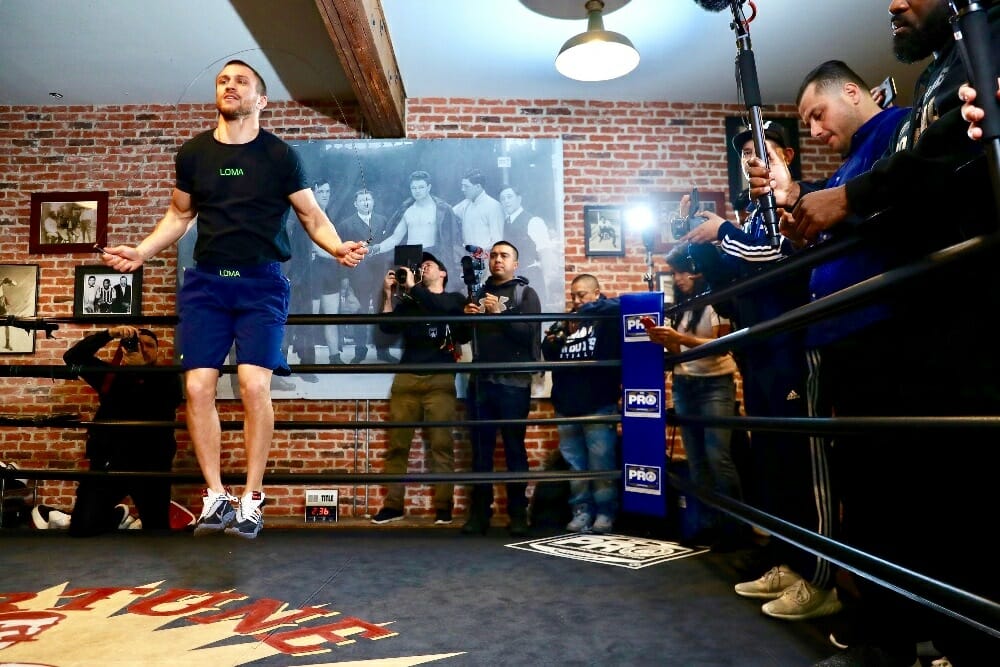 Lomachenko vs. Crolla live stream schedule
Vasiliy Lomachenko vs. Anthony Crolla
Gilberto "Zurdo" Ramirez vs. Tommy Karpency
Mike Alvarado vs. Arnold Barboza Jr.
Alexander Besputin vs. Alfredo Blanco
Janibek Alimkhauly vs. Cristian Olivas
Guido Vianello vs. Lawrence Gabriel
Ruben Rodriguez vs. Ramel Snegur
Christopher Zavala vs. Sergio Antonio Gonzalez
Elvis Rodriguez vs. Kevin Alofonso Luna
For a year-round sports fix, sign up here to receive our weekly boxing newsletter. You'll hear about all the biggest fights and best knockouts from the Daily Dot's streaming sports guru Josh Katzowitz.