Lizzo's performance at the VMAs had a lot of people riding the high all week, but accusations that she stole one of her most-quoted lines from a two-year-old tweet are resurfacing.
The opening line of Lizzo's 2017 single "Truth Hurts"—"I just took a DNA test, turns out I'm 100 percent that bitch"—became a TikTok meme earlier this year and is now a trending Twitter meme. But singer MinaLioness has held up her tweet from February 2017 as evidence that Lizzo lifted the line. The tweet reads, "I did a DNA test and found out I'm 100% that bitch."
Earlier this month, MinaLioness explained that the tweet was inspired by Demi Lovato's tweet about taking a DNA test and finding out she's "1% African."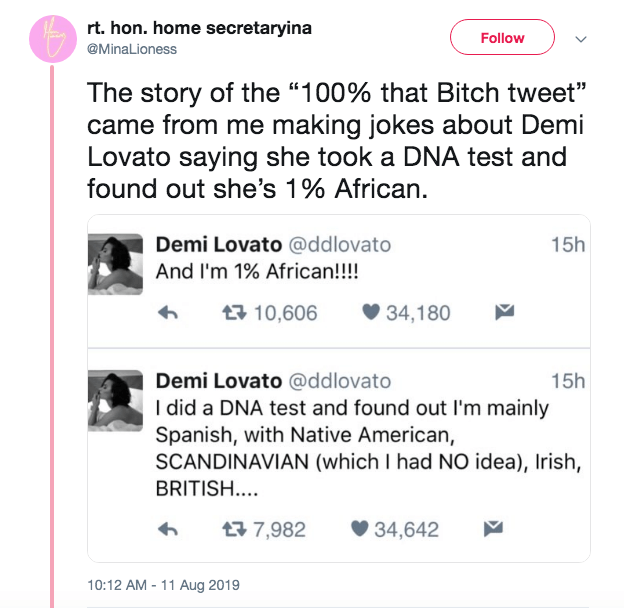 As the #JustTookADNATest hashtag circulated on Twitter, more people called out the alleged theft.
There was a stealer, a swindler, a crook & a lifter. A cheat, a thief, burglar & style taker. https://t.co/3c7nVgORyX

— Jam (@lifeofjam_) August 28, 2019
Accusations of theft have been leveled at Lizzo before: In February 2018, MinaLioness' tweet was directed at the singer on Twitter, and she defended herself, saying she'd "never seen this before in my life." But, she added, "there's 10 BILLION ppl on the planet. The odds of multiple people having the same idea are VERY high."
Lizzo and MinaLioness also interacted in the comments of that tweet, and Lizzo wrote: "Truth Hurts was written in June fyi— someone made a meme on IG that said 'I'm 100% that bitch' and we were inspired, I give that meme credit when I talk about making the song. I've never seen ur viral tweet but I'm glad it exists."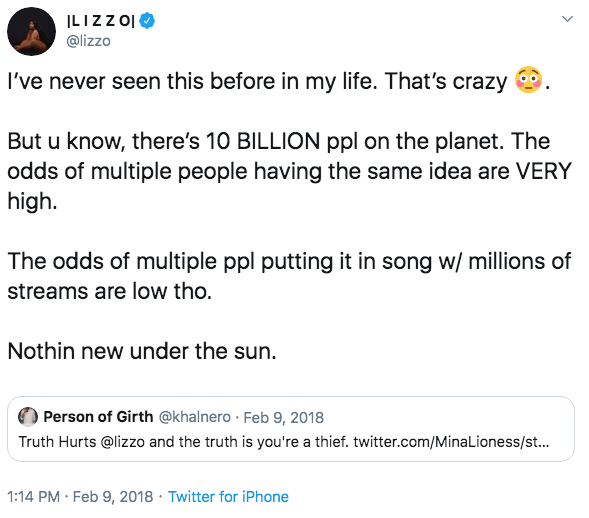 The theft issue was brought up again in June, when Lizzo reportedly filed a trademark for "100% That Bitch," to be used for merch. On Wednesday, MinaLioness tweeted about the whole situation: "What I cannot get over is how brazen Lizzo and her team have been in ignoring my whole presence. They're doing it because they know I have no capital to address her."
If she thought I had the autonomy to truly challenge her and assert my rights.. She would have been given me my writers credit. She could of rode this tweet till the wheels fell off. I would have supported through and through as long as I was credited.

— mina (@MinaLioness) August 28, 2019
The song, released in September 2017, got a bump this year after being featured in the Netflix movie Someone Great, and hit No. 1 on the Rolling Stone Top 100 this week.
We've reached out to MinaLioness and Lizzo for comment.
READ MORE: