"@horse_ebooks, is that you?" asked writer Kate Spencer, after famously scandalous celebrity Lindsay Lohan tweeted, unintelligibly: "i will choose your by your HONESTY and situations." She isn't the first to notice Lohan's strange tweeting habits: a curious mix of sponsored #ads, fan RTs, hanging modifiers, and (lately) a rush of tweets targeting Tom Cruise, Vanity Fair and President Obama.
Although her recent tweets have given everyone's favorite cryptic spam account a run for its money, longtime Lohan fans know that the actress's Twitter work has been eccentric for quite some time.
With over 4 million followers and plenty of rumors to shut down, Lohan loves to use her platform to deny a plethora of accusations. Back in June when it was reported that paramedics rushed to her abode, she used Twitter to tweet a "Note to self" where she indeed noted (to herself and everyone else) that she was in fact passed out "from exhaustion."
The November before that she used Twitter to apologize for missing court mandated morgue duty. After her nail art read F-U-C-K-U in court, she addressed that by tweeting Article 5 of the U.N. Universal Declaration of Human Rights. Back in 2009, when her Twitter name was @sevinnyne (a misspelled nod to her clothing line), she tweeted a stream of late night angry rambles that was picked up by Gawker.
But it seems that as the actress' public dramas continue, so do her wacky tweets. Most recently, while she was live tweeting both the MTV Video Music Awards ("I am so glad that @chrisbrown won at the VMAS") and the Democratic National Convention, she addressed President @BarackObama directly, tweeting about taxes: "we also need to cut them for those listed on Forbes as "millionaires" if they are not, you must consider that as well."
Even though it's now deleted from her timeline, the actress' plea to the President didn't go unnoticed. Neither did a seemingly random tweet directly at Scientologist Tom Cruise: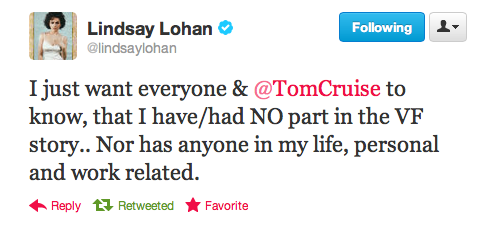 It's just like @Horse_elinds to knowingly take a stab at something topical.
But then again, it's the most random tweets that are the most charming: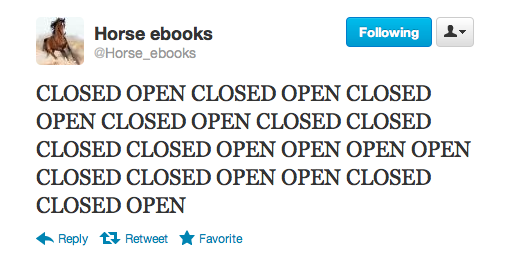 Unlike @horse_ebooks, though, Lindsay will tweet back.
Your solution?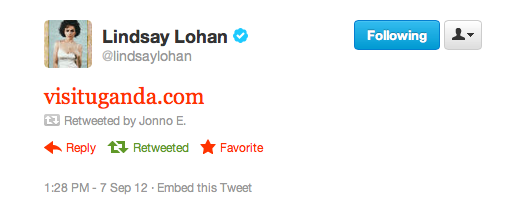 Photo via LindsayLohan/Twitter