They say a picture's worth a thousand words. In some cases, a picture can be worth another shot.
In March, the great soul singer Lester Chambers posted a photo to Facebook that showed him holding up a gold record and a personal note that spoke to his plight. Chambers had been worked over by Columbia Records during his heyday, a 10-year era that included the making of such hits as "Time Has Come Today," "Love, Peace and Happiness," and a remake of Otis Redding's "I Can't Turn You Loose."  He never saw a penny in royalties from 10 of the 17 albums that the Chambers Brothers released.
For the past few years, he'd spent his time moving around and sleeping on friends floors. He watched "Time Has Come Today," his biggest song, celebrate a second life and only made $62.50 in return. Every day, he hoped and prayed and maintained the faith that he'd one day get the opportunity to record another album.
And then, in March 2012, Chambers' wife and son decided to use the family's online presence to cast light on Lester's struggle.
"It was during the Occupy Movement, and we had both worked on an album that was about all the 99 percent," Chambers' son Dylan told the Daily Dot. "My mom and I wanted to put something out and let people see a few of the things that happened throughout his career.
The three posted the note to Chambers' Facebook page on March 5.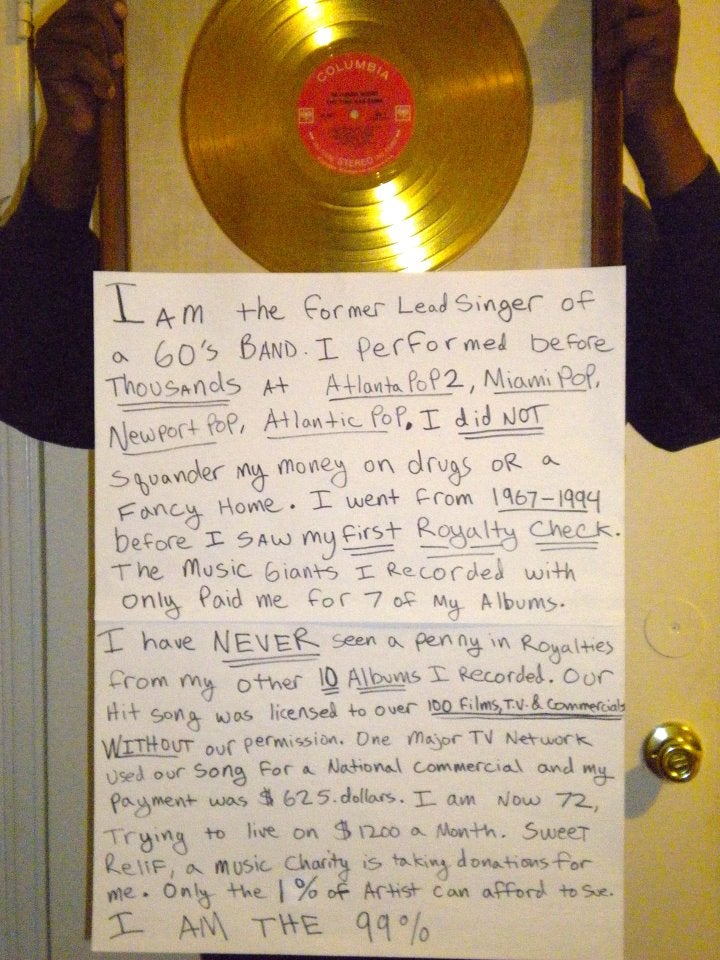 "Help me make this post viral," Chambers, 72, wrote at the bottom of the note. "Time has come to tell the truth."
Chambers was right.
The public responded, sharing the photo more than 4,000 times and helping it migrate over to the social news site Reddit, where it appeared on the massive community's homepage. Within 24 hours, Rob Max of the Sweet Relief Musicians Fund had taken notice and sent Lester Chambers a $10,000 donation. Chambers could get himself back into a home. He could get finally get himself much needed medical attention for some longstanding ailments.
The photo's placement also meant that it came before the eyes of Reddit cofounder and patron saint of goodwill Alexis Ohanian, who was moved so much that he picked up his phone and decided to help.
"The phone call that I got from Alexis, that was such a great thing," Lester Chambers said from his home in California. "I did not expect to happen, and yet there he was, expressing his opinions about how he wanted to do all that he could to make things better for me.
"The fact that anybody cared… I was in that mode of thinking that nobody cared. That was the feeling that I had."
That day, Ohanian told Chambers that he wanted to help him record an album on his own label, one that would allow him to keep the profits he'd make on its release. He called again a few hours later to request permission to visit the family in California.
"I come from a very spiritual background," Chambers said of the offer to help. "I met God years and years ago.
"You can see it in the eyes of a person, what they mean, what they intend to say, and what they want. Alexis has an aura that I could see. I could feel it. I'm getting goosebumps just now thinking about how earnest he was when he came to me with his intentions. It didn't sink in for quite a few hours."
The two put together plans for a Kickstarter crowdfunding campaign that would help raise $39,000 to help fund the recording of Lester's Time Has Come Today, the long-awaited followup to the Chambers Brothers' celebrated recordings. In the pitch, Ohanian included a tl;dr that summed up the full extent of the effort:
"Record companies screwed over Lester Chambers of The Chambers Brothers for decades and as a result, today he's poor. My social enterprise, bread pig, is working with Lester and his son Dylan to organize this Kickstarter to back a new album by (and entirely owned by) Lester Chambers himself so the man can finally get his due. The open internet can make right what the music industry has done so wrong."
The album couldn't be coming at a better time. As Dylan Chambers noted, there's a serious resurgence of folk, blues, and soul taking place across the American music landscape. Brooklyn's Daptone Records has brought retro soul back into the forefront of young, social culture. Austin's Heavy Light Records helped unearth lost 1970s gems by The Relatives and Kool & Together. In 2012, an Alabama howler named Ralph "Soul" Jackson reintroduced the world to The Ides of March's "Vehicle."
"You can see it coming back," Dylan said. "What better thing to have one of the pioneers of soul and someone who's in the West Coast Blues Hall of Fame be a part of that resurgence?"
Here's hoping he'll get there. Less than two days into its campaign, "Lester's Time Has Come Today" has already raised more than $2,000, with 29 days left to go. Ohanian's hope to right what the music industry has done so wrong might just work.
He's got a believer in his friend Lester Chambers.
"I think sites like Kickstarter and Reddit provide the opportunity that every independent musician is waiting to have," he said. "I see those sites as a great source of energy for people like me that are in need of things like medical attention. You can see what it's done for me. It's the greatest blessing."
Photo via Lester Chambers/Facebook