Warning: This story contains a graphic photo.
NFL star LeSean McCoy on Tuesday was accused of domestic violence toward a woman he is romantically involved with, as well as hitting his dog so hard that it died, hitting his children, and taking illegal steroids. The story began via a graphic Instagram post shared by user @miamor_i_adore, who says she knows the alleged victim, Delicia Cordon.
The accuser, Mia, said on Instagram that there is a full police report, in response to a commenter.
McCoy vehemently denied the story.
"I have not had any direct contact with any of the people involved in months," he wrote on Instagram.
The Instagram post contains grim descriptions that don't pull punches.
We didn't say anything about how you beat your dog "Henny" into kidney failure. Let's not talk about all the times my best friend had to stop you from VICIOUSLY beating your son for small things like peeing in the bed. We kept quiet about your drug usage … all the ILLEGAL steroids and needles you were using, but we will not keep quiet about this!!!!!!"

I can't believe you did this to my best friend!!!!! YOUR KARMA IS GOING TO BE SO REAL!!!!!! The world needs to know what type of animal you really are!!!!!!! This was just her yesterday on the left and now this morning this is her on the right!!! ! #WomanBeater #AnimalAbuser #ChildAbuser @nfl @tmz_tv @buffalobills.
The identity of the injured woman is not known. It does appears to be Cordon, but the photo's authenticity has yet to be confirmed.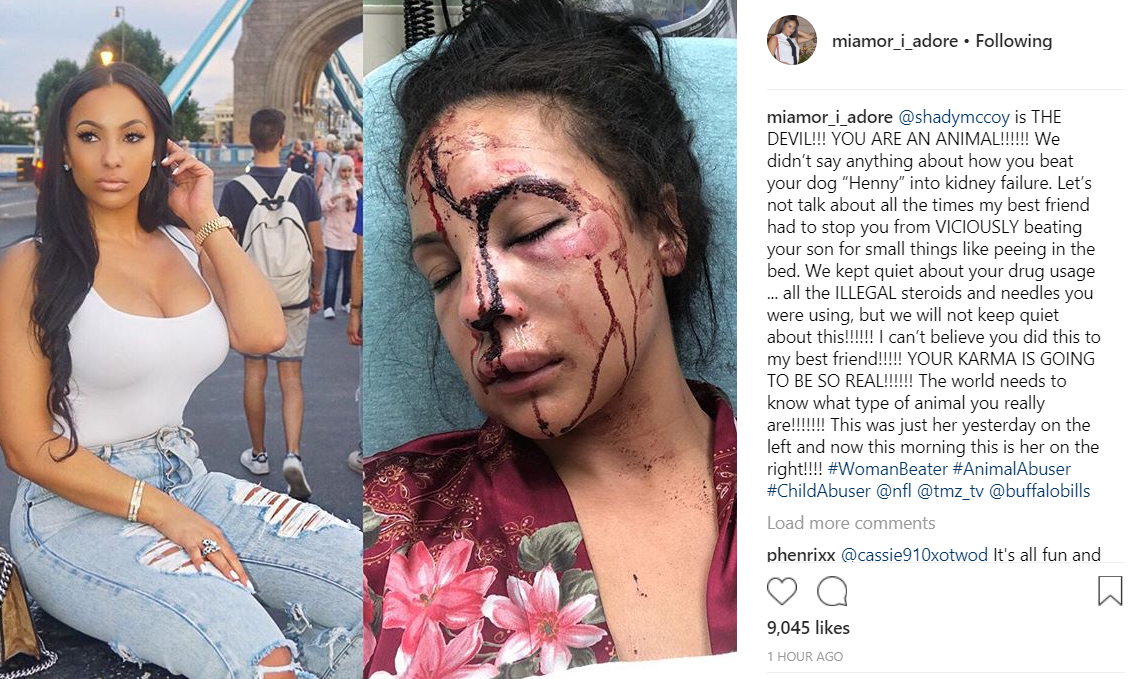 Mia, Cordon, and McCoy did not respond to a request for comment.
It's unclear if Mia and Cordon are actually friends, though Cordon follows Mia on Instagram.
According to TMZ, emergency medical workers arrived at Cordon's block on Monday morning, when Cordon's friend said the incident occurred, though no other details are known. TMZ also learned that McCoy sued Cordon in an effort to kick her out of his house months ago.