Once "the proverbial family table" is set, everyone comes to "feast," and the meal in question is the music of Leonard Cohen. So says Cohen's road manager Joseph Carenza III, who has presided over Notes from the Road since July 2010, chronicling the travels of Cohen and company with photograph after photograph.
In the new year, Carenza wants to take that Tumblr to another level. He says that while actually on tour, there was "no way I could honor people's time and attention," given all the things he had to do. Now that he has a bit more free time and a slightly more fleshed-out crew, he's trying to think of ways to reach "outward."
I had wanted to interview Carenza and he had wanted to hear from me about different ways to use the Tumblr, so our conversation tilted back and forth between interviewee and subject. 

One model I brought up was the comparison between Barack Obama and the New York Times; I noted that the Times has taken a very cautious approach, setting up their slim main Tumblr, something for SXSW, T magazine, and the modest but delightful Lively Morgue. Obama, by contrast, went all in.
Other than Obama, Carenza can't think of a Tumblr set up to represent one person with a cross-cultural appeal in any way similar to Leonard. "They don't need Tumblr," he says. "It gives you freedom because of that."
Carenza comes from a family of soccer players. His father was a member of the US Olympic Team, playing and scoring repeatedly in Munich in 1972. His grandfather is a member of the National Soccer Hall of Fame. Carenza played soccer in college, but he dropped out in his junior year to tour with punk and ska bands. A career followed.
"The idea of the Old Ideas Tour was—originally—to follow the sun," Carenza says. Cohen and company would go through the southern hemisphere when it was winter in the northern, returning to the northern hemisphere when things turned cold down south. But the tour turned out "the complete opposite," including playing in Europe in the late fall and freezing accordingly.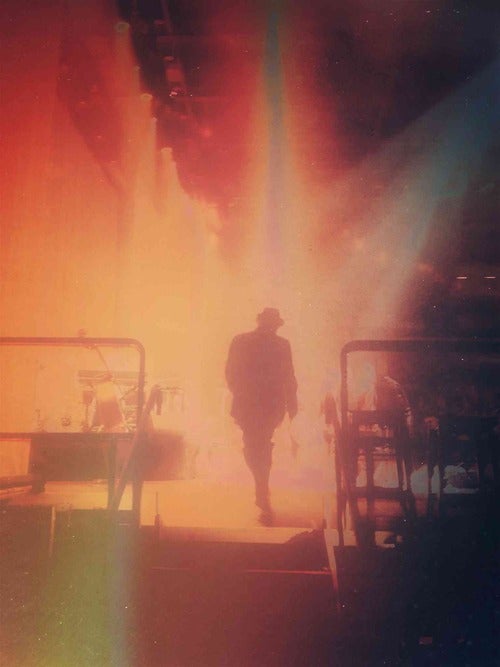 Carenza is trying to think of ways to empower local creatives on Tumblr in cities they're already set to see—Paris, London, Oberhausen, Lucca, Manheim, Hamburg, Berlin, Odense—but he hasn't settled on anything yet, though the idea of offering up a pair of tickets "and the chance to hang out backstage and eat chips" was floated. He mentioned the idea of everyone in the audience taking a photograph at the same point during a certain point in "Hallelujah" and posting the results. He thought of posting a podcast and talking with crew members and people from the band as they milled about, readying the figurative silverware for the literal show.
If people hold up their phones or flipcams and record this song or that, Carenza doesn't mind. Not only does refusing to confiscate phones decrease the annoyance factor of a concert a thousandfold, and not only does it serve as a form of advertising in its own regard, but "the show is better than the video, which is normally not the case. Come see the show. It'll make that look like styrofoam." Leonard "still wants to play four hours a night," he says, "but there's nothing we can do about that."
Leonard Cohen and friends return to the stage in Paris on June 18.
By Evan Fleischer // Photos via Notes from the Road