The YouTube livestreamer who filmed himself getting into a massive car accident with a semi-truck is ready to turn his camera back on.
YouTuber lameduckg, whose real name is David Slavitt, was livestreaming himself driving in Llano, California, late last week when he collided with a tractor-trailer, which could be seen reflected in his glasses moments before the accident. He screamed "Oh, God!" just before the sounds of the crash could be heard and the stream went dead.
https://www.youtube.com/watch?v=6agDF4HRa7I
Slavitt, who has nearly 2,000 YouTube subscribers, was feared to be dead in the immediate aftermath, but he was airlifted to Antelope Valley Hospital. Late Saturday night, he posted a photo of himself laying in his hospital bed to the Discord social media app. The caption reads: "I'm still alive guys."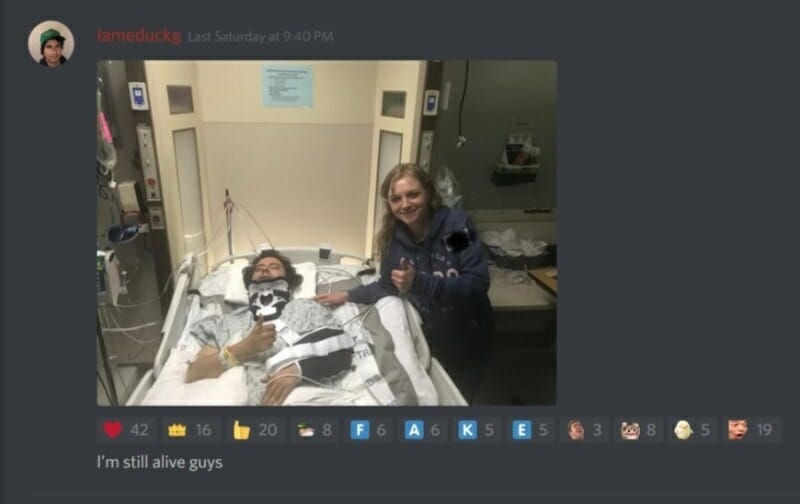 He sent messages on Discord saying that he was still in the intensive care unit but that he was "OK." He wrote that he was "in a lot of pain," especially in his back.
"It's not broken but I fractured some things and my left shoulder blade is broken among some other injuries," Slavitt wrote. "Maybe I will stream in the hospital later on I just don't wanna get kicked out right now."
Slavitt posts IRL livestreams of himself participating in everyday life, including walking on the streets of Los Angeles and watching motivational videos. He's also been criticized since his accident for putting his life—and the life of everybody else on the road—in danger by recording himself and reading YouTube comments off his phone while driving.
"It's a really hard reminder that we need to look at ourselves and see what we need to change as drivers," California Highway Patrol Officer Siara Luna told CBS2 News. "We need to kind of take a step back and really make sure that we are in complete control when we're driving because you don't wanna have to look back and say, 'I wish I would have just put my phone away.'"
Though some in the Discord community have called for Slavitt to stream from his hospital bed, he said, "I have not streamed from the hospital bed because I've been getting way too many random callers as it is. I had to disconnect my phone in my room."
Still, Slavitt said he's looking forward to returning to livestreaming his daily life.
"Thank you all for the kind words and support right now," he wrote. "I'm just trying to heal and get better so I can leave the hospital."