Over the span of a few hours Monday evening, several members of the Kardashian family shared their intense love for and devotion to Vine-ish video-sharing app Keek.
Kim Kardashian, Kris Jenner, Kendall Jenner, Kourtney babydaddy Scott Disick, and others were all blabbing about it. They urged their Twitter and Instagram followers to sign up (if they hadn't done so) and follow the family members there as well.
The family's endorsement seems to be helping. Keek is expanding quickly. In January, it was adding 200,000 new users a day.
And the Kardashan Klan won't let up. Why Keek? Why not the (much buzzier) Vine? Why not YouTube? Gawker's Nitasha Tiku was curious. Now we're curious. Maybe we can figure it out. We have a few theories.
1) They're in it for the money
Seems obvious, right? It's entirely possible that Keek has a financial relationship with the Kardashians. That they all talked about Keek within a few hours is indicative of an organized promotional push.
There's precedent. The Kardashians have, in the past, profited from advertising with tweets. Furthermore, Kim Kardashian has been quoted in Keek's press releases. There's certainly some kind of relationship between the two parties. That it is a financial one is a prudent bet.
Keek did not respond to a request for comment.
However, if it transpires the Kardashians were paid to push Keek to their millions of fans, they might be in hot water. Recent FEC rule changes mean that celebrities need to be clear and transparent when their posts are paid advertisements.
2) They timed the promotion to bring more attention to the E! upfronts
Valleywag pointed out the Kardashians tweeted and Instagrammed about Keek right as E! held an event to reveal its programming slate. The E! network, naturally, is where the plethora of Kardashian reality shows air. None of the new shows mentioned the Kardashians, though the family was at the event to present the slate to media. Kris Jenner shared a "keek," as it's called, from the red carpet.
3) They want their accounts verified
I know, they're just like us, right? Kim, Kris, and Kendall, at least, all had their Keek accounts verified before this week. The Instagrams and tweeted photos of their Keek accounts show the blue-check verified badges.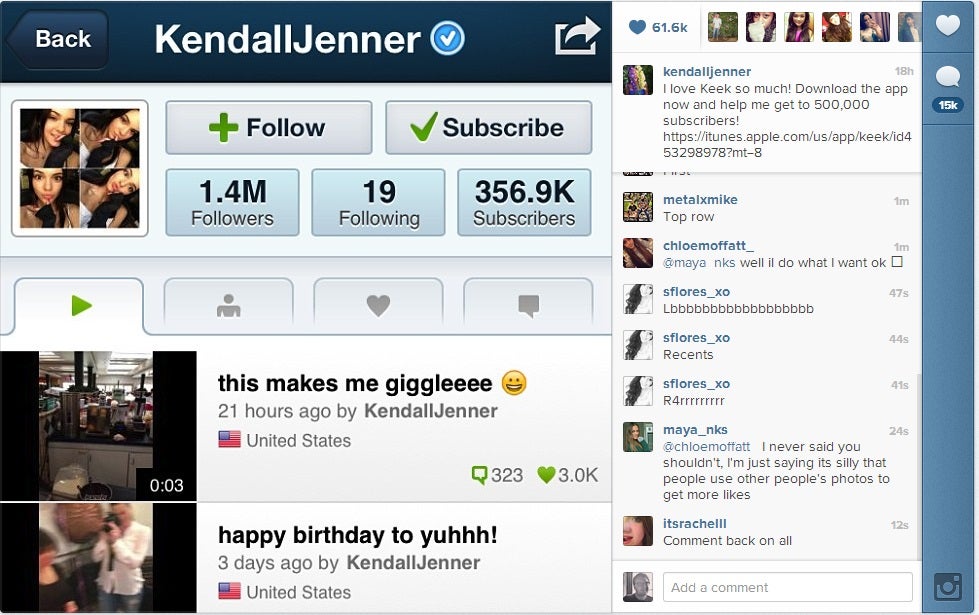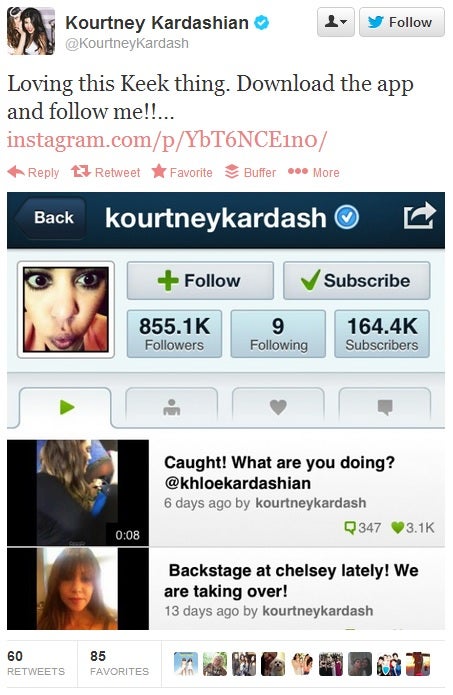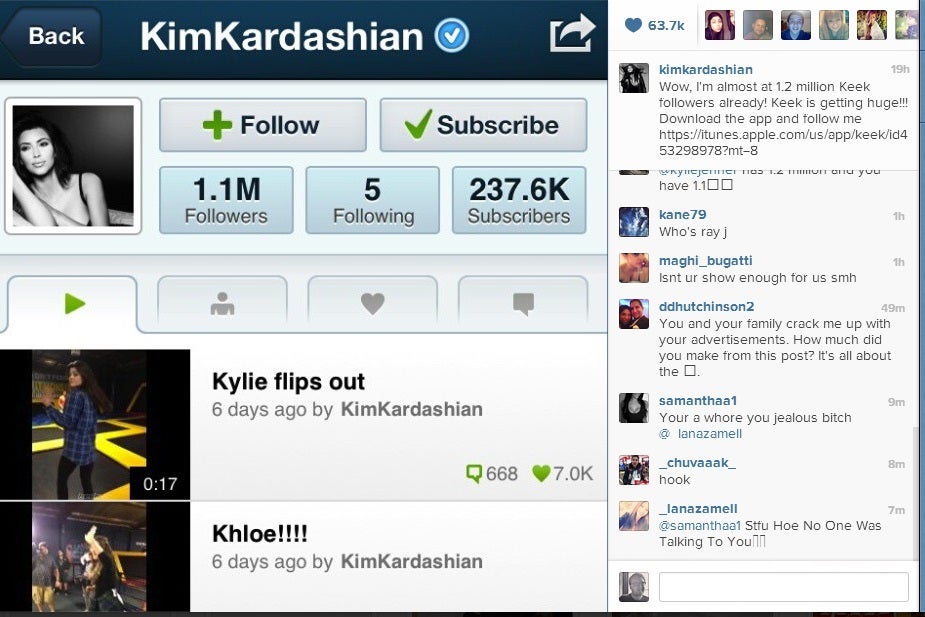 If you want your Keek account verified, you'll need to give Keek some free promotion by tweeting a link to the app.
4) They're Keek OGs
The Kardashians have been on Keek longer than Vine has been around. They're Keek hipsters. They were sharing video snippets before it was cool. Keek has been around since late 2011. Vine only came to the fore in January.
Kylie Jenner has posted almost 400 videos over the last 10 months, grabbing 1.3 million followers in the process. Kim's been on Keek for four months, and has almost 1.2 million followers. Kris Jenner's racked up almost half a million followers in the last five months.
Regardless of any relationship the family members might have with Keek, it stands to reason that they'd want to hang around on a platform they've invested time and effort into, instead of switching to a hot new video-sharing community and starting from scratch.
5) They're looking for more attention than Vine can give
Vines are limited to six seconds. Keek videos can last as long as 36.
We're not saying the Kardashians demand six times as much attention as Vine users. Just an observation.
Photo by Eva Rinaldi Photography/Flickr