Katy Perry has been on a roll with cultural appropriation lately. After dressing in "geisha drag" at last fall's American Music Awards and angering members of the Asian community, Perry has apparently offended the Muslim community with her new video for "Dark Horse," which debuted last week and has nearly 30 million views.
A petition is now circulating, asking for the video to be removed from YouTube. The reason? A scene in which a man wearing a pendant including the word "Allah" is burned and turned into a pile of sand by Perry, who is dressed as… Cleopatra? Maybe? The petition explains:
Such goes to show, that blasphemy is clearly conveyed in the video, since Katy Perry (who appears to be representing an opposition of God) engulfs the believer and the word God in flames. This is the reason for lodging the petition so that people from different walks of life, different religions and from different parts of the world, agree that the video promotes blasphemy, using the name of God in an irrelevant and distasteful manner would be considered inappropriate by any religion.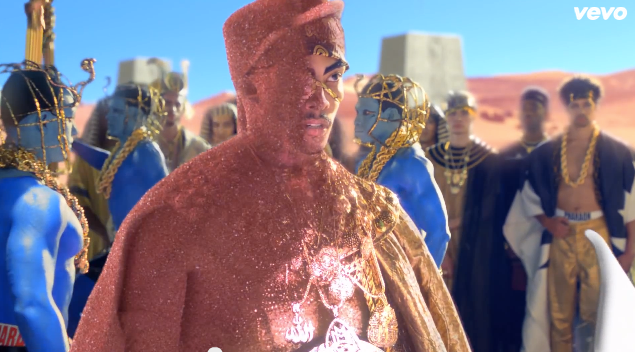 The video begins, we are told, in Memphis, Egypt, "a crazy long time ago," so it's already historically accurate. After turning the man into a pile of sand, she's offered platters of two Egyptian delicacies: Flamin' Hot Cheetos and Twinkies.
Juicy J then pops out of a sarcophagus to rap and grind with Perry, who is now pole-dancing.
In addition to being offensive to Muslims, the video is basically offensive to anyone with eyes and taste. It's a flamin' hot mess of empty, cartoonish cultural signifiers, and sort of mirrors Perry's performance of the song on the Grammys, which relgious groups thought was satanic. The petition has more than 30,000 signatures, and many commenters agree the video is blasphemous and disrespectful. Of course, trolls infiltrated the comments section as well, showing the usual eloquence and thoughtfulness:
Stop over reacting with your religion crap. Go live in the fucking desert if you can't handle either critisism or some lame video clip. For fuck sake so sick and tired or all these reli freaks from every religion. GET A FUCKING TISSUE AND STOP CRYING!
Perry has not made an official statement on the matter.
Screengrab via KatyPerryVEVO/YouTube