Tech

Tech

The gadgets, platforms, and software that make your digital life possible. If it bleeps, clicks or blinks, you'll find it here.

Internet Culture

Internet Culture

There's a community for everyone online.

Streaming

Streaming

News, reviews, and guides for the world of online entertainment.
Everything you wanted to know about the 23-minute Juggalo infomercial but were afraid to ask
Spoiler alert: comedy, wrestling, barbecue, and cats.
What happens when something is so often parodied that the parodies become more popular than the thing itself and then that thing begins to resemble the parodies?
That, my friends, is The Gathering of the Juggalos. "RIP Ass Dan" a YouTube commenter writes—referring to the SNL parody of The Gathering—a bit that was so well-received that it inspired a parody of Insane Clown Posse's inspiring music video, "Miracle," which created its own mega meme.
Take one part small town car dealership and add a dash of Monster Truck Rally and a tablespoon of face paint, and you've got this 23-minute infomercial—which cycles from Juggalo character to Juggalette character, who all gleefully list The Gathering's exciting offerings.

The promo's premise is actually quite endearing. "In the year 2012, the world as we know it has been taking over by mindless zombies." Those zombies? Our mainstream popular culture. Juggalos and Juggalettes are here to fight back. But along with harsh words of anti-establishment comes the welcoming encouragement of family. "BE YOURSELF!" the screen flashes, as Corporal Robinson shoots off-screen zombies and ushers those who may feel like outcasts in their own towns to gather in the woods of Cave-In-Rock, Ill.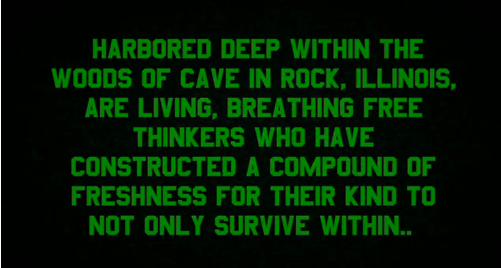 This year's Gathering is apparently bigger than ever—featuring everyone from Psychopathic Records' Blaze Ya Dead Homie to "Make 'Em Say Uhh!'s" Master P, not to mention the some of the biggest names in comedy (Jamie Kennedy) and wrestling (Shockwave the Robot), as well as a barbecue starring "the world's best Michael Jackson Tribute band, "Who's Bad."


Amazingly, this video manages to serve both as an amusing parody for those of us who never planned on attending and an exciting preview for the Juggalos who do. It sets out to serve every purpose and succeeds, as even one of the infomercial's last frames not-so-subtly hints at a self-referential humor meant to spread throughout the Internet:
Photos via YouTube
Lindsey Weber is a writer and editor who's worked for Flipboard, Mel Magazine, Slate, Eater, Wirecutter, Billboard, and more. She currently hosts a VR talk show called Conundrums.
© The Daily Dot, all rights reserved.
Represented by Complex Media, Inc. for advertising sales.