The fledgling Brooklyn Nets strolled out of Madison Square Garden Monday with a big win in their pocket.
Nets forward Kris Humphrieswas quick to brag about the victory over the New York Knicks. It was the team's second in four games against their city rivals.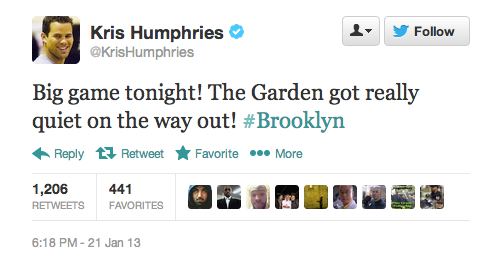 But Knicks shooting guard J.R. Smith didn't take kindly to Humphries's soft shot.
Smith, who missed a chance to tie the game at the buzzer, didn't appreciate that comment, retweeting Smith's comment with a jibe about Humphries's soon-to-be ex-wife, Kim Kardashian, and her new squeeze, Kanye West.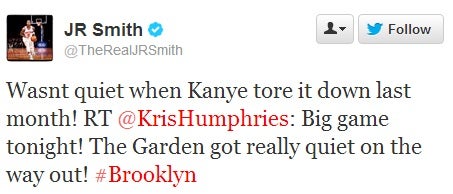 Just a reminder: Kris Humphries was famously married to Kardashian for 72 days before separating. Still legally wed, Kim is now pregnant with Kanye's baby. Kanye's best friend, Jay-Z, is a part-owner of the Nets. Awkward.
Humphries appears to have taken refuge away from the harsh winds of Twitter and Smith's biting bodyblow. He hasn't tweeted since. Who's silent now, Kris? 
Smith, no stranger to Twitter drama, is surely basking in the glory. His riposte netted more than 53,000 retweets. Until the titans of New York meet once more on the hardwood, Smith will wait patiently in the night, ready to pounce on other rivals who dare to trash-talk.
Via Kevin Lincoln/BuzzFeed. Photo by Page31TV/YouTube