If anyone knows the nuances of the fine art of emoting, it's Jon Hamm. After all, he is the man responsible for the pitch-perfect SNL spoof of the Auto-Tune cry heard round the world. 
Hamm stopped by Sesame Street to lend his emotive expertise to a very confused Murray, consternated by some new emotions. The twosome tackled guilt, frustration, and amazement, elevating all of our emotional maturity in the process. 
The takeaway? More than just a deeper understanding of that thumping muscle called a heart, but a whole slew of Hamm-tastic mugs that should be printed on emotion flash cards so future generations can learn from his facial brilliance.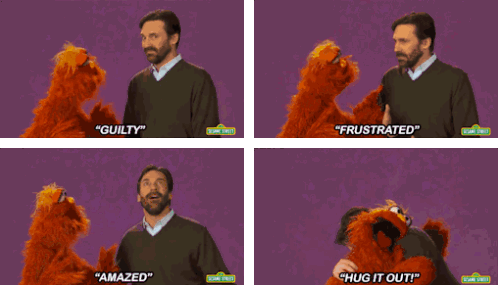 But that's not all. If your tot needs a crash course in the emotional subtext of Entourage, Hamm has you covered with a "Hug it out!" moment that would make Ari Gold blush. 
GIF via TraciGlee/Tumblr | H/T HyperVocal