Celebrities: They're just like us. They do their laundry. They go grocery shopping. And they're really, really awkward when they try to pick up ladies.
Mad Men star and sentient Disney prince cartoon Jon Hamm proved this back in 1996, with his ill-fated appearance on the short-lived dating show The Big Date.
In the clip, a 20-something year old Hamm, identified as a "waiter" (look at that bowl cut! Mein Gott!), is trying to woo Mary, a lovely lady with a fondness for lavender eye makeup, foot rubs, and totally unnecessary scarves.
When host Mark L. Wahlberg (of Temptation Island fame!) asks Hamm what their ideal first date would be, he says he'd "start off with some fabulous food, a little fabulous conversation, and a fabulous foot massage for an evening of fabulosity."
Mary's response to that creeptastic come-on is priceless: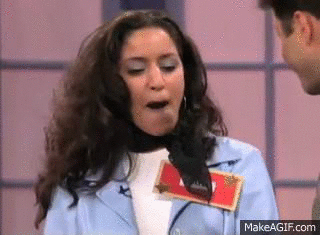 Here's the full vid, if you wanna get your daily dose of cringe this morning.
H/T Buzzfeed | Screengrab via Lighthearted Entertainment/YouTube