While most of the civilized world was glued to its computers Wednesday to watch Apple's iPhone 5 announcement, artist JK Keller was busy sliding his greasy little finger around the screen of his iPhone 4S.
No, he wasn't bored or trying to clean the blemishes off his screen.
Using his finger as a paintbrush, Keller, 36, turned the grease from his face into fun works of iPhone art.
"I think people are drawn to it at this moment because there's a current thread of uneasy tension that we all have with our technology," Keller told the Daily Dot. "People are very interested in these places where beauty and repulsion are at odds with each other in very relatable ways."
Keller admits that creating greasy works of art on screens is nothing new. Anyone who has an iPhone, mobile device with a large screen, or has ever played with a Gameboy has turned a pesky smudge into a greasy line in pure bliss. What these people didn't know, and Keller quickly realized, was that this could be art.
"It's an idea that I assumed lots of people had, but no one had done anything with yet. That assumption proved to be true, as a good number of people commented on 'having the idea first,'" he said. "But there's a saying like 'ideas are not yours until you do them' and I've been on the opposite end of that statement enough times that I pushed to get some paintings done ASAP."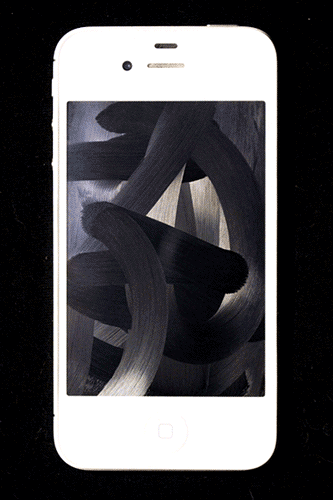 Keller has churned out eight different pieces on Tumblr in the last three days, each one taking about 45 minutes to paint, light, film, and edit into a GIF using Photoshop. The fact that he was "dealing with an aging laptop and an aging brain" didn't help either, Keller added.
Since launching his Tumblr called iPhone Oil Paintings Tuesday, the blog has collected more than 600 notes. He hopes to add to that with some more original works and collaborations with his wife, Keetra, soon.
"I'm quite happy with the response (features on a couple other blogs have received multiple-times more notes)," he said. "People love shit they think they could do, but didn't."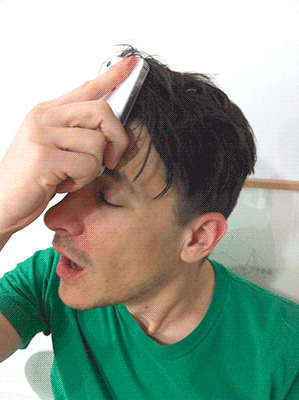 All GIFs by JK Keller