KSI is a YouTube gamer in the U.K. Jake Paul is a daily vlogger living in Los Angeles. Before last week, they didn't have much reason to interact with each other. No reason to feud. No reason to disrespect each other in vlogs that fly back and forth across the Atlantic. But within the past week, the two have begun a glorious feud that has riled up plenty of YouTubers, family members, and both vloggers' fanbases.
It's a beef built on irrelevancy—or at least, on the guise of irrelevancy—with whispers of body-shaming and misogynistic slurs. Whether the feud will end in a combat sports competition or whether it'll fade away like a YouTuber who's been demonetized, it's given the internet plenty of entertaining content in the past week. And no doubt, it's made KSI more popular in the U.S. and given Jake Paul an even deeper reach into the U.K.
The world seems to love YouTube conflicts, and Jake Paul (and, to a lesser extent, Logan Paul) vs. KSI has hit all the right notes. You might be wondering how these YouTubers got so deep into their beef so quickly. Here's a handy timeline for your enjoyment and/or disapproval.
…
Saturday, Feb. 3: Before the Paul brothers were pulled into the fray, KSI was boxing against U.K. vlogger Joe Weller to settle their feud—which, like the one with the Paul brothers, is rather inane. After KSI stopped Weller in the third round to win the YouTube boxing championship, he took the microphone and yelled to the London crowd, "If any YouTuber wants it, you can come get it. Jake Paul, Logan Paul, any of the Pauls. I don't care."
https://www.youtube.com/watch?v=i3xOp_v6L68
Fans immediately tweeted at Jake Paul, letting him know about KSI's challenge. Paul's response?
Who is PSI and why are people tweeting me about him?

— Jake Paul (@jakepaul) February 4, 2018
A longer message from Paul, though, was coming.
Sunday, Feb. 4: Paul seemed to take great delight in his newly acquired adversary, posting a vlog in which he began his KSI-is-too-irrelevant-for-me storyline. He also mockingly referred to KSI as "PSI," "CSI," "KFC," and "KGB." Calling him the wrong name was to become a trend for Jake Paul, Logan Paul, and their dad, Greg Paul.
At the time of his video on Sunday, KSI had 17.6 million subscribers, compared to Jake Paul's 13.5 million and Logan Paul's 16.4 million (as of this writing, KSI has 17.9 million subscribers, compared to Jake Paul's 13.6 million and Logan Paul's 16.6 million). It was a bit of a stretch for Jake Paul to claim KSI is irrelevant or somehow beneath his attention. Either way, Paul offered up his father in a mixed martial arts match and said he'd pay KSI a $50,000 purse.
KSI's response?
https://twitter.com/KSIOlajidebt/status/960216676078882816
Monday, Feb. 5: With the Paul brothers already involved, KSI's younger brother, a vlogger named ComedyShortsGamer, posted his own video, repeatedly calling Jake Paul "a pussy" and a "bitch."
The video is boring and vile, but at least it's relatively brief.
Tuesday, Feb. 6: Jake Paul responded to KSI's brother and said that there should be two fights: Logan Paul vs. KSI and Jake Paul vs. ComedyShortsGamer. Paul also got into body-shaming, making fun of ComedyShortsGamer's "man-boobs." (A few days later, KSI told Paul to leave his brother out of the equation, and Paul responded by demanding that ComedyShortsGamer stop talking.)
Jake Paul also continued with his irrelevant theme, saying, "I literally didn't know who these kids were two or three days ago." But he offered KSI a place to stay in Los Angeles so he doesn't have to pay for a hotel, and he said he'll buy KSI's plane tickets for the match.
Paul also laid down the terms of the fight, a fight he said that will have to take place in an MMA Octagon.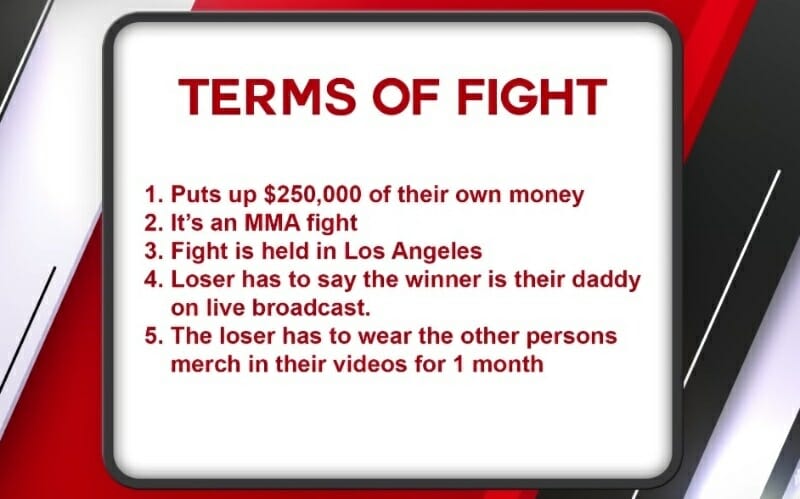 Wednesday, Feb. 7: KSI responded on video, and he cracked a few memorable one-liners.
"I'm sorry," he said, "but I'm not going to fight your creepy Vin-Diesel-on-crack looking-ass dad."
And, "These guys are 100 percent the most cringe people I've ever watched."
KSI asked how he can be irrelevant if Paul is talking about him, is including his name in Paul's video titles, and is using KSI's face in his thumbnails. He also wondered how Paul can call him irrelevant when Paul follows him on Twitter.
KSI said he's not going to kowtow to Paul's terms. "So, Jake," KSI said, "Fuck your terms. I'm the one with the belt. I'm the A-side. I'm the one who proves I can fight on a global stage."
He also unleashed the best line of the entire feud. "Jake, everyone already knows in a boxing match, I would beat the shit out of you. Then I'd catch Logan click-baiting your unconscious body for views because that's what he's good at."
Thursday, Feb. 8: In yet another post, Jake Paul said he wants to do nothing but spread positivity and said he isn't sure how this beef got so out of control. But he also claimed that if they don't fight using MMA rules, he's not going to partake.
"You're making this really hard, man," Paul said. "The internet wants this."
Yes, Paul admitted, he follows KSI on Twitter, but he barely remembered why.
"I followed you so long ago when you were relevant," Paul said. "Then, you became irrelevant, and I forgot who you were."
Paul even tracked down famed ring announcer Michael Buffer, and Buffer said he would play master of ceremonies for the event (Buffer also referred to KSI as "CSI"). Paul laid out his new terms—he'll forgo the $250,000 bet and the merchandise clause, but he insisted on an MMA fight at a neutral location.
So, what's next? Will the two actually fight? At this point, it's unclear. But it's worth keeping in mind that KSI's fight vs. Weller sold out a 7,500-seat arena and recorded more than 22 million combined views across both vloggers' YouTube channels. A fight vs. Jake Paul could probably sell twice as many tickets and earn millions of more pageviews. And earn both YouTubers enormous paydays, which is probably why this feud started in the first place.
If there's money to be made in a fight like this—and there most assuredly is—there's a solid chance it could actually happen. Until then, it's nothing but talk.
Update 4:18pm CT, Feb. 18: KSI said he's done dealing with the Paul brothers and that he's moving on to other potential opponents for his YouTube boxing championship. The three have gone back and forth with Jake Paul insisting they battle it out in the MMA Octagon, and KSI saying it had to be boxing. Now, it looks like it'll be neither for the adversaries. "I can't BS with you anymore, bro," KSI said. "I said boxing, and it will always be boxing. So, that's that."
Update 7:59am CT, Feb. 26: Now that it appears KSI will fight Logan Paul in August, Jake Paul has moved on to KSI's little brother, Deji.
In a video posted Sunday, Jake Paul said he would take on the YouTuber known as ComedyShortsGamer in a boxing match, presumably on the same boxing card as Logan Paul vs. KSI.
"It's going to be insane," Paul said. "I don't know if this kid is joking or if he just understands how good it is for his business and his career."