Opinion
Unlike a lot of wealthy political heavy-hitters who come to Washington, the first daughter isn't known for throwing well-attended parties during the holidays.
Perhaps that's because Ivanka Trump's holiday playlists on Spotify are so terrible that they're not worth suffering through just to be spotted elbow-rubbing with the rich and powerful.
In fact, Trump's 2014 "Holiday Party" playlist is one of the more bizarre collections of songs that you'll stumble across.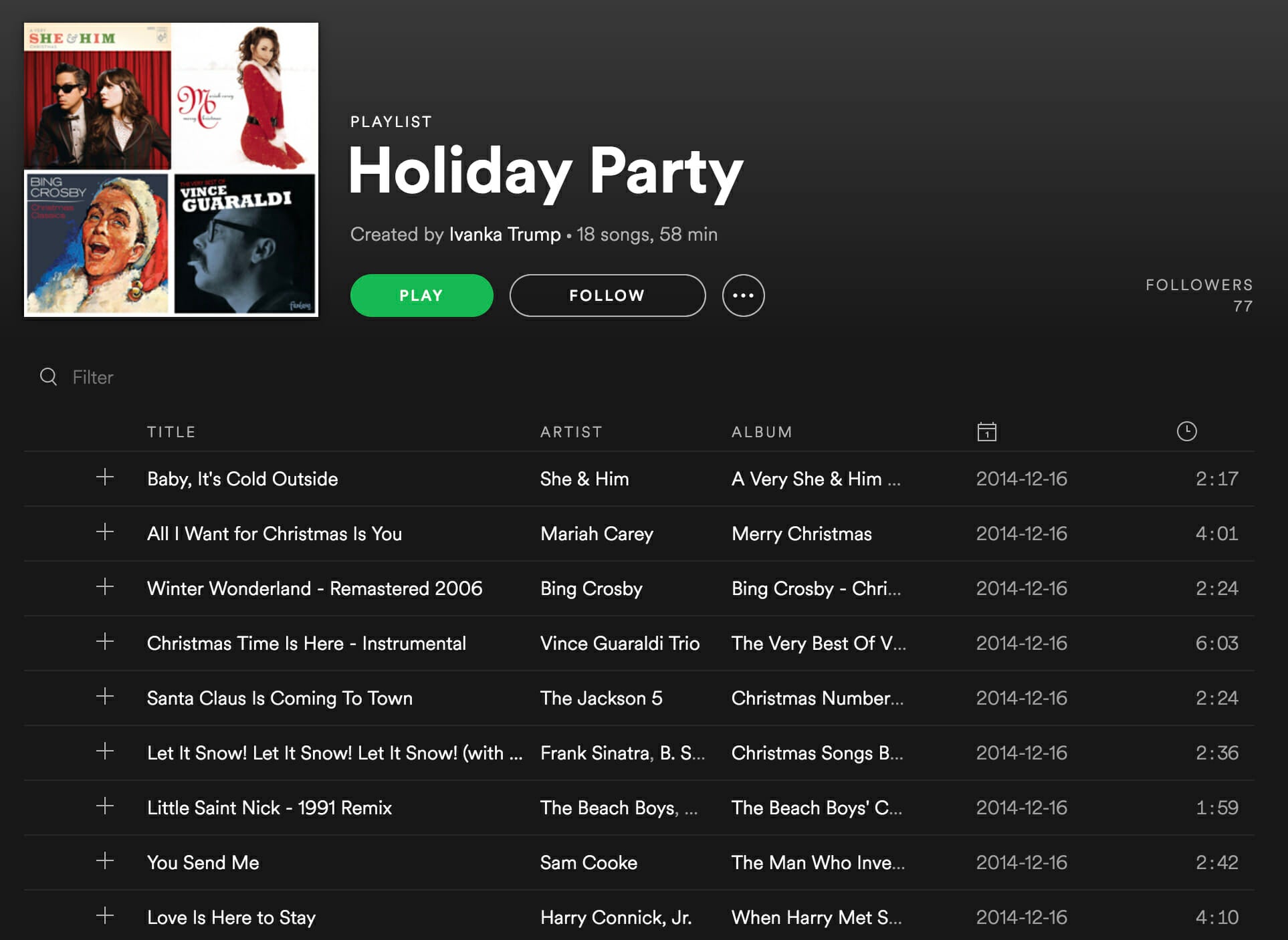 There are 18 songs on Trump's holiday playlist, totaling 58 minutes, and it does have a few of the classic Christmas jams. Here are some of the more well-known tunes:
"All I Want for Christmas is You" by Mariah Carey

"Winter Wonderland" by Bing Crosby

"Let it Snow" by Frank Sinatra

"Little St. Nick" by the Beach Boys
But she definitely chose a few of the inferior versions of Christmas favorites. For example, she included the Jackson 5's version of "Santa Claus is Coming to Town" instead of the Bruce Springsteen version. She chose "Baby, It's Cold Outside," which is frequently viewed through a problematic lens. 
Trump also added "Santa Tell Me" by Ariana Grande, a Christmas hit from 2014 that should have stayed in 2014. To the first daughter's credit, she did put in "Holiday" by Vampire Weekend, but that's a strange choice since the song has nothing to do with Christmas and is instead about the desire to get away from the rat race.
From there, playlist gets very wacky, as she's chosen a number of songs that aren't even vaguely related to Christmas, Hanukkah, or any other winter holiday. Here are a few of the more obscure picks:
"Lips Are Movin" by Meghan Trainor

"Stolen Dance" by Milky Chance

"Rocket Man" by Elton John

"(Sittin' On) The Dock of the Bay" by Otis Redding

"Hit the Road Jack" by Ray Charles
It's hard to guess exactly what Trump hoped for with this lineup. It does seem that she expected her father to stop by the event where her "Holiday Party" playlist was on the speakers. President Donald Trump's love of "Rocket Man" is well-documented. He played it at his rallies while on the campaign trail, and he planned to gift a CD with the song on it to Kim Jong Un.
Ivanka Trump's decision to go with "Santa Claus Is Coming to Town" by the Jackson 5 instead of Springsteen could also be a nod to her father. The Boss has been a vocal critic of Trump, while the remaining members of the Jackson 5 don't make much noise about the current administration. 
"Holiday Party" isn't Trump's only themed playlist. She has another gem titled "2015 Holiday Party." This one has 28 songs that total 1 hour and 34 minutes.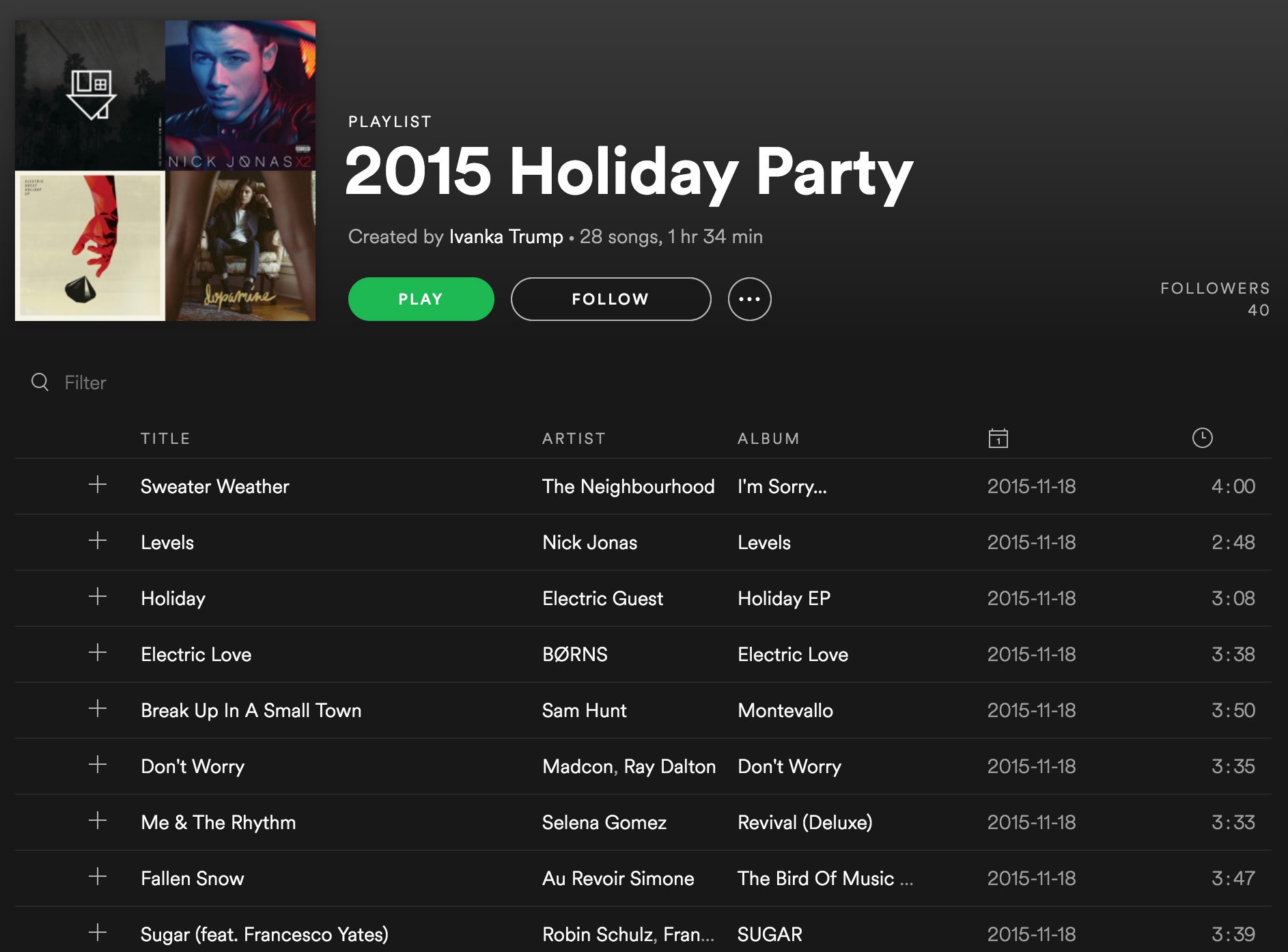 The later playlist includes many of the same terrible songs that she included on the "Holiday Party" playlist. There are some notable differences. She went with Tony Bennett's version of "Winter Wonderland" instead of Bing Crosby's, and she included "What Are You Doing New Year's Eve" by Ella Fitzgerald, which is an excellent choice.
But like "Holiday Party," the "2015 Holiday Party" playlist contains mostly songs that don't belong on a seasonal playlist. Some of the more glaring are "Sorry" by Justin Bieber and "I Really Like You" by Carly Rae Jepsen.
Trump has a few other playlists not dedicated to the holiday season. Those include "(Very) Long Run," "Willa's Twerk Out Mix," "Walk to Work," and "Cocktails & Prep." She even has one called "991122" that was speculated to be her and Jared Kushner's sexy anniversary playlist.
This is all to say that if you're looking for a party to attend this season, don't go to the first daughter's. And if you're hoping to have anybody stay longer than a few minutes, don't play one of her holiday playlists at your event, either.
READ MORE: