The Amazing Johnathan Documentary tells us right away that it will contain the "available facts," but that might be the first trick in Ben Berman's unbelievable film about a magician. 
The Amazing Johnathan Documentary
RELEASE DATE:
8/16/2019
DIRECTOR:
Ben Berman
STREAMING:
Hulu
First-time filmmaker Ben Berman has a tricky time with his subject.
The Amazing Johnathan (real name Johnathan Szeles) ascended in the '80s and '90s, known for his unconventional magic shows, which often included demented props, aggressive audience interactions, and fake blood. In 2014, he announced during an ENT Speaks event that he had a terminal heart condition and a year to live. Three years later, Berman (Comedy Bang! Bang!, Lady Dynamite) started filming a documentary about the still-kicking Szeles, following him around the Las Vegas home he shares with his wife, fellow magician Anastasia Synn. Berman films Szeles sitting on his bed as he tries to swallow medication and dramatically gags. "Are you joking?" Berman asks.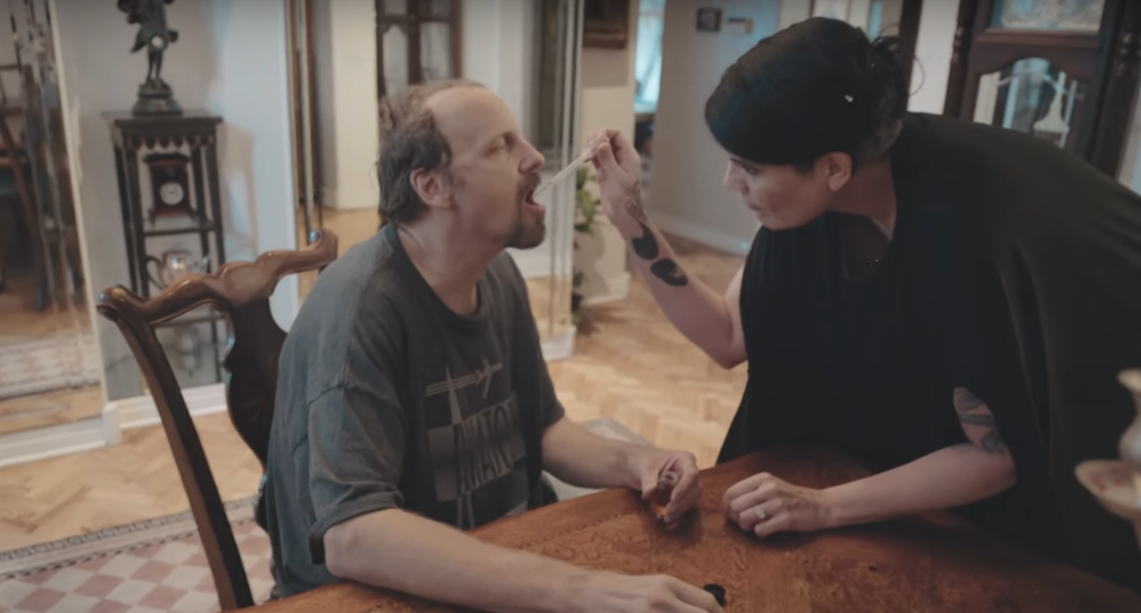 This sets the tone, and Szeles's 2017 comeback tour pivots the film in a different direction. His old act, which he reveals he wrote under the influence of coke and/or speed, is still funny, but it's not exactly edgy now. When another film crew unexpectedly joins the tour (they've won Oscars, Szeles boasts), a confused Berman slowly becomes a star in his own film. This is the kind of twist a documentary filmmaker prays for, but it gets even more absurd. 
Berman's dad and stepmother come in to offer advice, as does a pal who reminds him the dude is a magician. A friend of Szeles's suggests he might fake his death or bring in a double, stoking more doubt. How does Berman set himself apart in a crowded Amazing Johnathan documentary field? He gives the film some emotional weight by sharing home videos he took as a kid, which include his late mother. In one incredible clip, Berman films his father opening up about their mother's death, as his brother clowns behind him. "Gettin' great footage here!" young Berman enthuses. 
So perhaps he was destined for this subject. Berman's confrontation with Szeles about whether he's actually dying is essential—a magician's death as the neat trick to end his film is too myopic. But he stops short of tying it into a bigger, more personal theme of death and grief. He doesn't open up to Szeles about his own loss, at least not on camera. That might have added some depth. 
But a lot is on camera. Berman's descent into allegedly smoking meth at Szeles's suggestion feels like a calculated move to set himself apart—no one's done this yet—or evidence of a man who's lost the plot. The latter makes it more compelling, of course, but there are times when Berman's turn inward starts to obscure his subject. We don't come away from the film necessarily knowing more about Szeles. Maybe that's what he wanted. 
The Amazing Johnathan Documentary will certainly engage those who enjoy going down the rabbit hole, and it makes you want to watch until the very end in case there's another reveal. The fact that it might all be smoke and mirrors is just part of the act. 
Still not sure what to watch on Hulu? Here are the best movies on Hulu, what's new, the best shows on Hulu, the sexiest movies you can stream on the service, Hulu documentaries, anime, and the must-see Hulu originals. 
Looking for something more specific? Here are the best thrillers, serial killer movies, and action movies to get your heart racing, classic movies when you want a blast from the past, sad movies when you need a good cry, adult cartoons, and funny movies on Hulu when you need a good laugh.
What are we laughing at? Sign up here for the Daily Dot's comedy newsletter, filled with news and insights from your host, Audra Schroeder.