PewDiePie makes his highly anticipated return to live streaming today, but he won't be on YouTube or Twitch. He'll be streaming on DLive, a streaming platform founded in 2017 and powered by the Lino Network blockchain-based currency system. If you're like me, even hearing the word "blockchain" can sound off several dozen alarm bells, but thankfully DLive seems to have kept things fairly simple. Here's how to use DLive and how to watch PewDiePie's live stream. 
Is DLive free?
In a way, yes. Like Twitch, there's nothing forcing you to make an account if you simply want to watch someone stream. Unlike Twitch, however, DLive says it will never have ads before it launches a stream, and thus far, that's proven true in my experience.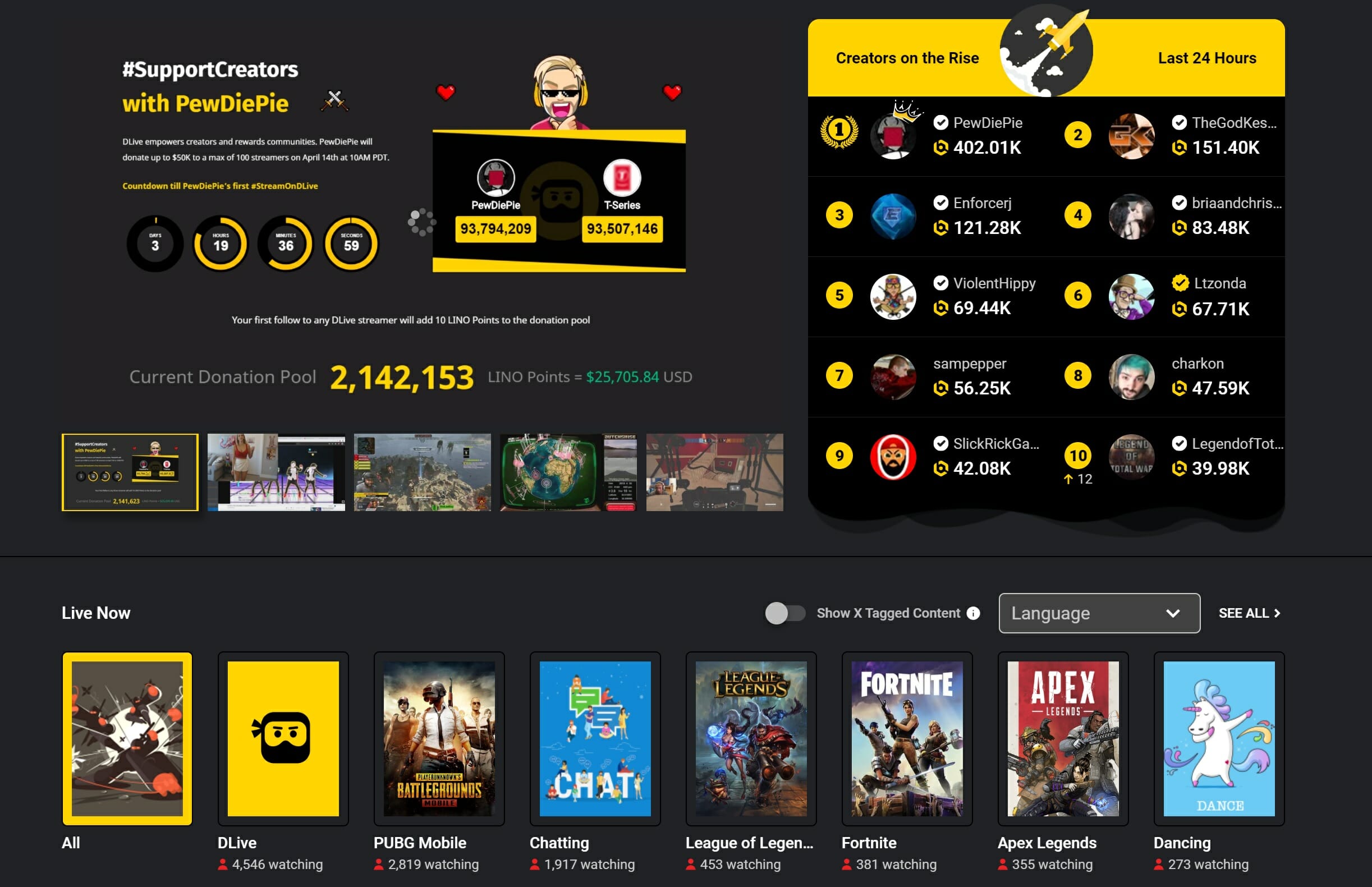 How to watch PewDiePie on DLive
PewDiePie will make his debut on DLive at 1pm on Sunday, April 14. He'll stream on a weekly basis.
To watch PewDiePie on DLive, all you have to do is go to his page. There, you'll see a familiar layout, with the live stream front and center and a chat to the right. You'll also have the option to follow or subscribe to the page up top.
Making a free account on DLive just requires your email, and it allows you to watch any stream ad-free, plus you can click "follow" on a streamer's page to get notifications of when they go live. That last part is just like Twitch, but on Twitch you would have to watch an ad every 10-15 minutes or so if you're not a subscriber. Thankfully, that's not the case with DLive. 
OK, here's where things get tricky, as expected of a blockchain platform. Lino Points allow streamers to make money and viewers to purchase subscriptions and support them directly. Like any other blockchain technology, it's not a 1:1 ratio when it comes to currency vs. real-world money. Here's how Lino Points currently break it down.
88 Lino Points = $1.53

288 Lino Points = $4.04

688 Lino Points = $9.06

1,189 Lino Points = $15.34

2,888 Lino Points = $36.67

7,888 Lino Points = $99.44

78,888 Lino Points = $990.65
That's how much you'll have to pay if you want one of those tiers of Lino Points, but what the heck do you do with them? There are a number of options.
Chiefly, they're used to subscribe to individual streamers. What does subscribing get you? Namely, a badge that helps you get noticed by streamers as a dedicated fan. The chat room isn't slowed down for you, so you can participate in the conversation as it actually happens without delay (although I didn't notice anything terribly off about the free version).
READ MORE:
Viewers can also offer individual currency donations to streamers. For example, I was able to donate one Lino Point (dubbed a "lemon") to a PlayerUnknown's Battlegrounds streamer, but wealthier viewers could donate a 10-point "ice cream,' a 100-point "diamond," a 1,000-point "Ninjaghini," and a 10,000-point "Ninjet." It's basically a way of saying "hey, nice job, here's a small treat from me to you."
However, considering DLive uses a blockchain platform, don't bet on these values staying the same forever.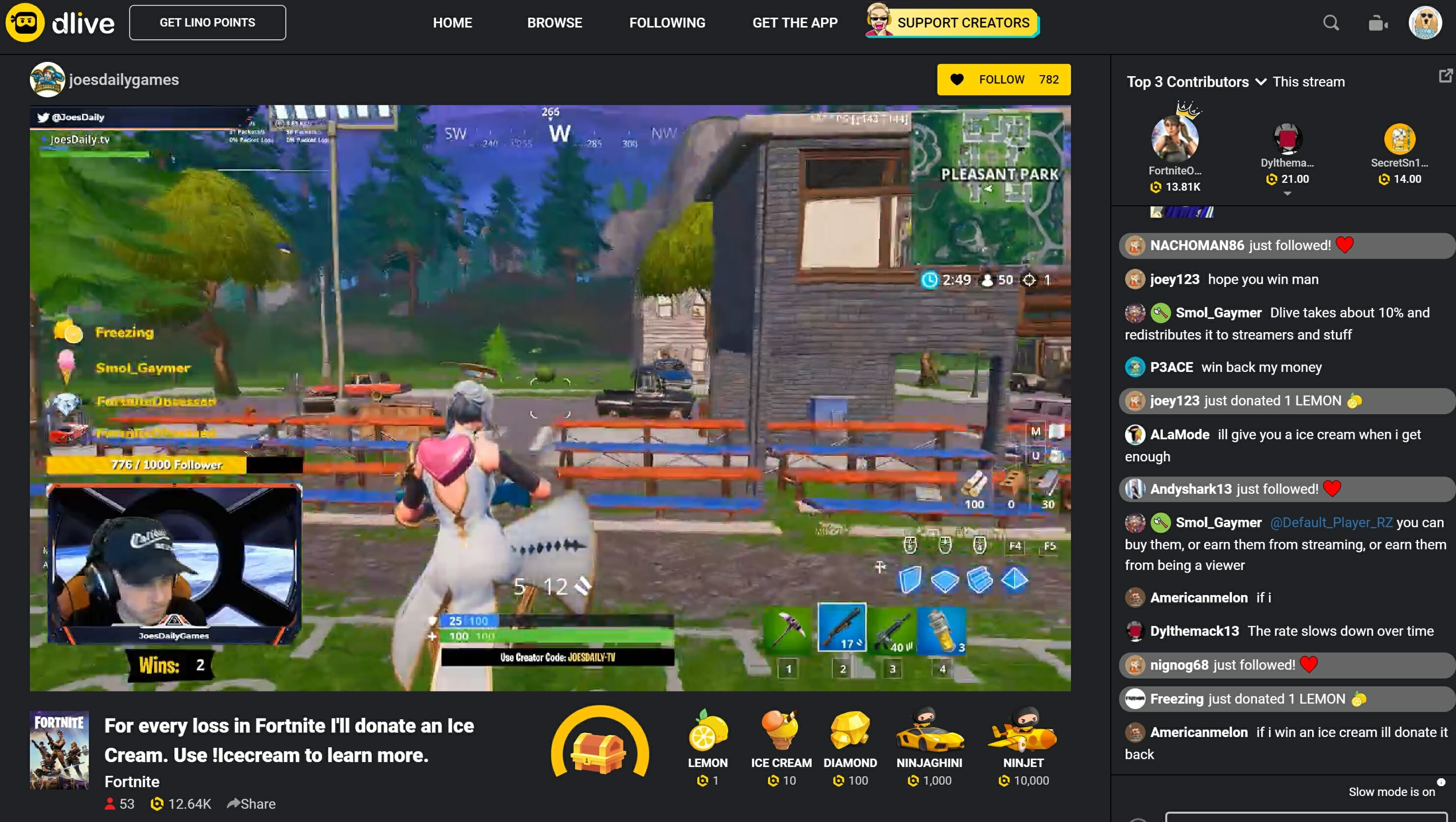 How much does it cost to subscribe to a streamer?
Like any other streaming service, DLive offers multiple tiers of subscriptions, with very slightly cheaper rates the more you purchase. Honestly, they're so slight, they hardly make any difference. We're talking about mere pennies here. 
1 Month = 298 Lino Points per month

3 Months = 289 Lino Points per month

6 Months = 283 Lino Points per month

12 Months = 274 Lino Points per month

Rolling monthly subscription: 298 Lino Points per month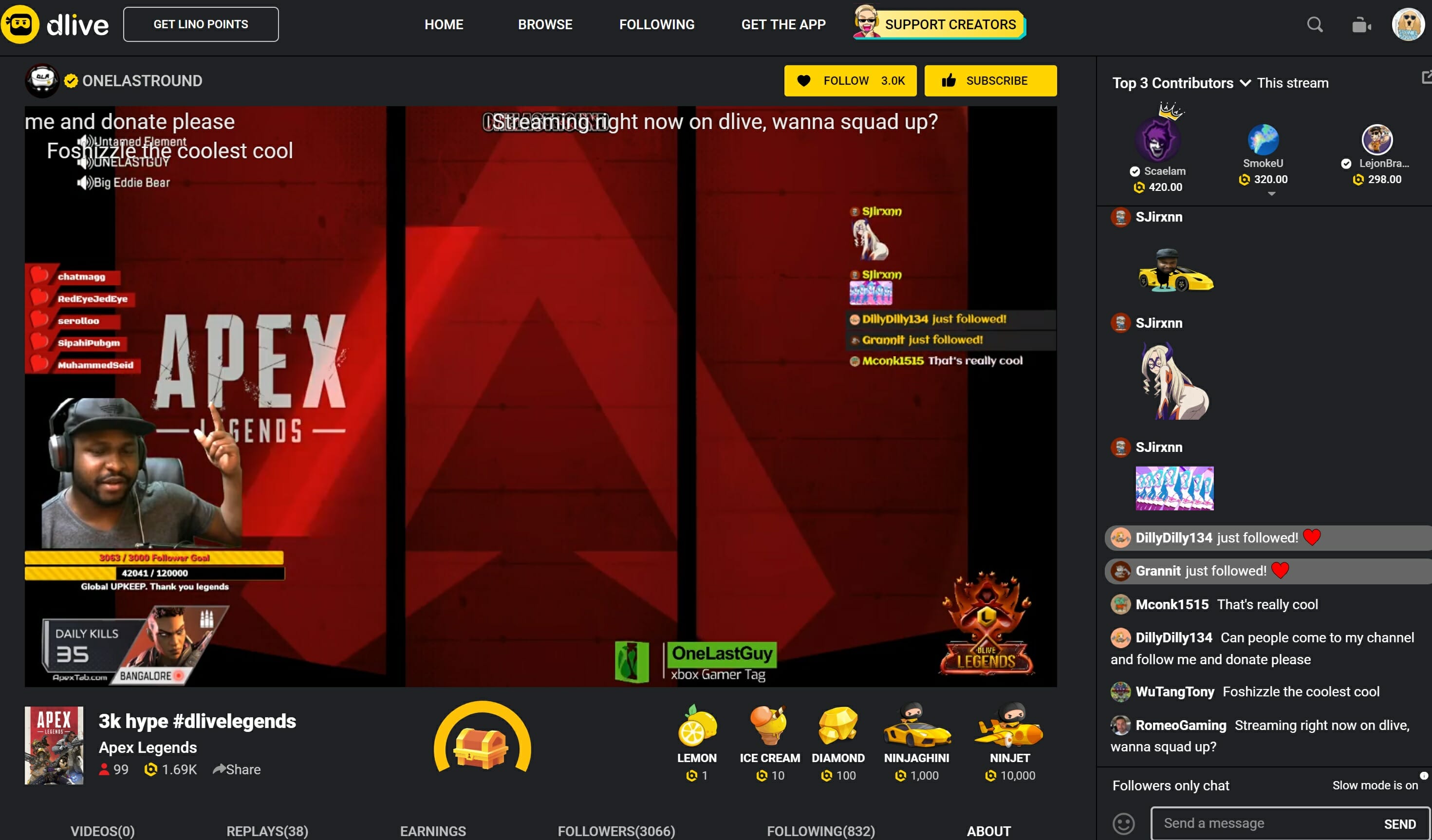 Is DLive worth using?
I'll let the streamers speak for themselves, but as a viewer, there are some concerns. Namely, blockchain is pretty much always a gamble because you can never be sure that one dollar today will equal one dollar tomorrow.
Other than that, logistically it's a net positive for stream viewers. There are no built-in ads for free or paid users, and its system of subscribing and rewarding individual streamers works well enough, even if it is mired in a very blockchain-like veil of mystery.