Joseph Benavidez (28-5) is MMA's perpetual bridesmaid. Despite being one of the best lighter-weight fighters in the world for the last 10 years, he's never worn a championship belt. And it's not for lack of trying. In 2010, Benavidez—who will face Deiveson Figueiredo on Saturday night in a UFC Fight Night event you can stream on ESPN+—challenged Dominick Cruz for the World Extreme Cagefighting bantamweight championship but lost by split decision. After the UFC bought the WEC in 2011, Benavidez was part of the four-man tournament to determine the promotion's first-ever flyweight champion but he lost to Demetrious Johnson in the finals.
And a year after that, Benavidez got his third shot at a title, and his second shot at Johnson, but he was knocked out by the pound-for-pound great in the first round, an outcome that left Benavidez in a state of suspended animation—better than everyone else in his division but a million miles away from another title shot as long as Johnson held the belt.
For the last six years, Benavidez's career has played out according to that script: He's beaten up just about everyone he's gotten his hands on but never had another shot at a belt. He is, fundamentally, a tragic figure: the Salieri to Johnson's Mozart. He even beat Henry Cejudo, only to have to sit by quietly as the Olympic wrestling gold medalist got his own second shot at Johnson, a shot Cejudo took advantage of in August 2018 when he became the man to finally beat the longtime champion and claim his belt.
While Cejudo's rise should have broken Benavidez's heart, it actually reintroduced hope back into his career. Not only was the man he could never beat no longer the champion, the new champion was someone Benavidez had already beaten. Surely his time had arrived at last.
Unfortunately, Benavidez is not only a cursed figure, he's also a victim of his time. It's a very subtle and mysterious blend of factors, both personal and performative, that make a fighter stand out in the cynical, personality-driven super-fight era we now live in, and for whatever reason, Benavidez has never had it. He's not what UFC President Dana White would call a "needle mover." He beat Cejudo but it was Cejudo who had the name and the charisma, and Cejudo was the one who got the title shot against Johnson.
When he won the belt, Cejudo wisely cashed in by calling for a super fight with bantamweight champion TJ Dillashaw. After beating Dillashaw and becoming a two-belt champion, Cejudo, with an increasingly subtle understanding of how MMA now works, continued to look outside the flyweight division for big-money fights, calling out Conor McGregor and former featherweight champion Jose Aldo and any other big name he could think of.
Anyone but the man who had last beaten him and who was ranked first in his home division. Cejudo wanted nothing to do with Benavidez and the relatively unloved flyweight division, and there was nothing Benavidez could do to change his mind or to convince matchmakers his status as the No. 1 contender gave him priority. Those days in MMA were long past.
But the darkness can only hang around for so long before the sun shines again. And when the UFC finally got tired of Cejudo clogging up two divisions and took away his flyweight belt last December, Benavidez's clouds finally parted. With the flyweight title now vacant, the UFC was in need of a champion. So they called on Benavidez and the No. 3 ranked flyweight, Brazilian Deiveson Figueiredo (17-1), to determine who would be next. Just a simple championship fight, free of fanfare and fuss. This time there would be no genius Johnson and no elusive Cejudo to screw things up for Benavidez—just one last shot at the thing he's always had right in his grasp but never could collect. The fourth time's a charm.
Here's everything you need to know to watch Benavidez vs. Figueiredo.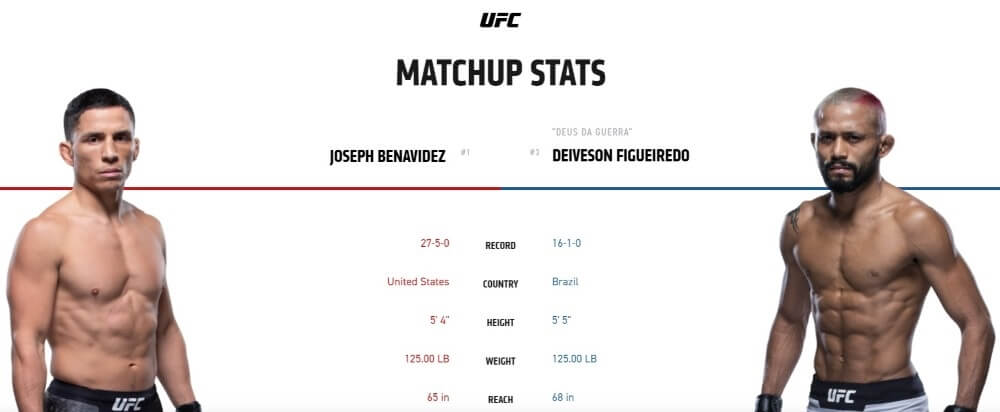 Joseph Benavidez vs. Deiveson Figueiredo
When: Saturday, Feb. 29 at 8pm ET
Where: Chartway Arena in Norfolk, Virginia
Streaming: ESPN+
How to watch Benavidez vs. Figueiredo without cable
UFC Fight Night 169 in Norfolk is being broadcast on ESPN+—the streaming service which, as of March 2019, signed a seven-year deal with the MMA organization to be the exclusive home of UFC PPV telecasts and a plethora of UFC Fight Night shows each year.
Cost: $4.99 per month or $49.99 for 12 months
Devices: Chromecast, Amazon Fire Stick and Fire TV, Apple TV, Android TV, Roku players and TV, Oculus Go, Xbox One, PlayStation 4, Samsung smart TVs, and iOS and Android devices
ESPN+ is a fantastic way to stream all kinds of combat sports content. ESPN+ doesn't have a free one-month trial anymore, but the service only costs $4.99 per month or $49.99 for the entire year. Given how much content you receive, that's a really good deal (you're also allowed to cancel at any time).
Subscribers can watch the entire 30 for 30 catalog on demand, for example, along with Top Rank boxing cards, daily MLB games, every out-of-market MLS game, international soccer contests, Grand Slam tennis, and thousands of college sporting events. ESPN+ works as an extension of the main ESPN app. The ESPN+ exclusive content is designated by the "E+" logo in the corner of the preview tile.
The ESPN+ app is available on Amazon Fire Stick and Fire TV, Google Chromecast, PlayStation 4, Xbox One, Roku, Apple TV, Android TV, and iOS and Android devices.

Benavidez vs. Figueiredo live stream schedule
All times ET
Main Event | 8pm on ESPN+
Joseph Benavidez vs. Deiveson Figueiredo
Felicia Spencer vs. Zarah Fairn
Ion Cutelaba vs. Magomed Ankalaev
Megan Anderson vs. Norma Dumont
Grant Dawson vs. Darrick Minner
Prelims |5pm on ESPN+
Gabriel Silva vs. Kyler Phillips
Brendan Allen vs. Tom Breese
Marcin Tybura vs. Serghei Spivac
Luis Pena vs. Steve Garcia
Jordan Griffin vs. TJ Brown
Aalon Cruz vs. Spike Carlyle
Sean Brady vs. Ismail Naurdiev
For a year-round sports fix, sign up here and check the "sports" box to receive our weekly boxing newsletter. You'll hear about all the biggest fights and best knockouts from the Daily Dot's streaming sports guru Josh Katzowitz.
The Daily Dot may receive a payment in connection with purchases of products or services featured in this article. Read our Ethics Policy to learn more.