---
Of all the alterations, limitations, and aberrations confronting UFC fighters like heavyweights Curtis Blaydes and Alexander Volkov in the age of COVID-19—like empty venues, pre-fight quarantines, and fight-week virus testing—perhaps the most impactful on the actual act of fighting is shrunken cages.
By moving their events to the Apex training facility in Las Vegas, which will play host to Blaydes vs. Volkov in Saturday's UFC Fight Night on ESPN and ESPN+, the UFC has committed to using a 25-foot Octagon for the foreseeable future, a space five feet smaller than what fighters usually use.
While it's hard to quantify something as nebulous as an advantage in a sporting contest, conventional wisdom has it that smaller fighting spaces favor grapplers over strikers. It's the idea that strikers need distance to do their work (arms and legs being several feet long) and plenty of space for creating angles and being elusive, while grapplers like to get in close, grab a hold of their opponents, and grind them down.
If that conventional wisdom is true then fighting at the Apex is going to be good for Blaydes, a former college wrestling champion who is at his best when he's dragging opponents to the ground and smothering them with pressure, draining their desire. Volkov, on the other hand, is a striker at heart. He would always prefer to be out in the open where he can put his 81-inch reach to good use. A smothered Volkov is a dampened Volkov.
But in these troubled times, everyone needs to make sacrifices, so Volkov will have to figure out a way to make space where there is none if he hopes to avoid Blaydes, who will no doubt do everything in his considerable power to pressure the Russian fighter against the cage and keep him there. Volkov may have a brown belt in Brazilian jiu-jitsu but there isn't an MMA coach in the world who wouldn't advise him to stay far away from Blaydes and pepper him from the outside with long punches and kicks. Consider the Apex's cramped quarters a bright side of the pandemic for Blaydes.
In fact, the biggest problem facing Blaydes may not be defeating Volkov on Saturday but figuring out what to do if he does. The Illinois native is currently ranked No. 3 in the UFC heavyweight division, and since all signs point to champion Stipe Miocic defending his belt against No. 1 contender Daniel Cormier next, that leaves only Francis Ngannou above Blaydes on the list. And even a quick glance at Blaydes' professional record will show you that he is not just 13-2 but 13-Ngannou. Blaydes has smashed his way through everyone in the UFC division but both of his fights with Nagannou ended with the referee stepping in to save Blaydes' neck. Ngannou didn't merely beat Blaydes, he left him humbled.
So, if Blaydes gets through Volkov on Saturday, what happens next? Will Ngannou be willing to risk his place in the rankings by taking a third fight with Blaydes, a man he already smashed to bits twice? And if he isn't, where does that leave Blaydes and his hopes for a future title shot? And if Ngannou is … well, will Blaydes dare to fight his tormentor a third time?
Here's everything you need to know to watch Blaydes vs. Volkov.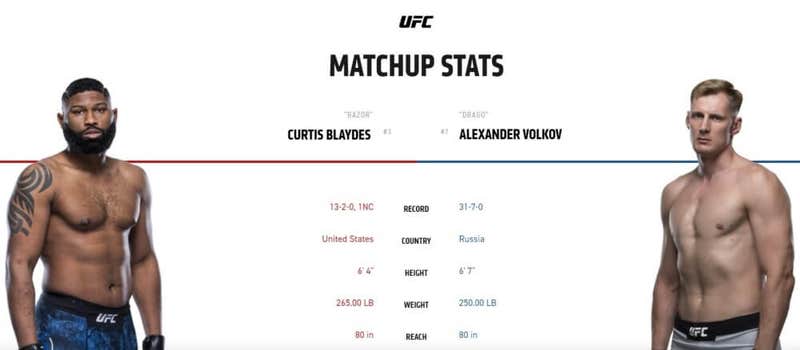 Curtis Blaydes vs. Alexander Volkov
How to watch Blaydes vs. Volkov
You can watch this card with ESPN or ESPN+.
ESPN+ is a subscription-based streaming service that lets you watch all sorts of live sports action you won't find anywhere else. Think of it as a way of super-sizing your ESPN viewing, allowing you to stream more exclusive UFC fights.
But ESPN+ offers much more than UFC cards. In addition to 20 UFC Fight Night events per year, you'll also get 180 NHL games, at least one MLB game every day for the entire season, and thousands of college sporting events. No matter what sport you're into, you'll find plenty to watch on ESPN+: Top Rank Boxing, Grand Slam tennis events, and international soccer from Italian Serie A, EFL, and UEFA Nations Cup. It also offers the equivalent of NFL Sunday Ticket for Major League Soccer games, allowing you to watch every out-of-market MLS game for the entire season. That's roughly 250 games.
Plus, you'll gain access to the entire 30 for 30 catalog—150 entries and counting.
The ESPN+ app is available on Amazon Fire Stick and Fire TV, Google Chromecast, PlayStation 4, Xbox One, Roku, Apple TV, Android TV, and iOS and Android devices.
If you'd rather watch the fights on ESPN, most of the major live streaming services offer the channel, and all of the ones featured below include a free one-week trial. Here are a few options for you to stream ESPN:
Hulu with Live TV is one of the most popular ways to stream live TV, perhaps because you gain access to a humongous library of on-demand content including classic and current TV shows and movies. Plus, you get all of Hulu's original programming. As far as live-streaming goes, you'll have a ton of local, entertainment, and sports channels to flip through, including HGTV, a full suite of ESPN channels, Cartoon Network, FX, and even deep cuts like Nat Geo Wild and Syfy.
For a more à la carte service, look to Sling TV. It offers two cable packages, Sling Orange and Sling Blue, each of which costs $30 per month. If you grab them both (Sling Orange + Blue), you can save $10 per month. Sling Blue offers more bang for your buck with more than 40 channels, including sports necessities like FS1, NBCSN, and NFL Network. You'll also gain access to the usual cable mainstays like Food Network, Discovery, Cartoon Network, SYFY, and FXX. Whichever package you choose, you can save $10 on your first month. Here's the complete guide to Sling TV channels.
YouTube TV is a fantastic solution for families because one subscription can add up to six accounts, and each account comes with unlimited cloud DVR. You can't beat the variety, either: There are sports channels like NBCSN, NBA TV, and four ESPN channels, while Disney, Disney XD, Disney Junior, and Cartoon Network will keep any kid (or kid at heart) busy for hours. It also comes with a few Spanish-language channels like Telemundo and NBC Universo. AMC, BBC America, and IFC are there too, so you won't miss out on all that prestige TV. (You can find the full list of YouTube TV channels here.)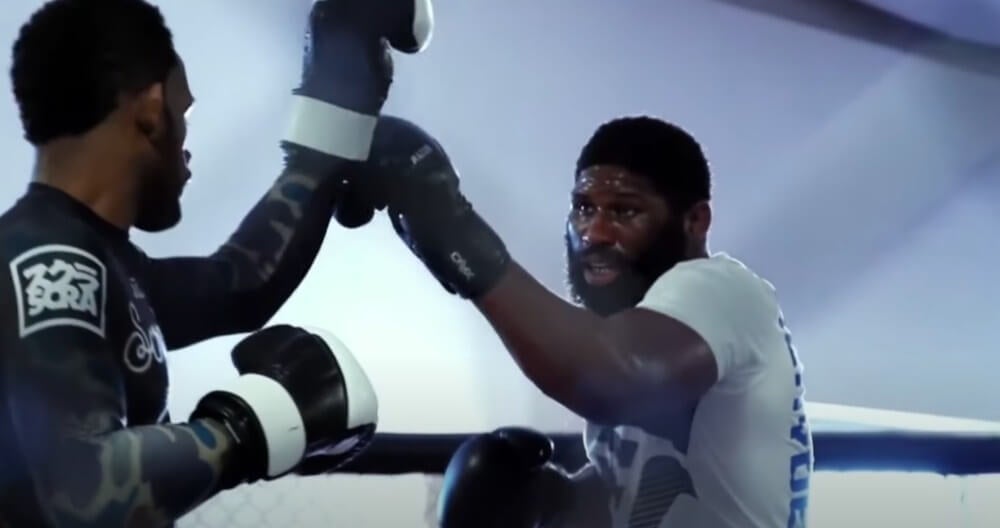 ---
Blaydes vs. Volkov live stream schedule
All times ET
Main Event | 8pm on ESPN
Curtis Blaydes vs. Alexander Volkov
Josh Emmett vs. Shane Burgos
Raquel Pennington vs. Marion Reneau
Belal Muhammad vs Lyman Good
Jim Miller vs. Roosevelt Roberts
Prelims | 5pm on ESPN+
Clay Guida vs. Bobby Green
Tecia Torres vs. Brianna Van Buren
Marc-Andre Barriault vs. Oskar Piechota
Cortney Casey vs. Gillian Robertson
Matt Frevola vs. Frank Camacho
Roxanne Modafferi vs. Lauren Murphy
Austin Hubbard vs. Max Rohskopf
For a year-round sports fix, sign up here and check the "sports" box to receive our weekly boxing newsletter. You'll hear about all the biggest fights and best knockouts from the Daily Dot's streaming sports guru Josh Katzowitz.
The Daily Dot may receive a payment in connection with purchases of products or services featured in this article. Read our Ethics Policy to learn more.