If you wanted to play mad scientist and create the perfect mixed martial artist out of parts, you'd be a fool not to start by giving him or her great wrestling ability. Wrestling may not be the most glamorous thing in the world. It may not win you as many fans as an exotic submission game or as many spots on highlight reels as great boxing, but there is no better base to build on than the one that allows you determine where a fight takes place.
Just take a look at the official UFC rankings. There's a reason all five of the top pound-for-pound fighters in the world started as wrestlers.
Which should put former three-time national college wrestling champion Ed Ruth—who's facing Yaroslav Amosov in the main event of Bellator 239 in a fight you can stream on DAZN—in a great spot. Though he's only been fighting MMA for three years, he's put together an 8-1 record, all against far more experienced opponents and all in Bellator, the second-biggest MMA promotion in the world. This shouldn't really be possible, but as one of the most accomplished collegiate wrestlers in history, Ruth has the kind of skills that disguise the holes and weaknesses all inexperienced fighters have: the inconsistent striking defense, the confused footwork, the fight-night anxiety, and on and on. High-level wrestling has a way of smoothing out rough edges.
So how does one approach a fight with him? How do you beat one of the best wrestlers to ever compete in MMA? What's a guy like Amosov (22-0) to do?
Well, for inspiration, he could look to Ruth's only MMA loss. When Ruth fought Brazilian jiu-jitsu savant Neiman Gracie in December 2018, Gracie employed the right strategy: Rather than exhaust himself trying to fight off the takedowns of a wrestling genius, he made Ruth's life miserable whenever those takedowns worked, constantly working for submissions, throwing his legs up to look for limbs, throwing his arms around to look for chokes, grabbing at ankles and feet to throw Ruth off balance and to sweep him, never giving Ruth a moment to relax.
Wrestlers aren't used to such nonsense. They're trained to get people down and hold them there. But Gracie refused to lay still. He never stopped looking for opportunities, no matter how small, and Ruth, despite being in just the kind of position he liked, looked lost. There's nothing more disconcerting to a fighter than feeling uncomfortable in a position in which they've spent their entire life.
Of course, Yaroslav Amosov doesn't need any advice from me. A professional fighter since the tender age of 19, the Ukrainian is a master of combat sambo, a Russian martial art that puts heavy emphasis on judo throws and hip tosses. He's been taking people down and preventing them from taking him down for as long as Ruth has—only Amosov is also well-schooled in submissions, which Ruth can't say. In fact, he may be more Ruth than Ruth, which makes him the perfect gauge of Ruth's talent and potential at this early point in his career. If the former Olympic hopeful can defeat a more experienced, more Ukrainian version of himself, he may just be onto something.
Here's everything you need to know to watch Ruth vs. Amosov.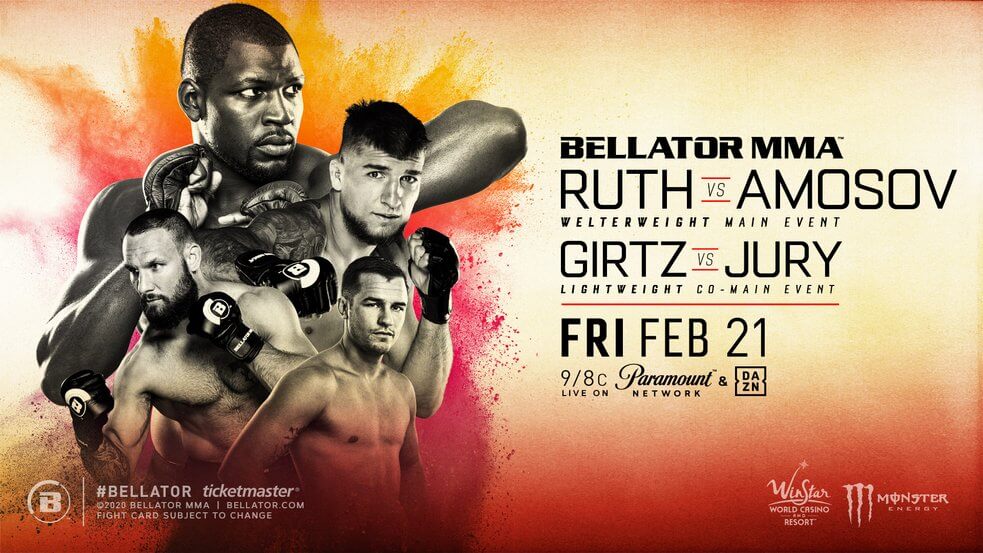 Bellator 239: Ed Ruth vs. Yaroslav Amosov
When: Friday, Feb. 21 at 9pm ET
Where: WinStar World Casino & Resort in Thackerville, Oklahoma
Streaming: DAZN
If you still have cable TV, you can watch many of the Bellator events on the Paramount Network. For this card, that is indeed the case. So, you can watch it on a cable provider if you have one. But if you've cut the cord, there is another way, because you can also stream it on DAZN. A subscription to DAZN costs $19.99 per month or $99.99 for a year, and it's been a great resource for combat sports fans.
DAZN was introduced to the U.S. audience in September 2018, and since then, it's showcased Bellator's biggest events along with featuring some of the most popular boxers (Canelo Alvarez, Gennadiy Golovkin, and Anthony Joshua) and that sport's rising stars (Devin Haney, Ryan Garcia, Vergil Ortiz Jr.). With the two combat sports combined, DAZN shows more than 100 fight cards per year.
DAZN works with Roku, Apple TV, Amazon Fire Stick and Fire TV, Xbox One, PlayStation 4, and both iOS and Android phones. All you have to do is download the DAZN app and log in with your subscription credentials. You can also stream via computer browsers Chrome, Firefox, Safari, Edge, Internet Explorer, and Opera. (You can read our full DAZN review here.)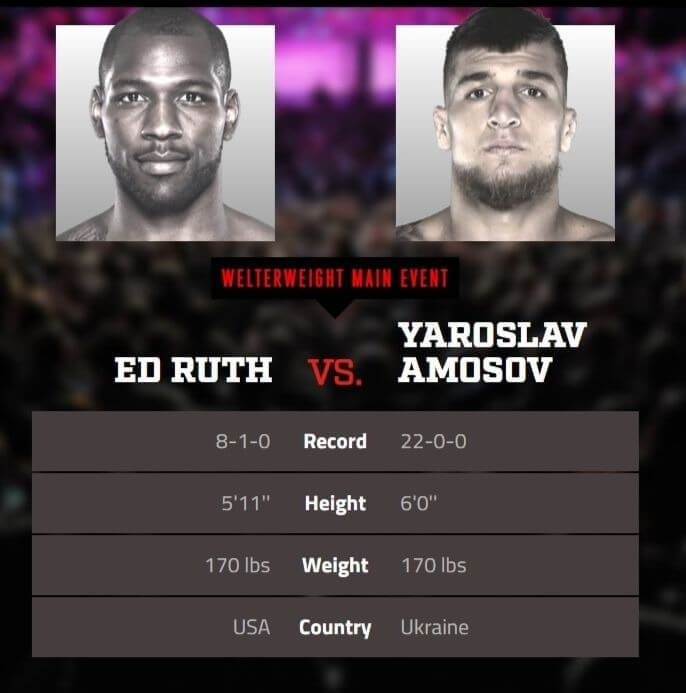 Bellator 239 live stream schedule
All times ET.
Main card | 9pm on DAZN
Ed Ruth vs. Yaroslav Amosov
Brandon Girtz vs. Myles Jury
Tyrell Fortune vs. Timothy Johnson
Javy Ayala vs. Valentin Moldavsky
Prelims | 6:15pm on DAZN
Cris Lencioni vs. Salim Mukhidinov
Denise Kielholtz vs. Kristina Williams
Lucas Brennan vs. Jamese Taylor
Adil Benjilany vs. Kevin Croom
Chris Gonzalez vs. Aaron McKenzie
Christian Edwards vs. Marco Hutch
Gabriel Varga vs. Teejay Britton
Grant Neal vs. Claude Wilcox
J.W. Kiser vs. Davion Franklin
Gaston Bolanos vs. Solo Hatley Jr.
Kyle Crutchmer vs. Scott Futrell
Josh Hill vs. Vinicius Zani
Shawn Bunch vs. Keith Lee
For a year-round sports fix, sign up here and check the "sports" box to receive our weekly boxing newsletter. You'll hear about all the biggest fights and best knockouts from the Daily Dot's streaming sports guru Josh Katzowitz.
The Daily Dot may receive a payment in connection with purchases of products or services featured in this article. Read our Ethics Policy to learn more.