Creator Ben Nyberg tells the Daily Dot about his new bookmarklet, based on the eccentric and spammy musings of Twitter's @Horse_ebooks.
If you're craving more of the eccentric and quixotic musings from @Horse_ebooks, there's an antidote.
A new bookmarklet for Web browsers released Thursday transforms boring websites into dazzling @Horse_ebooks shrines with a click of a button.
After dragging the bookmarklet to your toolbar, subsequently clicking it changes pictures on any website to the synonymous @Horse_ebooks Twitter icon and words into tweets from the Twitter feed. That's it! Even the directions call it "absolutely useless."
It's based off the cult favorite Twitter account, @Horse_ebooks, which no one knows the origin or impetus of. It spews random phrases and occasionally tweets links to a shady spam website selling ebooks.
The bookmarklet was created by Ben Nyberg, a Brooklyn-based interactive designer and @Horse_ebooks fan. He was inspired by similar applications, such as bacolicio.us, that alters websites appearances, but he wanted to expand the Twitter feed's humor.
"What I wanted was to be able to take @Horse_ebooks's non sequiturs and put them in a different context to (hopefully) amplify the comedic absurdity of the whole thing," Nyberg wrote to the Daily Dot, adding that he loves seeing the bookmarklet used on Facebook pages.
Nyberg explained how the bookmarklet works. It scans the site's code for images then replaces them with the horse picture. The text is switched out with 200 of the most recent tweets from @Horse_ebooks. He said it took him two days to build the bookmarklet.
Twitter users thanked Nyberg for doing the Internet a "mitvah," while another user called Nyberg his "favorite person right now."
This isn't the only way @Horse_ebooks fans have been memorializing the feed. There's a comic strip dedicated to it, a locket necklace with tweets from the account engraved into it, and even a fan fiction Tumblr.
Here's how the new and improved CNN.com looks like.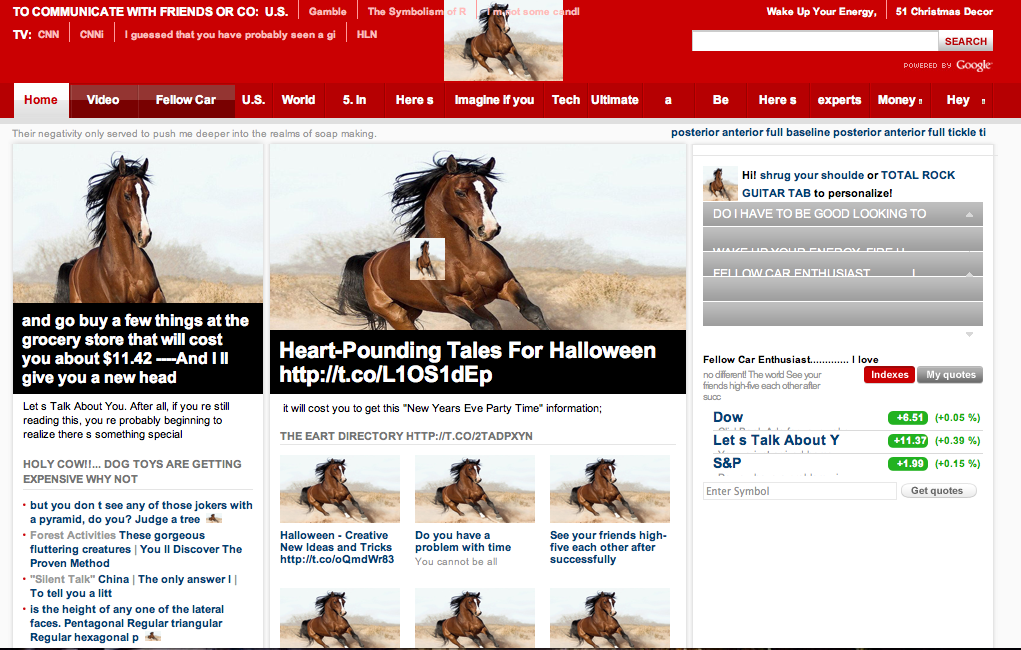 Pure, uncut internet. Straight to your inbox.