There's been a lot of discussion over the past few decades about the humanizing element of television. TV has made us relate to mobsters, drug lords, serial killers, and all other manner of bad guys and antiheroes. Yet when The Wire creator David Simon began developing HBO's The Deuce, it was important he didn't set out to make a show that "humanized" the porn industry. Instead, Simon entered the project with the assumption that his characters were already human, and that our ability to empathize with them should have less to do with breaking down stereotypes and more to do with exploring the assumptions we might have about sex work in the first place. 
The Deuce: Season 3
RELEASE DATE:
9/9/2019
CREATOR:
David Simon
STREAMING:
HBO
In its final season, 'The Deuce' cements its status as another important show from David Simon about power and disenfranchisement.
In its third and final season, The Deuce drives this point home beautifully and tragically. "Fuck normal," says Maggie Gyllenhaal's porn director, Eileen, to the man she's seeing. "There's no such thing." For Simon's ensemble of hustlers, adult film performers, and general New York City misfits, these words have never been truer. The Deuce season 3 picks up at the tail end of 1984, with the '70s golden age of porn depicted in Boogie Nights firmly in the past, and the '80s home video explosion in full swing. The days of feature-length films with actual stories and dirty movie theaters are on their way out, the amateur porn field is burgeoning, and the characters are all trying to maintain a semblance of normalcy. 
This becomes increasingly difficult not only because of the changing porn industry, but the changing face of New York City. Twin brothers Vincent and Frankie Martino (James Franco) attempt to adjust their businesses amid the diminishing strength of their mob backers. Vince thinks about getting out, while Frankie looks for ways to branch out on his own. Abby Parker (Margarita Levieva) struggles to stay true to her activist roots without advocating for censorship of all pornogrophy. Officer Chris Alston (Lawrence Gilliard Jr.) and public morals official Gene Goldman (Luke Kirby) battle against their consciences as they turn to unconventional methods for cleaning up the Deuce. And Eileen clashes with Harvey (David Krumholtz) over the direction of the porn industry amid her own family troubles.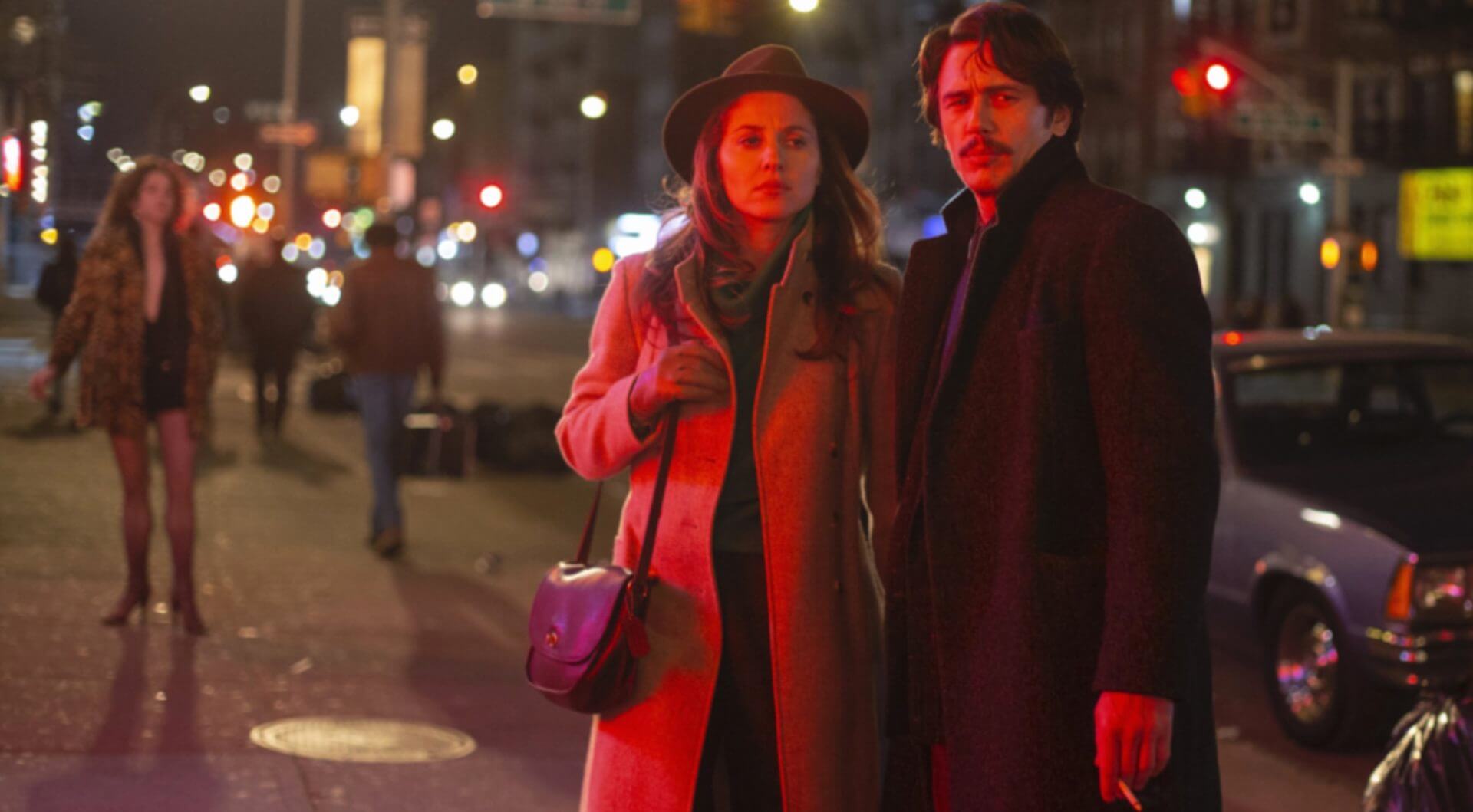 I mentioned last season that Gyllenhaal had increasingly become the centerpiece of The Deuce, and this season is no different. Gyllenhaal gets more great scenes than ever, particularly in her interactions with her aforementioned love interest (the always terrific Corey Stoll). Eileen has recovered from a traumatic past and used porn as an avenue for personal liberation. Her films are feminist, experimental, and bold, but she's also stifled by a male-dominated world that doesn't know what to do with her talent.
Eileen's life has improved by becoming a household name in porn, but the same can't be said for Lori (Emily Meade), even after rising to the status of full-blown porn star. With the death of her pimp, C.C. (Gary Carr), last season, one thought Lori's luck might improve. But things continue to look bleak for her on the West Coast, where she has recently left rehab at the beginning of season 3. On top of her cocaine addiction, the L.A. porn scene is quickly grinding Lori down. Her manager/boyfriend literally makes a joke about how when women say no on set, they really mean yes. When Lori tries to speak up about the way other girls are being treated, she gets told to mind her own business. Sadly, the issues she's dealing with are depressingly familiar.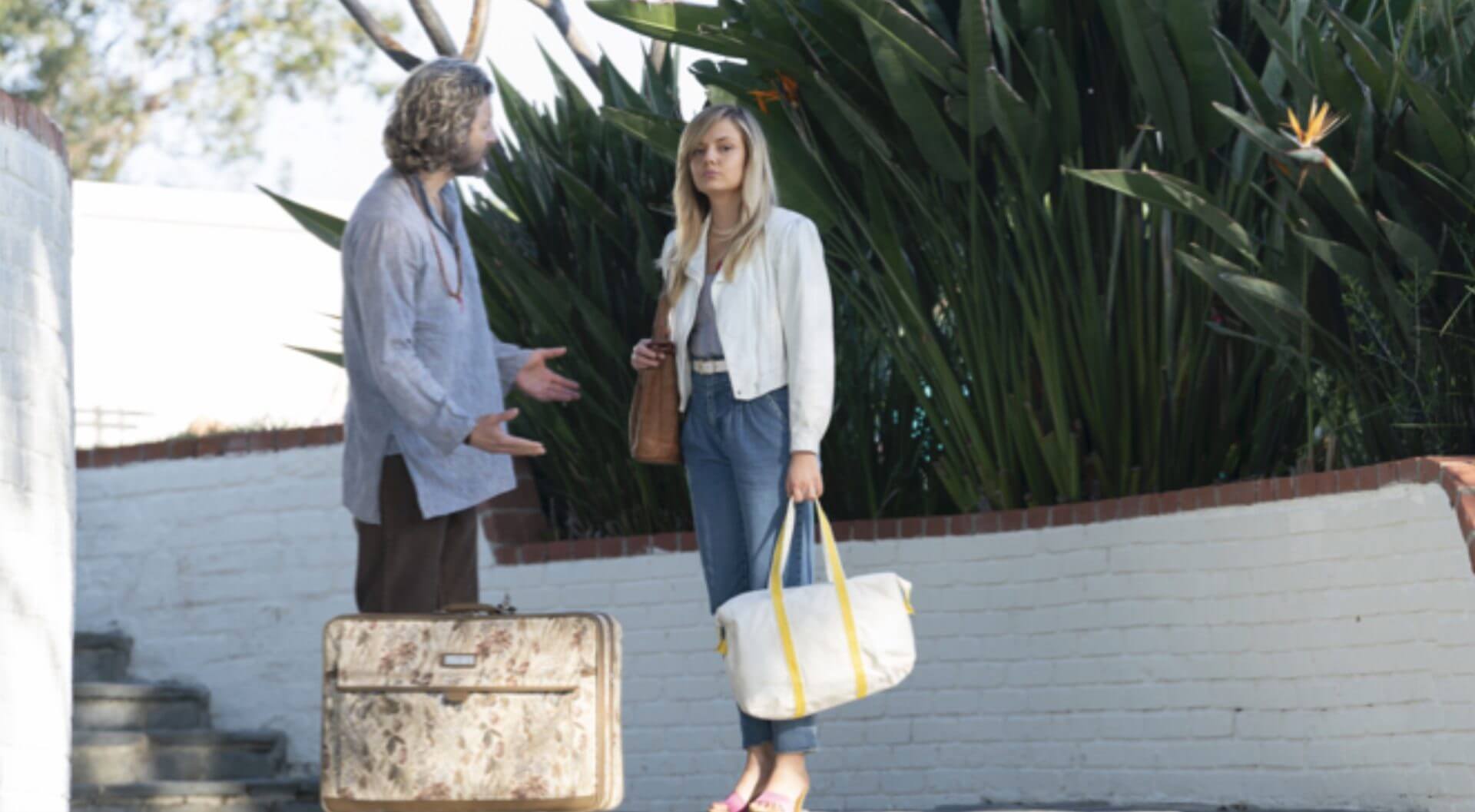 Of all The Deuce's storylines about the porn industry and adopted families, it's in Lori's that the comparisons to Boogie Nights feel the most evident—and the most cliched. She nearly falls into the trope of the tragic porn star this season. Boogie Nights may be a masterpiece, but it also cemented many of the problematic archetypes and stereotypes surrounding porn today. Luckily, Meade is so good, even the cliched moments work here. 
The Deuce season 3 also fits in storylines surrounding Wall Street and the AIDS crisis. Vince's nephew, Joey (Michael Gandolfini), starts a stripping service for his trader buddies, with begrudging help from his father, Bobby (Wire alum Chris Bauer). Meanwhile, Paul (Chris Coy) tries to support his partner, Todd (Aaron Dean Eisenberg), as he battles AIDS. The downside to Simon tackling this dark period in history is that there's no way to devote as much time to it as it deserves. Still, it would feel wrong not to cover this issue in a show about the New York sex industry in the 1980s, and The Deuce handles the material gracefully, with many of the season's most affecting scenes surrounding Paul and Todd.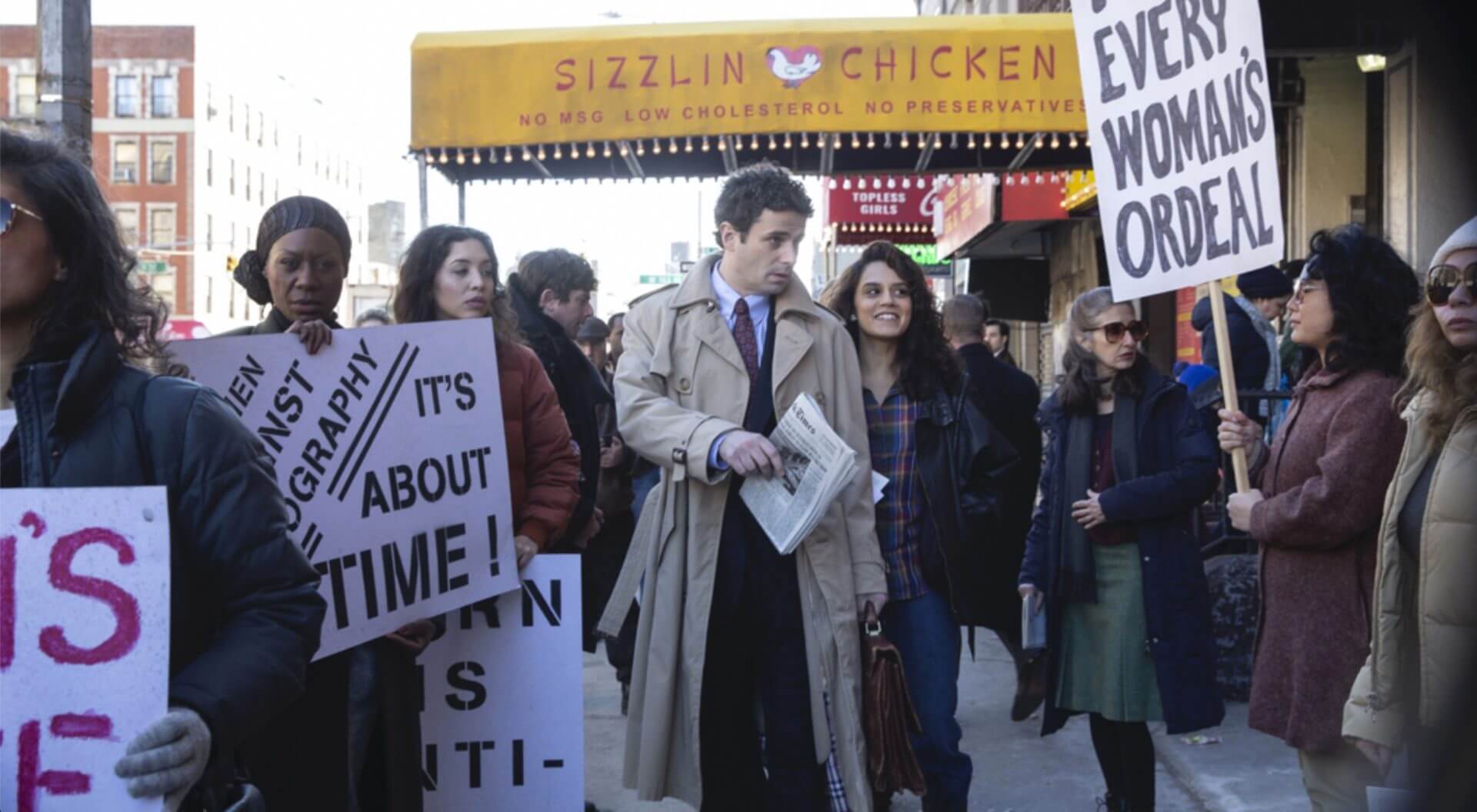 Many other moments tug at the heartstrings in season 3. In a subplot ripped from Paul Schrader's Hardcore, Melissa (an excellent Olivia Luccardi) gets paid a visit from her absentee father (guest star David Morse). There's clearly a history of anger and possibly abuse here, but the show frames the whole exchange delicately and thoughtfully. Even Franco gets moments to shine, like when Vince looks around his club as the Talking Heads' "Once in a Lifetime" plays. He knows all of this will soon be gone, and his definition of normal will have to change.
While it will be sad to see The Deuce come to an end after season 3, it's nice to see the show going out on a high note, if an under-appreciated one. (HBO is dropping it on Mondays rather than the usual Sunday night scheduling, a sign it was never going to survive long among the network's expanded programming options.) Another expert meditation on corruption and disenfranchisement from Simon, The Deuce hammers home the fact that sex work should be normalized, not demonized. Yet it also demonstrates that, as with so many things, it can never truly be good as long as those in power use it to subjugate others. 
https://www.youtube.com/watch?v=h2tFmlBKFZA
Still not sure what to watch on HBO? Here are the best movies on HBO, the best HBO documentaries, and what's new on HBO Go this month.