In HBO's new half-hour comedy Camping, a group of middle-aged friends enters the wilderness near Brown Bear Lake to partake in the time-honored ritual of the campout. The occasion: a birthday celebration for Walt (David Tennant), an amiable, easygoing 40-something married to Kathryn (Jennifer Garner), who is… neither of those things. Having planned, arranged, and scheduled every second of the outing as if it were her own wedding, Kathryn's neuroses mount and redouble with each new divergence from the plan. Given that another couple on the trip has just unexpectedly broken up and one of them has shown up at the campground with a brassy, free-spirited tagalong whom nobody has ever met, Kathryn has plenty to fret about.

Girls executive producers Lena Dunham and Jenni Konner created Camping based on Julia Davis's 2016 British series of the same name, and the narrative concept certainly has potential. Camping can be a rewarding or even transformative experience if you have the right location, the right people, and the right weather—but campers rarely get to check all those boxes. Something always goes wrong, whether it's a critical item forgotten at home or a freak rash of thunderstorms that drenches the campsite. It's a situation primed to wear on the nerves of anyone lacking the right temperament. Kathryn, with her neuroses, speed-walking, and obsessive attention to detail, never stood a chance against Brown Bear Lake.
Garner brings Kathryn to life as a certain breed of well-to-do, middle-aged woman—the sort who would like to speak to your manager, please. Blending equal parts frustration and righteous indignation over the smallest of offenses, Kathryn wouldn't be happy unless the entire outing went off without a hitch, and even then she'd start looking for things that went wrong. Garner delivers a strong performance, but unfortunately, it also proves a little too accurate for its own good. Kathryn is someone with whom you wouldn't want to endure an elevator ride, much less a weekend camping trip. That's not to say unlikable characters can't make for good comedy—but Kathryn isn't funny, she's just unlikable. That summation applies to the rest of the characters as well, at least the ones that make any impression at all.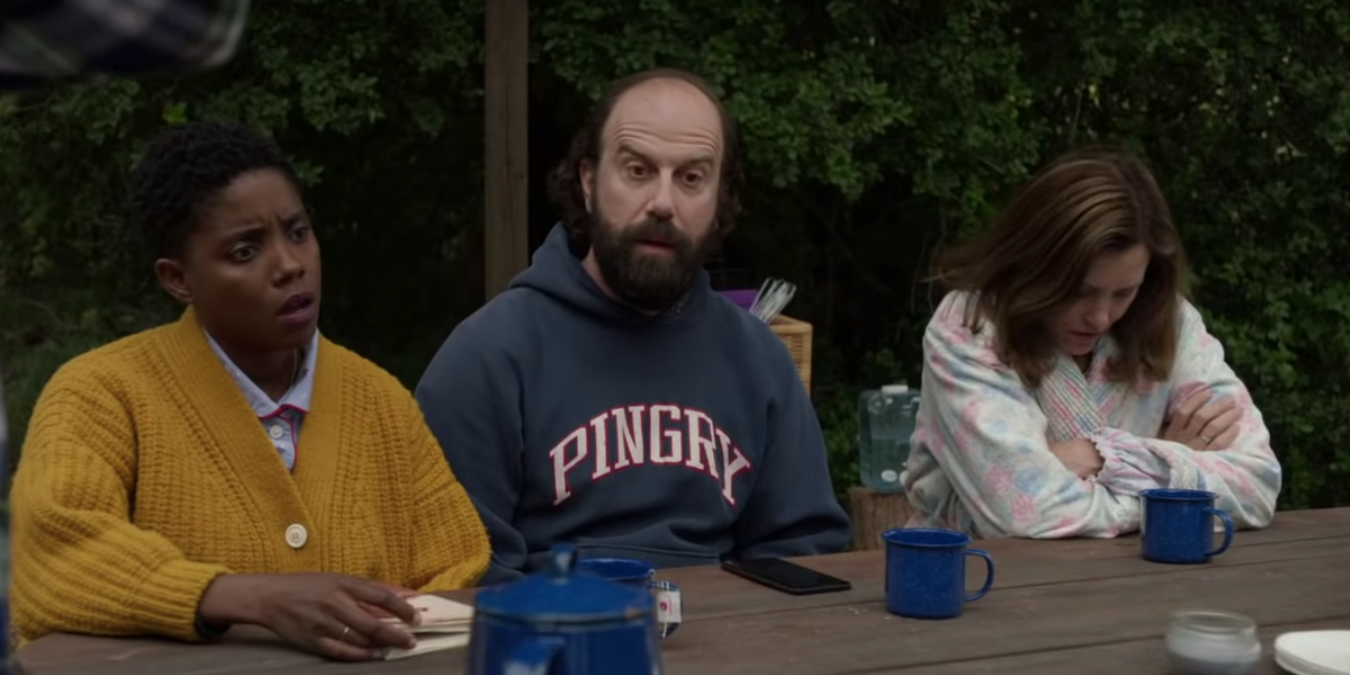 That's no fault of the cast. In addition to Garner and Tennant, the Camping lineup includes talented comedic character actors such as Juliette Lewis, Ione Skye, and Brett Gelman. Sadly, the scripts simply don't give them enough to work with, resulting in a listless, perfunctory exercise that earns a few good laughs but never makes the trip worth the drive.
If Camping was trying to recreate the unpleasant experience of being trapped in an isolated area with a group of people you can't stand, well… mission accomplished. The good news is you can decamp from the show at any time, and it won't even cost you a weekend fee.
Still not sure what to watch on HBO? Here are the best movies on HBO, the best HBO documentaries, and what's new on HBO Go this month.