Hide your kids, because birds of prey are snatching everybody.
At least, that seems to be the case in a new video showing a golden eagle trying to seize a small baby. For lunch, presumably.
The clip has been viewed 1,233,517 times since it was uploaded to YouTube yesterday by user MrNuclearCat, which isn't surprising given the high shock factor of what transpires on screen.
A typical day in a Montreal park almost becomes a sequel to Alfred Hitchcock's The Birds when a golden eagle, one of the largest birds of prey in North America, swoops down and snatches a toddler sitting in the grass. The bird lifts the child about a feet or so off the ground before dropping it to the floor and flying away. It's truly something else.
But the video has its detractors.
The same day that "Golden Eagle Snatches Kid" appeared online, a rebuttal clip was posted by YouTube user Cyatek.
"So im here to prove that this video is fake, because i'm a no-life without anything better to do," Cyatek writes as part of the video description.
"Very well done CGI i must say. But it's all it is, computer effects."
Cyateck backs up his claim that the video is a hoax with a screengrab and an even slower motion version of the video where the eagle doesn't have a shadow.
He also cites a video still posted by fuck_your_feeling on Reddit where part of the eagle's wing disappears, which we've posted below.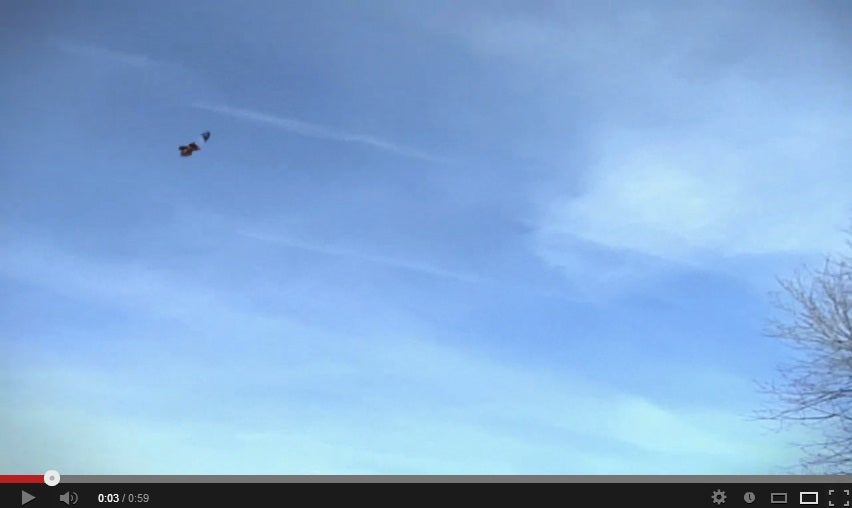 It's not just these two who maintain it's a hoax. 
Gawker's Neetzan Zimmerman wrote a post offering various reasons why the video was faked. The lot of them aren't convincing or substantive, but he does offer this Facebook post written by renowned bird expert Kenn Kaufman:
A golden eagle tries to snatch a baby in Montreal, and the video goes viral. But it's faked. Golden Eagle is a scarce visitor in the Montreal area, but the bird in the video is not a Golden Eagle, nor anything else that occurs in the wild in North America. This was clearly a setup: using a falconer's bird, and probably a fake toddler for the distant scene. With all the ignorance about nature that's out there already, the last thing we need is this kind of stupid garbage.
The jury is still out on how legitimate this video is. One thing's for certain, however: Real or not, you need to watch this video. Right now.
Photo via MrNuclearCat/YouTube