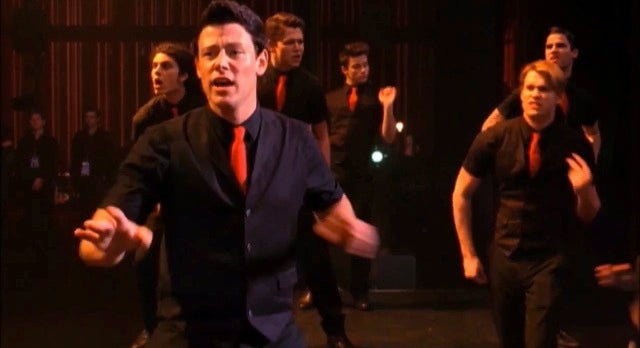 Musician Jonathan Coulton started a massive Twitterstorm last week after he found out that Fox's hit show Glee was set to perform a version of Sir Mix-a-Lot's "Baby Got Back" that sounded suspiciously similar to Coulton's very distinctive original arrangement.
Glee often performs new arrangements of the songs they use. But Coulton was never contacted by anyone from the show and didn't even know that they had used his version of "Baby Got Back" until the songs for the episode "Sadie Hawkins Dance" were released online last week (and put up for sale on iTunes in the U.S. and Sweden) and he saw the Glee Wiki entry for the episode.
He took to Twitter to vent his frustration.
"Hey look, @GLEEonFOX ripped off my cover of Baby Got Back … Never even contacted me. Classy," Coulton tweeted, which led many to stand with Coulton and lash out against Glee and FOX.
After Coulton listened to the song, he suspected that Glee may have even used his audio, citing a duck quack he placed in his cover. Fans have since put together a side-by-side comparison, and the two versions are very similar.
It only got uglier after Alex Anders, a music producer for Glee, appeared to comment on the situation.
"Some people can't see opportunity when it smacks them in the face," Anders said in a now-deleted tweet, which Coulton didn't take lightly.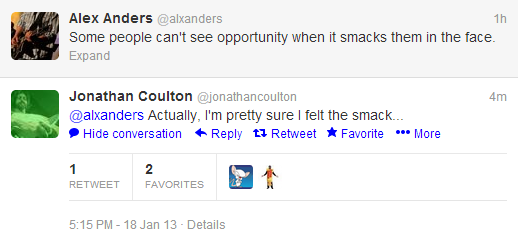 via thestaticinhersmile/Tumblr
Anders later clarified that his comment had "absolutely nothing to do with what many of you assumed."
Coulton has yet to hear anything from FOX, although he is approaching the situation with caution.
"We'll know more this coming week when the episode it's supposed to be from actually airs, or if/when FOX actually has a comment about this," he wrote in an update on his website on Jan. 20.
Divisi: "Yeah!"
But Coulton is hardly the first artist whose original take on a song may have been ripped off by the popular show. Glee has received complaints that they've ripped off original arrangements of covers as early as May 2011.
Pop Culture Brain's Alex Rabinowitz was the first to point out on May 19, 2011, that Glee had used University of Oregon a cappella group Divisi's version of Usher's "Yeah!" (which they performed in 2005) in the show's season 2 finale. He spoke to sources with ties to Divisi and reported that Glee had actually reached out to Divisi, but the deal fell through at the last minute, and the show used the song anyway.
By the time the episode aired on May 24, OregonLive.com reported that Divisi would receive the credit they deserved.
"Evynne and Divisi are getting credit for the arrangement. [The Glee producers] seem genuinely interested in doing the right thing," Peter Hollens, who is married to Divisi founder Evynne Hollens, told OregonLive.com.
Greg Laswell: "Girls Just Wanna Have Fun"
Greg Laswell has had his music featured on various television shows over the years, but he only found out that his version of "Girls Just Wanna Have Fun," a stripped-down piano ballad that is virtually unrecognizable from the original by Cyndi Lauper, was used in the Glee episode "I Kissed a Girl," which aired in November 2011.
"Hmm. You know I never even thought of completely ripping off someone's COVER of a song, and I love stealing! Nice job @GLEEonFOX," he tweeted to his followers.
About a week later, Laswell spoke to The Hollywood Reporter and had yet to be given credit by FOX for his cover.
"Of the Glee version, I think they have enough talent over there that they shouldn't need to go rummaging through other artists' work," Laswell said at the time. "Public acknowledgment of their note-for-note rendition would have gone a long way."
DJ Earworm: "Fly"/"I Believe I Can Fly"
A couple months later, mashup artist DJ Earworm (real name Jordan Roseman) had a similar complaint. His mashup of "Fly" and "I Believe I Can Fly" had previously been performed on The Sing-Off, but it also appeared in the Glee episode "On My Way" on Feb. 21, 2012 without his prior knowledge.
DJ Earworm took to Twitter to complain, but that's as far as he took it.
"I never reached out to Glee beyond the tweet, so I didn't hear from them nor did I expect to," DJ Earworm told the Daily Dot in an email.
I never really considered legal action, and I'm pretty sure I would have had a tough time with it. And especially as a mashup artist, I'm so often on the other end of the question of infringement, so I don't really want to be the one to cast stones!
Coulton, on the other hand, mulled over the possibility of taking legal action and told fans that his lawyers are researching copyright issues—mainly whether Glee actually used the audio from his song in their cover.
Coulton purchased a statutory license in order to distribute his version of "Baby Got Back," and his songs are shared under a non-commercial Creative Commons license, which means that people are allowed to record their own covers of his song as long as they don't try to sell or make a profit off it.
Since "Baby Got Back" is a cover, he can't copyright Sir Mix-a-Lot's original composition, and so the copyright ultimately lies with Sir Mix-a-Lot and his label.
Parker Higgins, an activist for the Electronic Frontier Foundation—a U.S.-based nonprofit digital rights group—explained that even though Coulton created an original arrangement, he does not own the copyright to it.
"You don't retain copyright on things like the style in which you sing or the instrumentation or things that are unique to the recording," Higgins told the Daily Dot. He also said that lyric changes—at one point, Coulton sings, "Jonny C" instead of the original "Mix-a-Lot," a detail Glee apparently also copied—aren't covered under Coulton's copyright.
Normally, if you want to use an artist's audio in a song, a process known as sampling, you would have to get permission from the artist and negotiate a license and a fee. If Coulton can prove that Glee sampled his version of "Baby Got Back" and didn't obtain the license, that could turn out to be problematic for FOX.
Otherwise, while the ethics of stealing Coulton's arrangement are debatable, Glee would likely be in the legal clear with "Baby Got Back."
"I think the reason that people are so upset about Jonathan Coulton and these other artists is that you expect that if you're going to be using someone else's work like that—even if you're not legally required to—you ought to give attribution and give credit where it's due," Higgins said.
"Sadie Hawkins Dance" has since aired, and the audio version of "Baby Got Back" that circulated online last week was the one ultimately used on Glee.
After the show aired, Coulton appeared to be quite angry about it and promised an update to his situation.
Greg Laswell reached out to Coulton on Twitter late Thursday, and although Coulton is still remaining cautious, he and Laswell are still not happy about the rip-offs.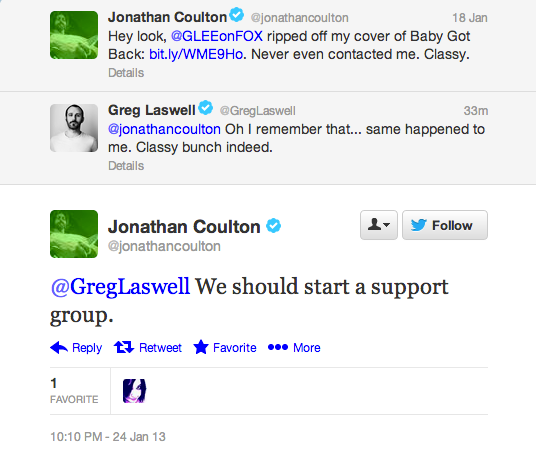 Paul Potts, a software engineer who runs the blog Geek Like Me, Too, decided to isolate and compare the audio waveforms on Coulton's and Glee's versions of "Baby Got Back" in order to get a closer look at just how similar the two songs are, even after examining the "quack" Coulton used instead of an expletive.
He is convinced that Glee used Coulton's audio, although he is uncertain how his investigation would hold up in court.
"Together with some investigation that other Coulton fans have done, ranging from putting the tracks side-by-side for comparison, to pointing out how the vocals could have been canceled in the original, to noting other glitches in the editing, it's compelling," Potts wrote.
Compelling enough for Fox to apologize?
UPDATE: On his blog, Coulton writes that Fox has contacted him, saying "they're within their legal rights to do this, and that I should be happy for the exposure (even though they do not credit me, and have not even publicly acknowledged that it's my version – so you know, it's kind of SECRET exposure)."'
He still believes that the show used some or all of his audio, and promised to update his fans on that investigation.
Photo via GleeOnFox/YouTube