The first time I heard about the Illuminati was when I read the book Behold a Pale Horse in college, but how are young adults these days learning about the shadowy, centuries-old organization that supposedly controls all? On the Internet, "the Illuminati" has now become a refrain, a Twitter-ready punchline. It's been tied to hip-hop, pop music, and now, a Disney show. 
The Internet has gotten all lathered up about the return of '90s sitcom Boy Meets World, in the form of Girl Meets World, which debuts tonight on the Disney Channel. The show follows Cory (Ben Savage) and Topanga (Danielle Fishel), who are now the parents of a middle-school-aged daughter, Riley (Rowan Blanchard). The original show chronicled the friendship of Cory, Topanga, and Cory's best friend, Shawn (Rider Strong), and it's somehow passed the Internet nostalgia test. There's a lot of pressure to measure up to Boy Meets World.
I hope the girl whose starring in Girl Meets World knows, that if she ruins this she's literally ruining thousands of lives & a classic show

— MaryKate (@maryykatee15) June 27, 2014
it sucks so bad I have to work tonight because I miss my best friends 16th birthday party AND girl meets world 😒😩😭

— jlo✯❥ (@Jordan_Leighhhh) June 27, 2014
But not everyone thinks the show is so innocent. The Tumblr Disney's Boy Meets World Illuminati has been documenting "the Illuminati, Satanic, Masonic, and Occult Symbols from Boy Meets World and Girl Meets World" since last summer. Though the Tumblr owners state they won't talk to media, they do stress that the actors are not in the Illuminati, but are simply "Illuminati puppets":
"Ben Savage is paying homage to the Illuminati as an Illuminati puppet. He sold his soul and he's a Satan worshipper."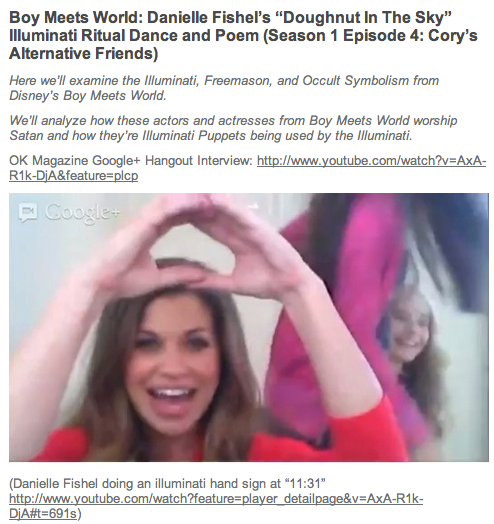 On this Tumblr, teenage girls' peace-sign selfies are repurposed as Disney Illuminati programming, naturally. It also offers a bit of history: "Disney was part of the CIA's MK-Ultra program. Disney productions has also contained mind control triggers and symbolism."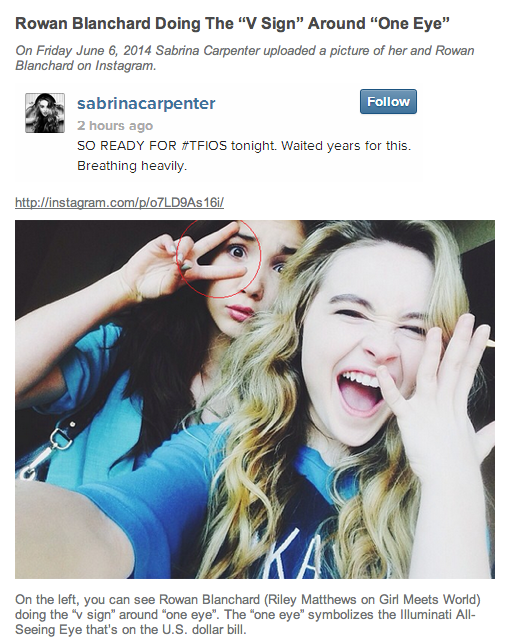 It also explores the use of "Monarch Programming," supposedly developed by the C.I.A., which is now used to control the entertainment industry.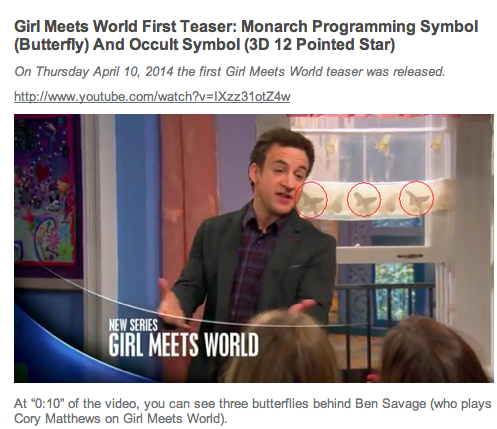 Is this Tumblr the digital equivalent of your college roommate who got high and saw satanic symbols in Big Gulp cups? Something tells us this is a bit more tongue-in-cheek, but it's not alone. The Vigilant Citizen does the same on a larger symbolic scale, and there are some similarities in the language of the two blogs. Could there be… a connection?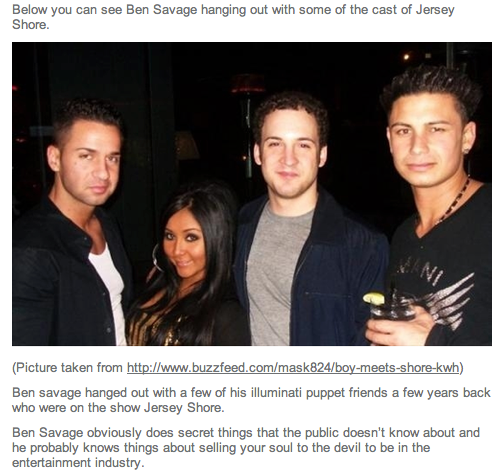 I felt myself slipping a bit after reading the Tumblr. Are we all Illuminati puppets for watching the debut tonight? Is that an Illuminati symbol in my latte foam? Happy watching! 
Illustration by Jason Reed