Women only make up 17 percent of Fortune 500 boards. The same percentage appear in crowd scenes in films and television shows. Actress Geena Davis doesn't think that's a coincidence, and she's taking strides to do something about it.
"Could it be that seeing that ratio for decades has become so ingrained in us that it looks normal," Davis queried at her Aug. 6 See Jane Salon panel, hosted by YouTube Space Los Angeles. "So when you get to 17 percent of your board being women, you feel done. The one place where things can change overnight is on screen. On any kind of screen."
On screen, gender inequality has been repeatedly pointed out as a problem. One organization has been trying to make strides toward parity since 2007. Davis, who rose to prominence in such women-fronted films as A League of Their Own and Thelma and Louise, founded the Geena Davis Institute on Gender in Media in 2007, as a research-based organization aimed at increasing the presence of diverse women in media. At the event, Davis targeted digital media as a place ripe for growth and change.
"In the digital landscape, things are happening really fast," said Davis. "This is a great place for us to change the perception of women, show more women's stories, show more women doing interesting things and different things."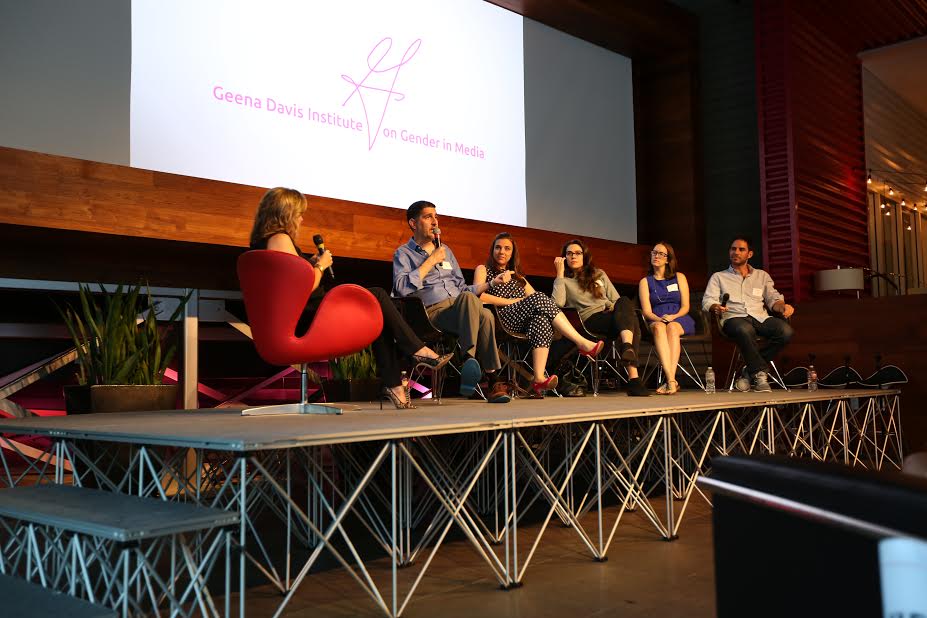 The world of YouTube and women is a fraught one, with much attention paid to the issues around sexism and hatred directed at female personalities in the vlog space. Little is different for female characters in the space, but Davis's panel brought together several companies working against that. WIGS is one example. The digital network aims to bring "adult drama" online, and their formula often pairs strong women with equally strong scripts to make a splash.
"What we hope we're doing is telling interesting stories about interesting characters who happen to be women," WIGS' executive producer and COO Jake Avnet explained. "What we find is our audience for a show like Blue is only half women, which is not surprising."
For the younger set, AwesomenessTV has been at the forefront of creating teen and tween programming, and producer Brin Lukens spoke on the panel about bringing female-led shows to the forefront.
"Our audience is largely female, and they're underrepresented in TV and film," Lukens said. "They want to see these characters who look like them and act like them. For us, it's been how do we tell these stories and how are we authentic about it."
Real women, at least of the celebrity variety, also have a chance at equality in digital video, as addressed by Betsy Koch and Eliza Skinner of Funny or Die. They explained that having women behind the scenes helped female celebs develop more interesting skits for their site. However, they stressed that they weren't targeting women, only good content. Likewise, charity and video platform founder Brian Dameris spoke of giving women's causes more time on digital outlets like Chideo.
"Our most successful projects to date are by Keke Palmer and Debbie Ryan," said Dameris. "Both young stars. They are role models for women that age."
Davis pointed out that reaching parity between men and women in society is a slow process. For institutions like Congress, if we add women to the mix at the same rate we've been so far, it will take 500 years.
"We want to cut that in half," she joked, before turning serious to look to entertainment media as an interesting solution. "That's the incredible opportunity we have in the digital world, where things happen so fast and change overnight. Something can become a sensation the next day. In the time it takes to create a YouTube show or a movie or a television series, you can change what the future looks like. You can make the board half women because why not? Who cares! You can do whatever you want. You can make the bosses women. You can change what the future looks like. And then the future will reflect art.
"You don't have to wait for society to turn around so then we can represent things fairly," Davis said. "There's fewer female characters doing real things than there are in real life. When women and girls see it, they realize they can be it. When men see it they go, 'Oh, that looks normal to me.'"
Photos courtesy of YouTube Space LA