If you love Stranger Things and It, then chances are you also love Finn Wolfhard. The young actor has risen steadily to stardom since he joined the nerdy cast of kids searching for their lost friend in the Upside-Down. His role in the terrifying clown thriller solidifies his penchant for playing mischievous kids who fight bizarre paranormal evils.
Wolfhard's fans love him for being a talented, earnest, wholehearted actor who hasn't quite let go of his teen charm. He'll post goofy character videos on Twitter, then head up campaigns asking his Instagram followers to donate to causes like hurricane relief.
Before another heartstopping season of Stranger Things kicks off, it's time to catch up on your Finn trivia. Here are 16 things about the star that you may not know.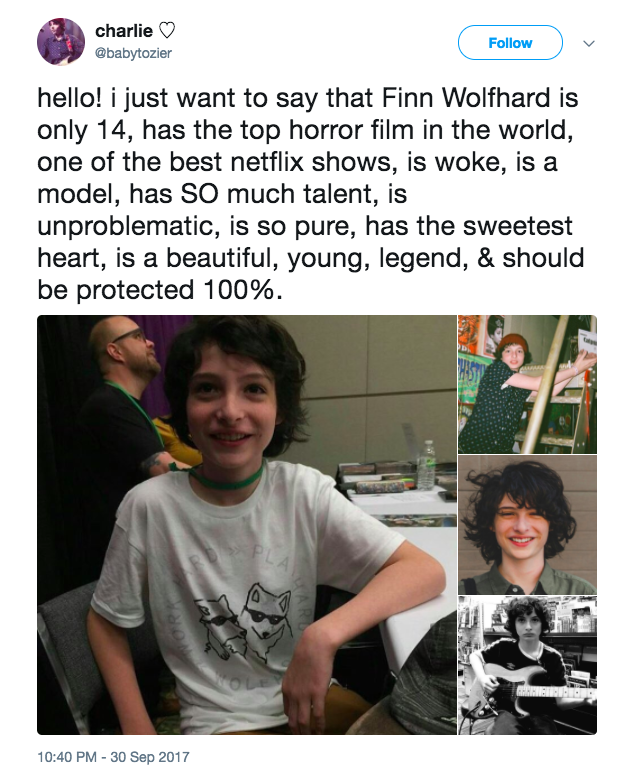 12 interesting facts about Finn Wolfhard
1) He's Canadian, but says he has "weird blood"
Wolfhard was born in Vancouver, Canada, where he still lives today. He's also of French, German, and Jewish heritage. "It's really weird, I have really weird blood," Wolfhard said, according to IMBD. "Then I go to Catholic school, which is really weird."
Wolfhard is currently enrolled in the 8th grade at a Catholic school in Canada.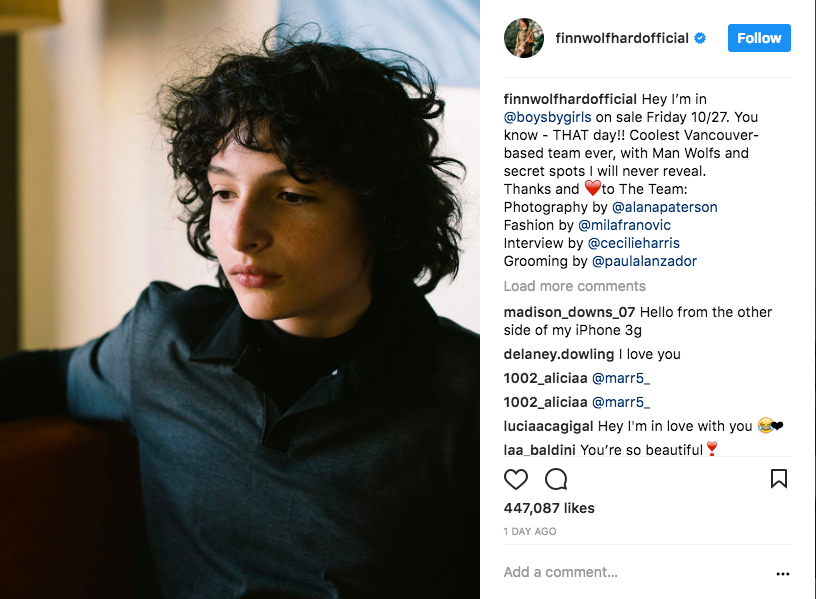 2) He's not the only actor in his family
His 19-year-old brother, Nick Wolfhard, is also an actor. Since 2013, Nick has been featured in both shorts and videos, but is most prominent as a voice actor for anime TV series Beyblade Burst and World Trigger. He regularly posts photos of Finn and himself (and their adorably similar facial expressions) attending premieres, dinners, or just hanging out at home watching anime.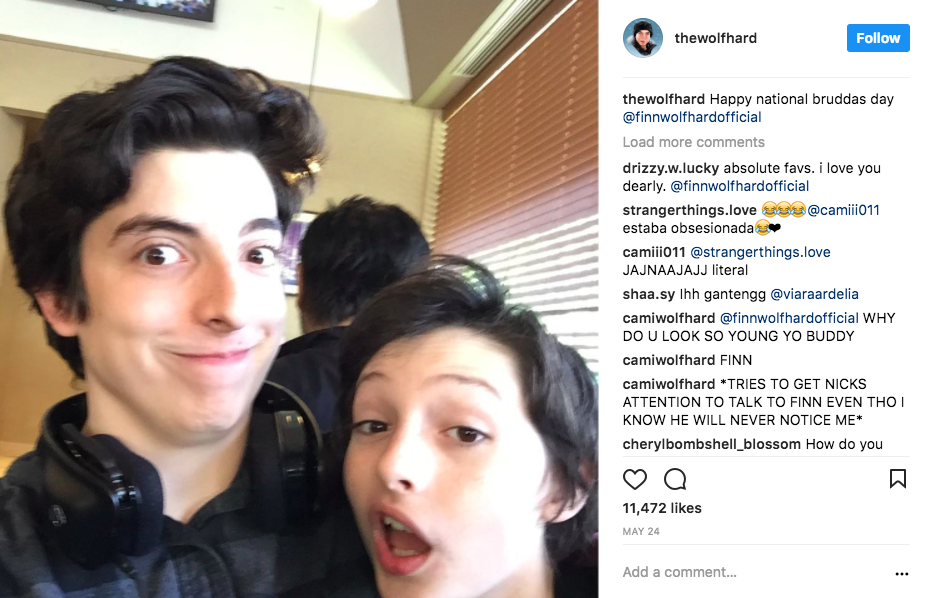 3) He makes $30,000 per Stranger Things episode
For the first and second seasons of Netflix's Stranger Things, the young actor made an impressive amount of money, according to IMBD. Season 1 had eight total episodes and Season 2, which is set to release Oct. 27, has nine total episodes—totaling a little more than half a million dollars in salary from the TV series for Wolfhard.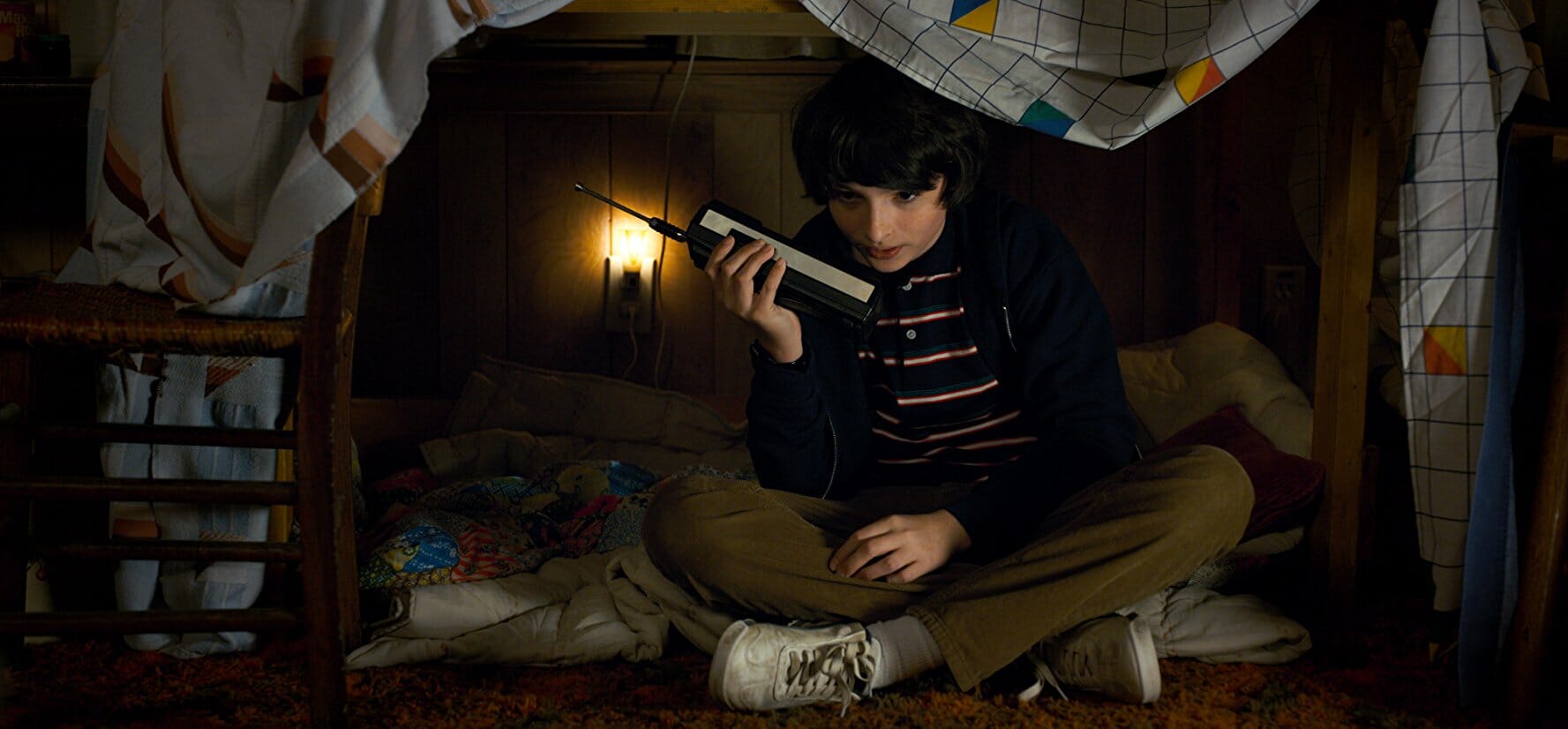 READ MORE:
4) He thinks Pennywise from It is scarier than the demogorgon from Stranger Things
In an interview before the film's release on Good Morning America, Wolfhard compares the scary killer clown Pennywise to the demogorgon monster from Stranger Things. "The demagorgon you can kill, like for real, but Pennywise can shape-shift into anything and is kind of immortal in a sense," Wolfhard said.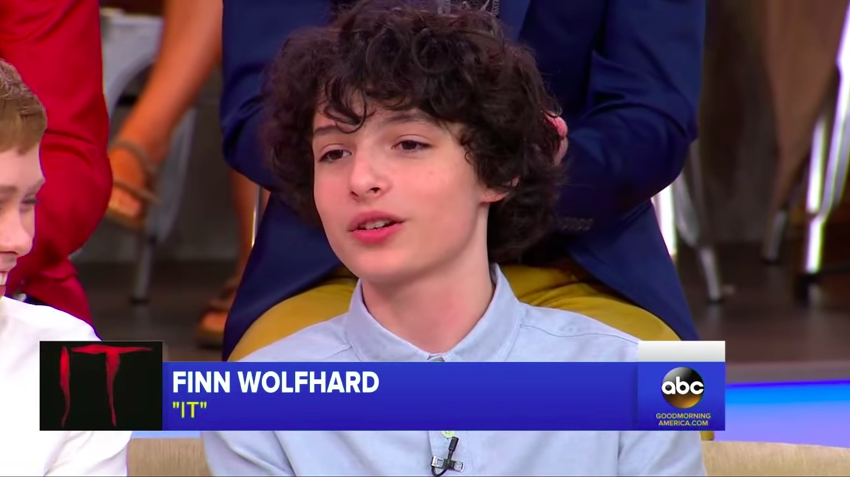 5) Despite starring in the newly adapted movie, he never finished reading Stephen King's It
"We all tried [to read the book] and I got two chapters in and thought, 'Yeah it's really long and I don't know if I have time to finish this,'" Wolfhard told Vice.
Like most 14-year-olds with a long reading list, Wolfhard only got about two chapters into the 1,000-page 1986 novel. With the Stranger Things shooting schedule and regular back-to-back photo shoots and interviews, can you blame him? He says one day, he'll read it all.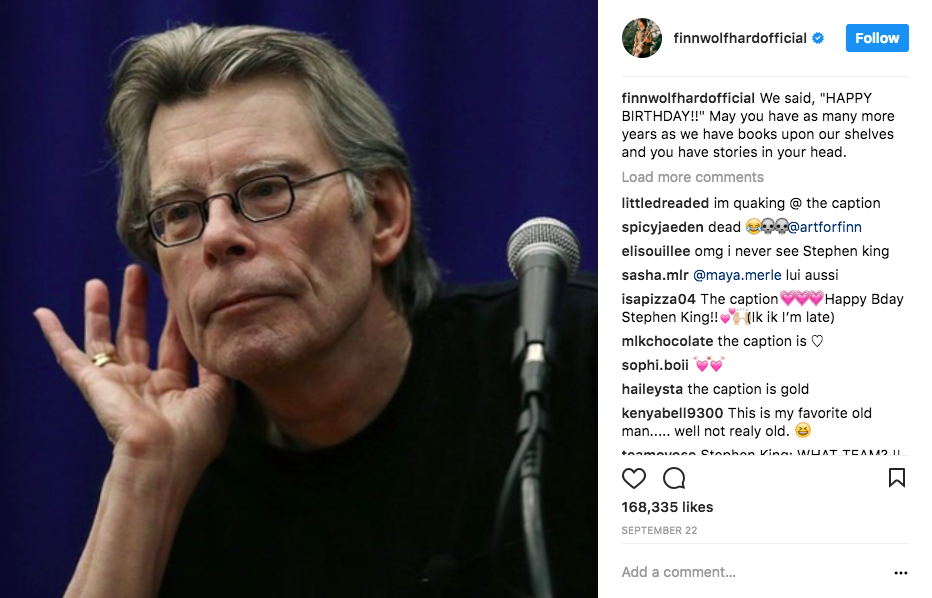 6) He's a self-proclaimed "crazy frog enthusiast"
According to his Twitter bio, Wolfhard loves frogs. He even has his own frog apparel with a company called Represent. Proceeds from the frog apparel went to help flood victims in Houston.
7) He's funny on and off screen.
Wolfhard's character in the movie It was full of humor but the actor proved that he also has jokes offscreen. A hilarious video of Wolfhard pretending to be a middle-aged man vlogging recently went viral on Twitter.
Middle aged business man who finds out vlogging is a thing pic.twitter.com/z6gavGOEcL

— Finn Wolfhard (@FinnSkata) October 23, 2017
READ MORE:
8) He sings and plays guitar in Calpurnia
Wolfhard recently started the Toronto-based band with three other teens. In an interview with Young Hollywood just before their debut performance, the band said some of its biggest influences include Billy Joel, Mac DeMarco, and Twin Peaks.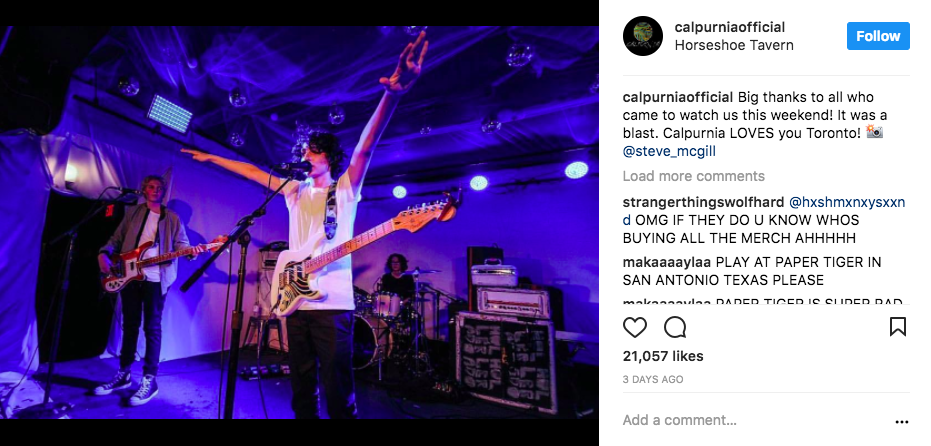 9) He's an aspiring director 
Aside from his own band, Wolfhard has appeared in four music videos for indie bands like Facts and PUP. He also appears in and co-directed the music video for "Sonora" by Spendtime Magic, in which he plays yet another sneaky but well-intentioned teen with a crush.
"Retro Oceans" by Facts
"Guilt Trip" by PUP
"Sleep in the Heat" by PUP
"Sonora" by Spendtime Palace (which he also co-directed)
10) He lives for Twitter polls
Particularly if they involve dads, candy bars, and most importantly, the all-time sports dog classic Air Bud.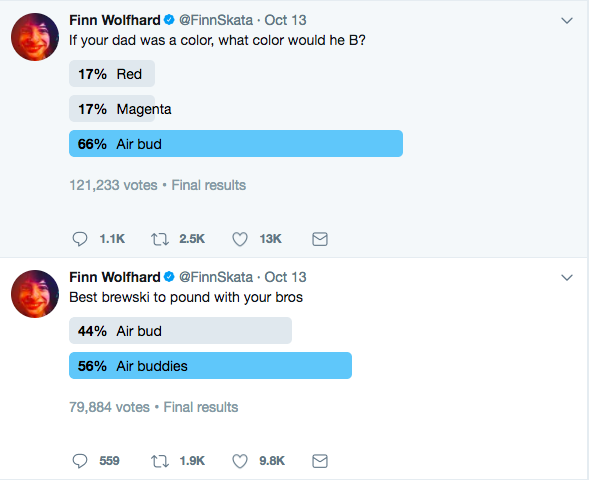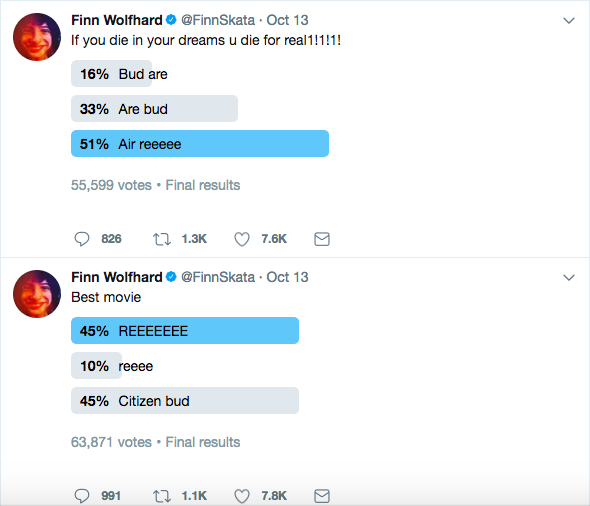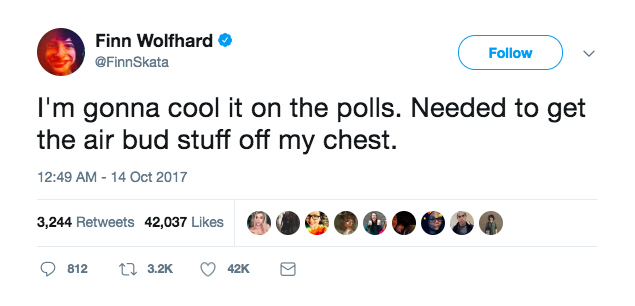 11) He made his early debut in The 100
Wolfhard appeared in one episode of the post-apocalyptic CW show The 100 in 2014 as Zoran, a child with a disfigured face who helps aid an injured stranger. He was 12 years old at the time (pre-Stranger Things fame) and this served his first major acting job.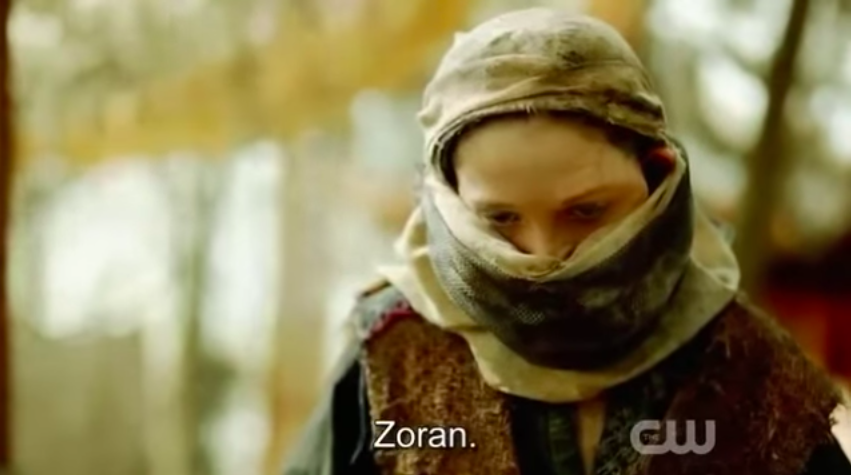 12) He may have presidential aspirations?
Wolfhard hasn't been known to speak out openly on politics, but there's at least one political matter he's taken a strong stance on. Finn (and Red Bull) for president in 2032? Place your bets now.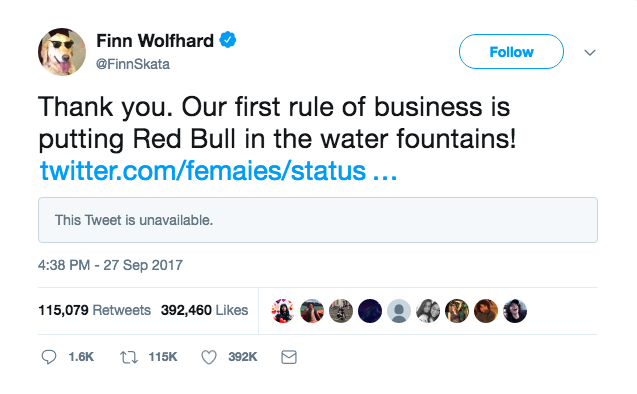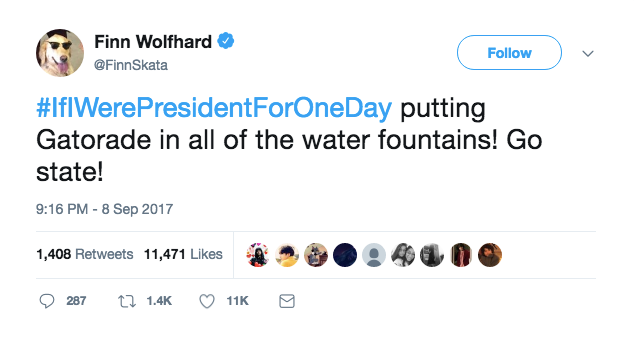 Editor's note: This article is regularly updated for relevance.