"oinka oinka oinka why you awake." That was the strange, unsettling, and inscrutable final tweet by Amy Winehouse.
A new single-serve website is dedicated to such unintentional farewell notes. Famous Last Tweets collects the final tweets of celebrities and displays them on a headstone.
There might be only 10 tweets thus far, ranging from Hollywood icon Elizabeth Taylor to wrestler Randy Savage. As Twitter continues to grow in prominence, the epitaphs are potentially endless.
Sometimes the tweets are strange, but some celebrities final tweets are poignant, like Heavy D's positive last tweet: "Be inspired."
Adam Goldstein, a.k.a. DJ AM, who died in August 2009, had an eerie final tweet: "New york, new york. Big city of dreams, but everything is new york ain't what it seems."
The site was created by London-based artist Stephen Alan Yorke, who tweeted it was his "new art project." Let's hope that isn't his last tweet, though.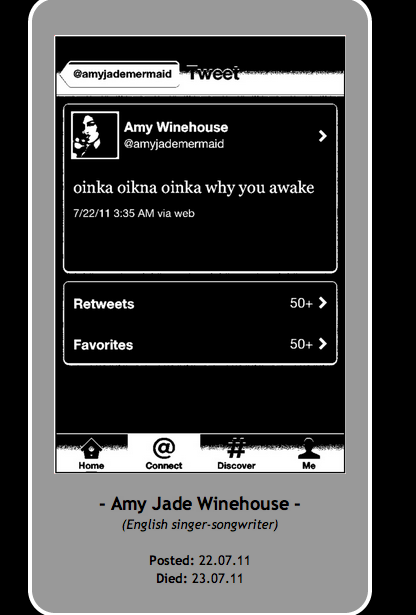 Photo by Famous Last Tweets