Tech

Tech

The gadgets, platforms, and software that make your digital life possible. If it bleeps, clicks or blinks, you'll find it here.

Internet Culture

Internet Culture

There's a community for everyone online.

Streaming

Streaming

News, reviews, and guides for the world of online entertainment.
Fake tweet spurs controversy between Cher and Chris Brown
The incident magnifies the potential, damaging possibilities created by sites like Lemme Tweet That For You.
A fake tweet sent on behalf of singer Chris Brown has landed the 23-year-old in hot water.
The message, which was created using a duplicate tweet creator, said that Cher needed "a beating" because of her opinions on President Barack Obama.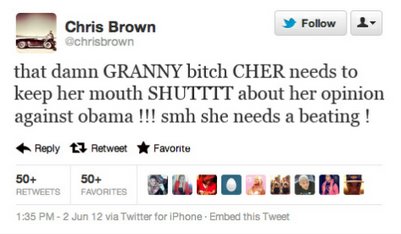 It is unclear where the tweet originated and has since been removed, but not before Cher's fans lashed out against Brown and forced the 66-year-old songstress to respond.
"Cher How do you feel about @ChrisBrown saying he was gonna hit you?" @CherARMY1 tweeted.
"I Don't know? Is that something he's particularly Good at?" Cher responded.
Brown was convicted of assaulting his ex-girlfriend Rihanna in 2009. He has since been unable to shake off the controversy. Brown responded to Cher, @CherARMY1 (which has since been suspended), and the fake tweet Friday afternoon.
"@cher if this is your real twitter I would like to say that some of ur fans like @cherarmy are spreading false accusations!" Brown tweeted. "I have the utmost respect for u as an artist! @cher. Just to clear this up!"
Duplicate tweets can be created using sites like Lemme Tweet That For You. By simply clicking on their profile page, users can create tweets that look like they are from the likes of Shakira, Karl Rove, and Yoko Ono. The fake messages almost look identical to those from celebrities and politicians—except they are missing the blue verified badge.
On social news site Reddit, the fake tweet was the topic of a front page post where people took aim at Brown.
"I heard a good Chris Brown joke but I can't remember the punchline," citizenhizenburg wrote.
"ahh you beat me to it," AntiDeSitter responded.
Fernando Alfonso III served as an early Reddit and 4chan reporter and the Daily Dot's first art director until 2016. He's gone on to report at Lexington's Herald-Leader and at the Houston Chronicle.
© The Daily Dot, all rights reserved.
Represented by Complex Media, Inc. for advertising sales.