Beyonce, can you handle this?
Sasha Fierce and Downton Abbey's Countess of Grantham, Violet, might not appear to have much in common on the surface. But a new Tumblr proves otherwise.
Titled Downton Abbeyoncé and created in October, the deliciously highbrow blog pairs Beyonce lyrics with scenes from the highbrow British television series. Thanks to the second season premiere in the U.S. last Sunday, the show has gained new popularity among your friends.
The ITV-produced drama—but occasional wry comedy—follows the life of the servants and the aristocratic Crawley family in northern England during various time periods in the 1900s.
We can't stop scrolling through these pictures and occasional GIFs. We particularly enjoyed the "Bootylicious" lyric match-up with Cora, the American wife of Earl of Grantham, telling her husband she's pregnant.
Also, this GIF of Cousins Mattew ripping off his jacket to another "Bootylicious" lyric is mesmerizing. And they're not all "Bootylicious" lyrics, either. The blog drops references to Beyonce's "Get Me Bodied" and "Radio."  
It's now going to be hard watching Downton Abbey without thinking of Beyonce—but that's not a bad thing.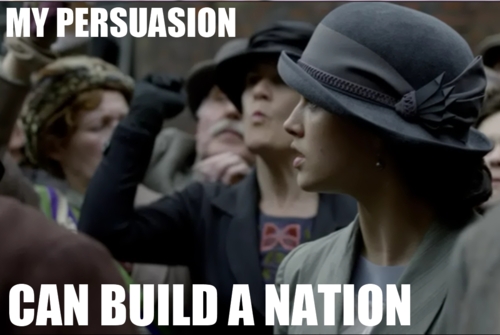 Photos by Downton Abbeyoncé
Pure, uncut internet. Straight to your inbox.