To date, Disney's live-action remakes have been something of a mixed bag. Some of those films, like Maleficent, offered a fascinating twist on a story we already knew; others, like The Jungle Book, create something that seems like it's brand new. But a lot of them have played it safe, whether it's recreating iconic scenes shot-for-shot in Beauty and the Beast, slightly tweaking its dialogue and story to course-correct on some of its more problematic elements like in Aladdin, or sucking out all of the emotion by animating lifelike animals in The Lion King. Most of them, no matter the critical reception, have been box office hits.
Lady and the Tramp
RELEASE DATE:
11/12/2019
DIRECTOR:
Charlie Bean
STREAMING:
Disney+
The live-action remake of the 1955 animated classic revamps the story of a pampered cocker spaniel and a mutt who come to understand one another and the worlds they each live in. With an inclusive cast, real dogs portraying the leads, and revisionist history to remove the more problematic elements of the original film, it's a perfectly entertaining but largely unmemorable remake.
Disney's 2019 take on Lady and the Tramp encompasses a little bit of everything that makes and breaks a Disney live-action remake. It captures the heart of what made us fall in love with Lady and the Tramp in the first place, but it still has some of the same issues as its predecessors.
Lady and the Tramp is perhaps most remembered for "Bella Notte," in which the duo shares a plate of spaghetti and meatballs while the owner of an Italian restaurant and one of his chefs serenades them with the romantic tune. That scene is recreated almost shot-for-shot: there isn't as much pasta slurping this time around, but everything else, from the accidental kiss to the meatball roll, are all in there.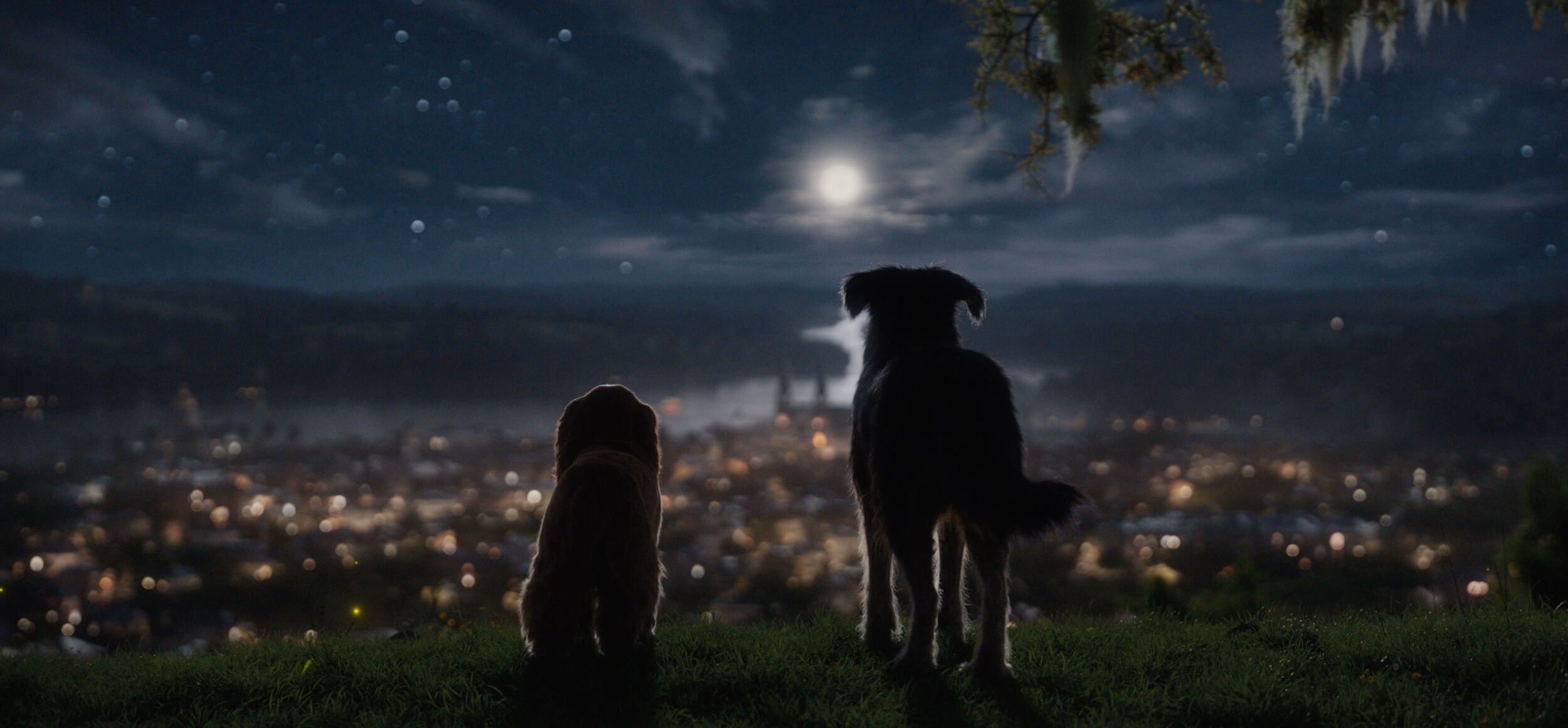 It almost works, and it's certainly a high point of the film. But even the use of real (and very good) dogs in the film, which makes it an improvement on the fully rendered CGI of The Lion King remake on its own, are only able to convey so much; if you pay too much attention to it, the CGI that animates the dogs when they speak to one another quickly becomes distracting. Thanks to some visual tricks, it doesn't bring the film to a standstill.
Much of Lady and the Tramp is like that as it hits all the major beats of a familiar story. Pampered cocker spaniel Lady's (Tessa Thompson) entire way of living is upended after her owners Jim Dear and Darling (Thomas Mann and Kiersey Clemons, respectively) have a new baby. She grows close with Tramp (Justin Theroux), a street dog who boasts about the freedoms he has with living on his own and eludes capture from a local dog catcher named Elliott (Adrian Martinez) hellbent on snagging him.
Along the way, we're introduced to Lady's friends, the bloodhound Trusty (Sam Elliott) and the Scottish terrier Jock (Ashley Jensen in a role that's genderbent from the original), who offer support as well as comic relief, in addition to as Peg (Janelle Monáe) and Bull (Benedict Wong), who are more than familiar with Tramp's ways. And, like the original, two mischievous cats wreak havoc in Jim Dear and Darling's home and frame Lady while Aunt Sarah (Yvette Nicole Brown) watches her and a rat keeps causing trouble.
The setting and timeframe of the film (around the start of the 20th century) are both wildly familiar. But similar to The Personal History of David Copperfield, Lady and the Tramp includes a diverse cast that feels effortless and the occasional moment, such as a doctor played by Ken Jeong deadpanning that Jim Dear's baby is the most perfect one he's delivered in his entire decades-long career, is uplifted by a cast that mostly has little to do; Jim Dear does not pick up on the sarcasm. Most of the focus, as was the case in the original Lady and the Tramp, is on the dogs, so the human characterizations can feel thin at times, although Martinez gets a few moments to shine.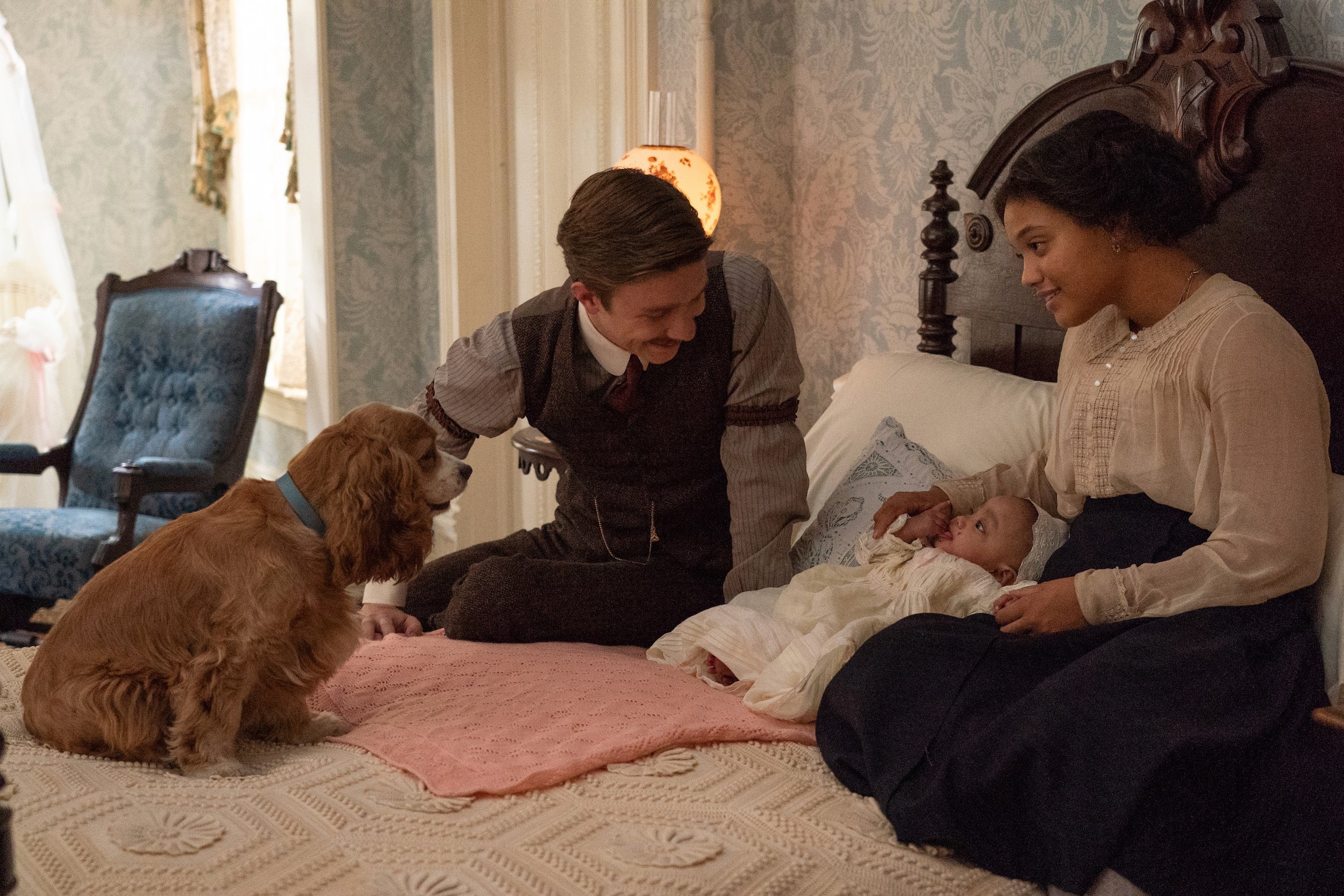 There are moments of levity and fun, and the entire sequence of Lady and Tramp taking a scenic stroll through town (including onto a boat) is a particular highlight. And in a case of being able to rewrite its own history, Disney wisely removes the cringe-worthy "Siamese Cat Song" from the remake, but its replacement—performed by Aunt Sarah's two cats, who are a different cat breed this time around—is almost entirely forgettable. With some of the least effective CGI work in the film, the cats gleefully sing about "redecorating" Jim Dear and Darling's home as they scratch up the furniture and knock over priceless items. Monáe's rendition of "He's a Tramp" sounds wonderful, but the "choreography" of the Pekingese dog prancing around in circles while the other dogs largely watch leaves something to be desired.
With very few changes to the original, Lady and the Tramp is more or less a comfort film. It's something that you could easily put on in the background as you test out what Disney+ has to offer; it's safe and reliable. But very little of it might stick with you afterward.
Not sure what to watch on Disney+? Here's every title available at launch. Expand your streaming options with the Disney+, Hulu, and ESPN+ bundle. Looking for the rest of the Marvel Cinematic Universe? Here's when they'll be available for streaming.