From its very first note to its last, Hamilton is a marvel. For more than a year following its Broadway debut in 2015, the Tony, Pulitzer, and Grammy award-winning musical-turned-phenomenon, along with many of its stars, was everywhere online. At its peak, obtaining tickets was nearly impossible, both because just about every show was sold-out and the cost of seeing Hamilton barred most people from getting into the room where it happened; even before the coronavirus hit and multiple productions of Hamilton were running simultaneously, it still wasn't easy to see it.
---
Hamilton

RELEASE DATE:
July 3, 2020
DIRECTOR:
Thomas Kail
STREAMING:
Disney+
Filmed over several days in June 2016 right before several principal cast members left the show, 'Hamilton' is a nearly pitch-perfect capture of the Broadway musical that became a global phenomenon to the big screen.
The road to the rest of the world finally getting their shot to watch Hamilton wasn't part of the original plan: First, the original Broadway cast filmed a version of Hamilton in June 2016 (shortly before the departure of stars Lin-Manuel Miranda, Leslie Odom Jr., and Phillipa Soo) with plans to release it one day. Then, Disney purchased the rights to that filmed production earlier this year for $75 million with plans to release it in theaters. But a global pandemic threw a wrench in Hollywood and the film industry, which led to Disney pushing Hamilton's release up by more than a year for a Disney+ release.
And the result? It was more than worth it. As Thomas Kail, who directed both the stage production of Hamilton and the captured version on Disney+, noted in a brief introduction he and Lin-Manuel Miranda recorded in quarantine, "I feel like we made something that spoke to the moment when we made it and also can speak to the moment now." Hamilton is a product of its time, conceived and crafted during Barack Obama's presidency—one of the earliest performances took place at the White House in 2009—but also couldn't be more timely.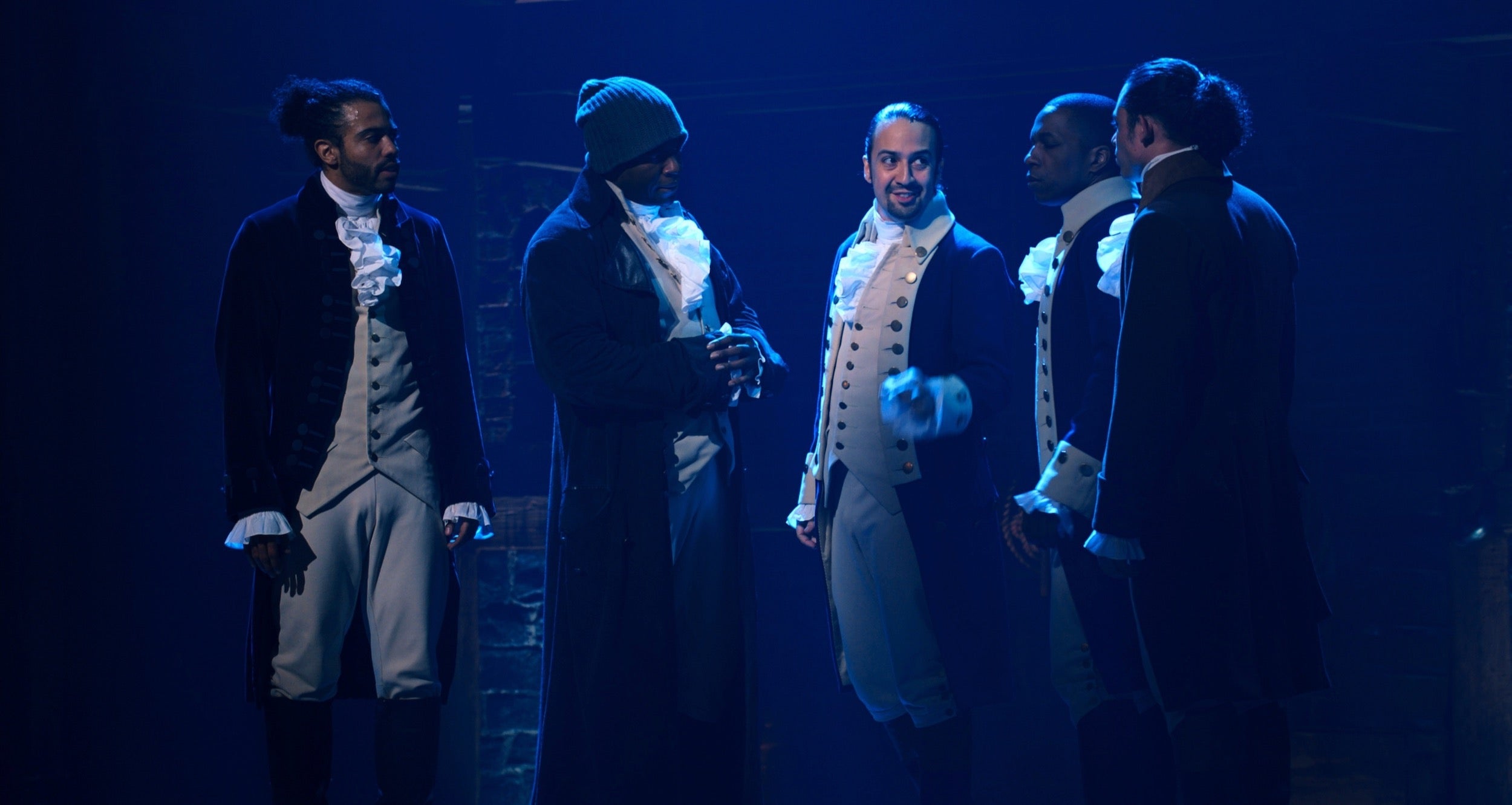 I've had the chance to see Hamilton twice on Broadway. When I saw it in December 2015 (the ticket was a gift), the original cast was fully intact but I went in choosing to experience the music on-stage first. I caught it again about a year later, and by then, most of the original cast had left, but by then, I had listened to the album countless times. Watching the filmed version of Hamilton now felt like watching a memory of sorts, one that is both exactly how you remember it but with the kinds of details—things the album couldn't convey—you know you saw but had slipped away.
Hamilton brings the original Broadway cast album to life and, thanks to Kail and cinematographer Declan Quinn, gives you the best seat in the house, showing you the nuances that the vocals alone can't convey in its most accessible form yet. It captures the atmosphere—much of Hamilton's final product was filmed during several live performances, so the audience reaction is very much part of the show.
By now, if you've listened to Hamilton, you're familiar with the story. It frames the life of Alexander Hamilton (Miranda), the "bastard, orphan, son of a whore and a Scotsman," as a firmly immigrant story; he's a self-starter, he's highly ambitious, and he takes every scrap he can to get ahead, but not without making a few powerful enemies along the way. It's also a story where the majority of the main characters (save for King George III, who's portrayed in delightful fashion by Jonathan Groff) are played by Black and brown performers.
Hamilton himself is someone we weren't taught all that much about, and if we learned about Alexander Hamilton at all, we heard about the Federalist Papers and his role at the Treasury, recognized him as the face on the $10 bill, and knew that he died in a duel with Aaron Burr (Odom Jr.); I grew up in one of the many towns named after Alexander Hamilton and he didn't really get covered all that much beyond the basics.
But Hamilton brings depths of humanity to Hamilton himself, warts and all, but the greater gift—enhanced with the care and attention that the camera gives them, as well as the book, music, and lyrics by Miranda—is the humanity that the other players, some of them larger-than-life figures whose legacy looms large to this day, receive.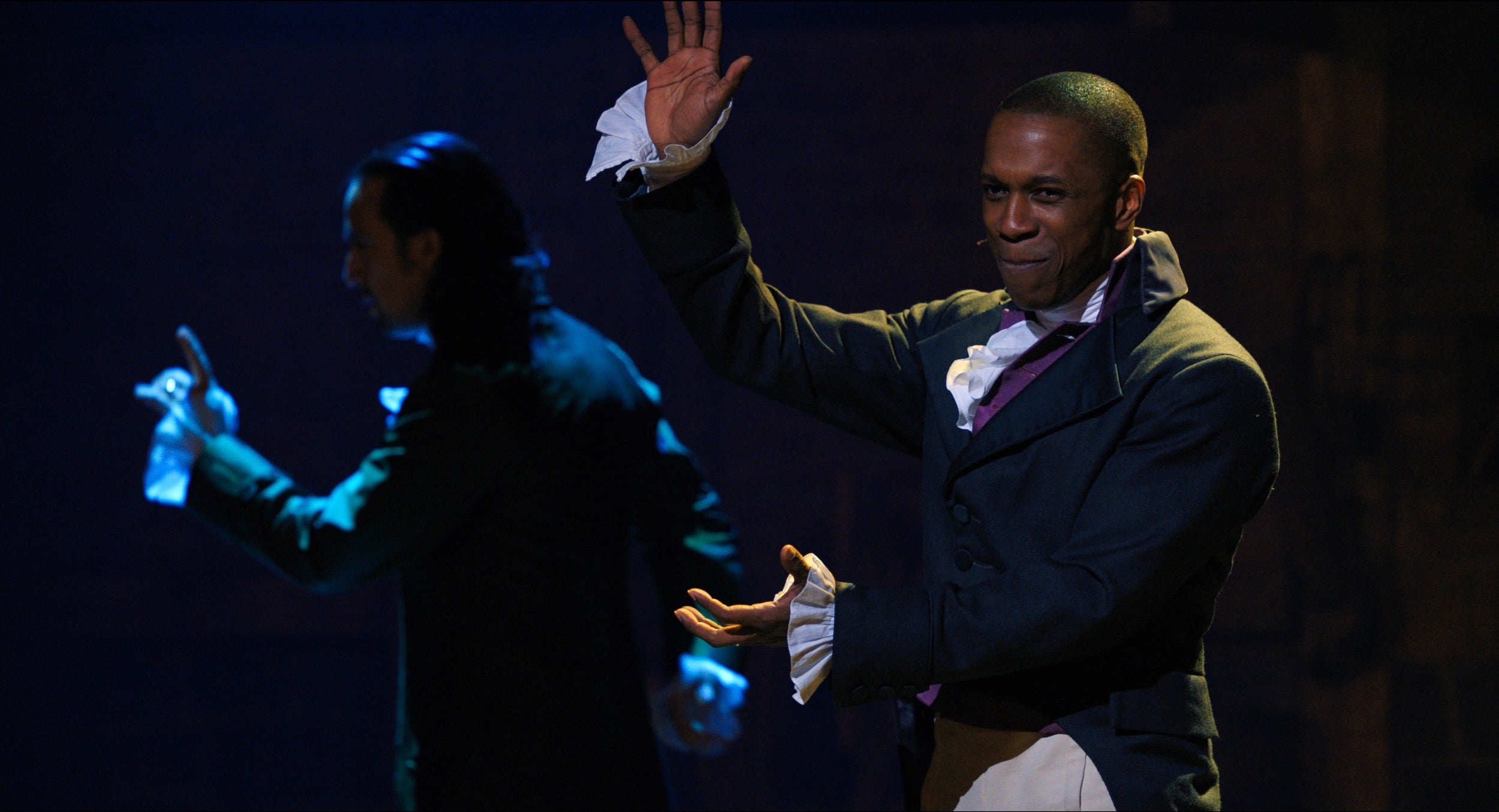 Aaron Burr isn't just the person who shot Hamilton, he's the tragic figure; Odom Jr. is magnetic on-screen as the cameras capture the subtleties that you might not be able to see from the mezzanine, such as just how slowly his expression falls after Hamilton endorses Thomas Jefferson (Daveed Diggs), Hamilton's political opponent in the second act, for president. Eliza (Soo) is the heart of the show, bringing warmth and empathy to every scene she's in; you really feel her presence missing when she's gone, and once she writes herself out of the narrative. George Washington (Christopher Jackson) is a father figure, a mentor, and a boss all at once, someone who sets the precedent with every decision he made but also someone who was complicit in one of America's original sins: slavery.
One of the more dazzling displays in Hamilton is the visualization of "Rewind" in "Satisfied," the showstopper performed by Angelica Schuyler (Renée Elise Goldsberry), as we travel back to the night that Angelica met Hamilton mid-wedding toast. News of John Laurens' (Anthony Ramos) death, the lone scene kept off the cast album, is given a quiet but lovely quiet spotlight. Diggs steals the show, both as Marquis de Layfayette and Jefferson, the latter especially knowing just how to charm the camera.
Many of the things that Hamilton relays, from its criticism of some Founding Fathers as slaveholders, to who's excluded from the Declaration of Independence (Angelica wants to compel Jefferson to "include women in the sequel"), are built into the show itself. But amid our current reckoning on systemic racism and the figures that we choose to honor with statues and monuments, many of those moments hit even harder, but you could still argue that those callouts don't go far enough.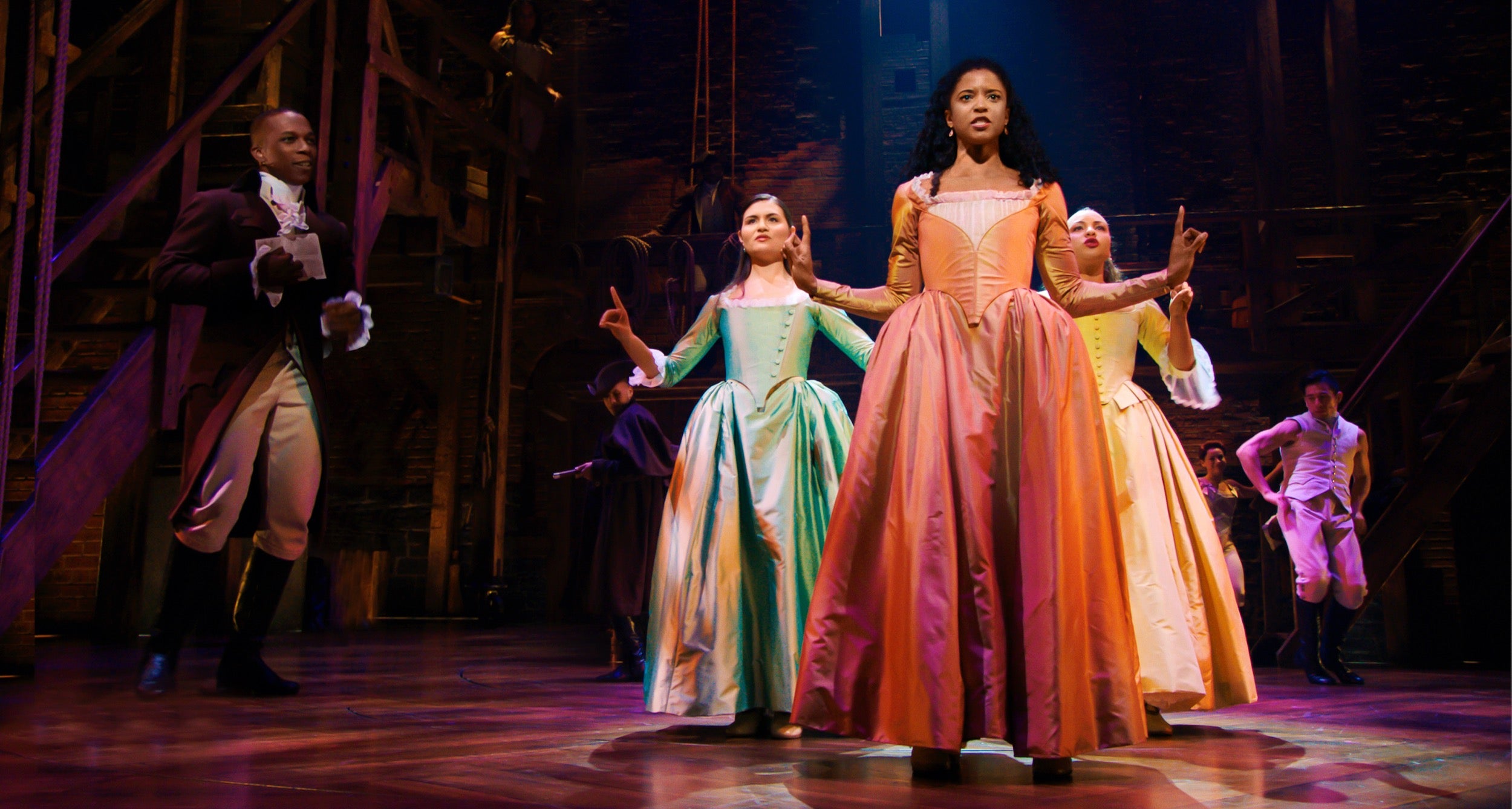 Hamilton in its current form won't replace the experience of watching it live on the stage, although certain elements of the show, from King George's cellphone warning, a one-minute intermission, exit music during the credits, and the energy that comes from a Cabinet Battle performed in front of an audience, are preserved for the filmed production. But while Broadway will remain closed for the rest of 2020, this version of Hamilton is the only way any of us can see the show right now.
It also serves as a strong argument for why we should make more shows and plays accessible to everyone, even those that aren't massive, game-changing hits like Hamilton. It brings the theater experience to our homes, but it also allows those of us who might not ever get in the room to experience theater. And making Hamilton more accessible for everyone won't discourage people from seeing Hamilton once we're allowed to go back to the theater. In fact, it might make some people want to go even more.
Hamilton will be released on Disney+ on July 3.
Daily Dot Disney Plus Guides
---
Disney Plus Genre Guides
---
---