When The Mandalorian premiered on Disney+ last November, fans were, at best, cautiously optimistic about Star Wars' first foray into live-action television. Sure, it looked good, but we also saw very little of it beforehand—and we had even less idea of the story it was telling. All it took was the first episode (and the introduction of a little green puppet) to dispel us of those notions, and each new episode introduced new characters, worldbuilding, and mythology.
Disney Gallery: The Mandalorian

RELEASE DATE:
May 4, 2020
DIRECTOR:
Bradford Baruh
STREAMING:
Disney+
'The Mandalorian' writer and creator Jon Favreau leads a series of roundtable discussions into what went into making the first season of Disney+'s hit show. Insightful without taking itself entirely too seriously, it's a must-watch for Star Wars and 'Mandalorian' fans.
Nearly six months later, we're getting our first real glimpse into just what went into making The Mandalorian's first season in Disney Gallery: The Mandalorian. And while there is plenty of behind-the-scenes footage to go around, Disney Gallery: The Mandalorian looks inward. It's a polished self-examination of what makes Star Wars so special, as well as an appreciation of the craft as the cast and crew reflect on venturing into unknown territory. It's a fantastic insight into the filmmaking process, one that also wrestles with taking a legacy franchise head-on, and if you're a fan of Star Wars or The Mandalorian, it's a must-watch.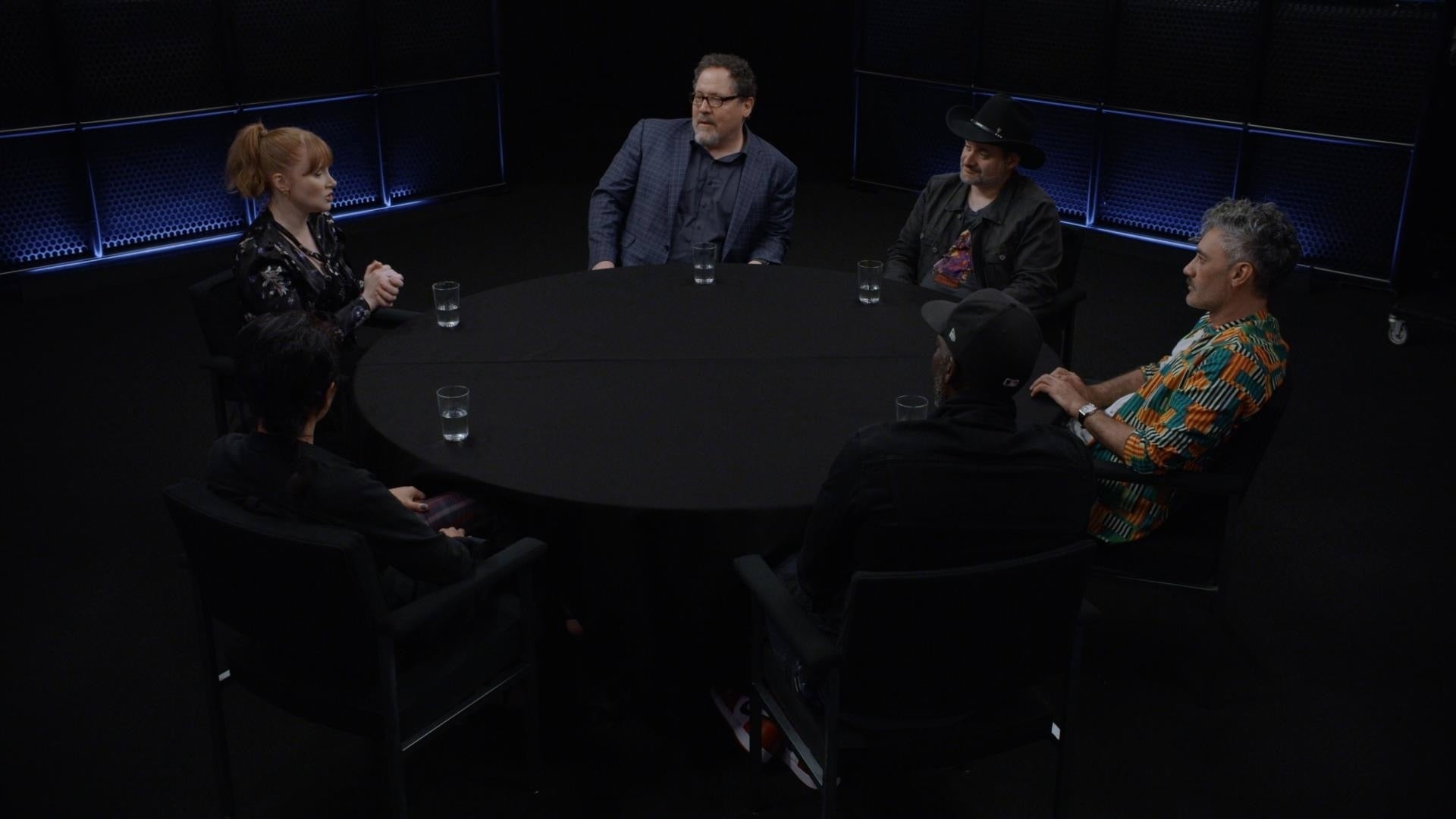 Its greatest strength is in its conversations. At the center of Disney Gallery: The Mandalorian are roundtable discussions led by Mandalorian creator and writer Jon Favreau, who deep-dives into his own series with the help of the people who made it possible. (The first two episodes made available to critics focus on the show's directors and the legacy of Star Wars in relation to The Mandalorian, respectively.)
"I like hiring smart people," Favreau explains late in the first episode. "To me, if you have smart people who are curious and creative, but if they're inspired and they're sharp, they'll be able to learn."
The five people Favreau hired to direct season 1—Dave Filoni, Rick Famuyiwa, Deborah Chow, Bryce Dallas Howard, and Taika Waitii—all have very little in common aside from the love and reverence each of them has for Star Wars. Howard is relatively new to directing while Chow's a TV veteran who is also set to direct the Obi-Wan Kenobi series. Famuyiwa's mostly directed indie films while Waititi started out making smaller films with whatever he could get his hands on before heading to the MCU and back; since his episode aired, Waititi also won an Oscar.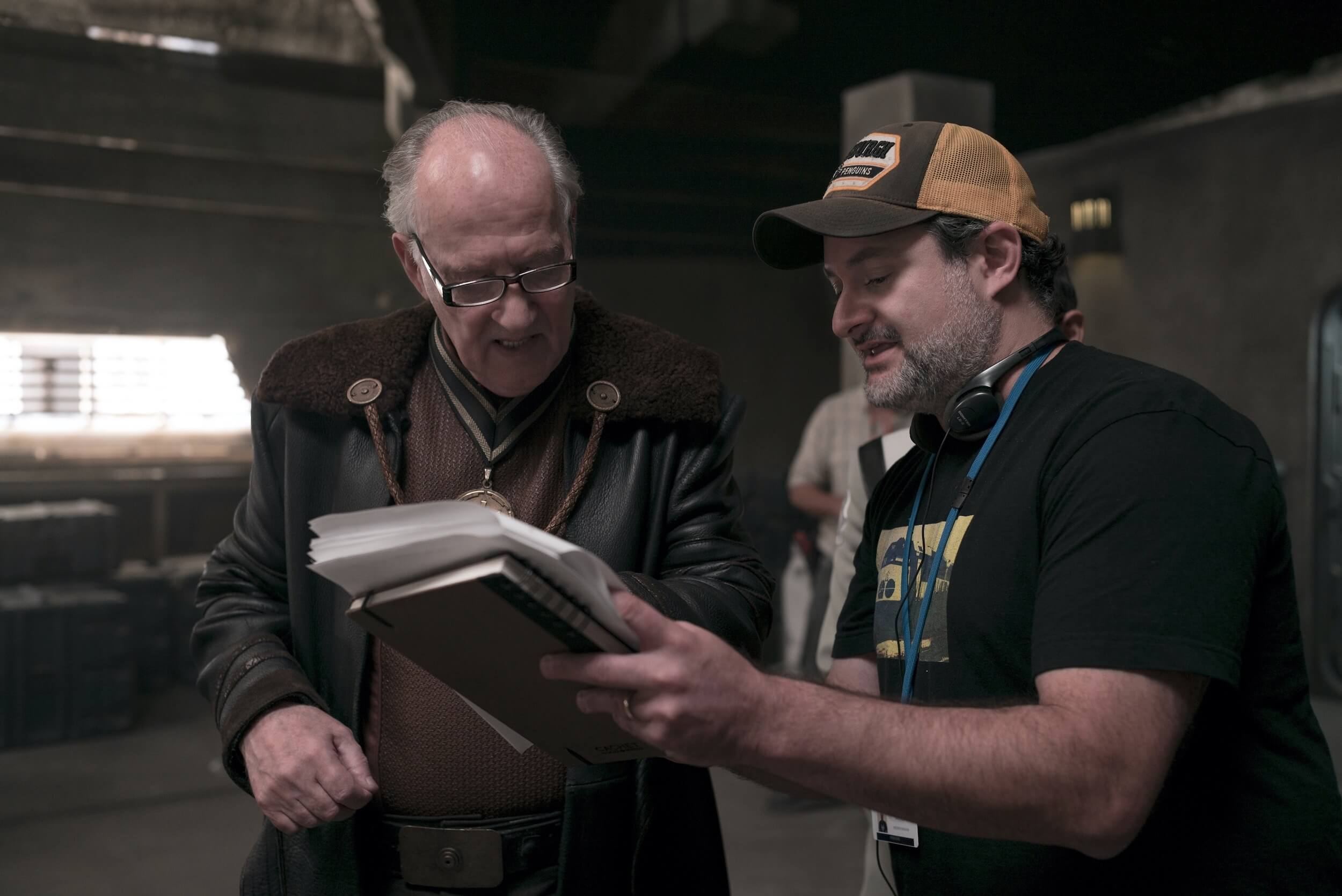 And Filoni? He has a long history of working in animation (Avatar: The Last Airbender, Star Wars: The Clone Wars, Star Wars Rebels), but The Mandalorian was his first time directing live-action.
But as each person talks about their own experiences, they come off as filmmakers and creatives who are both eager to learn and geek about what they do (and get to do). At that table, it doesn't matter exactly who did the most or most relevant work before working on The Mandalorian. Filoni, whose knowledge of Star Wars lore is immeasurable—he was hired by George Lucas himself to work on Clone Wars with him—and mesmerizing to watch. Just about every time he goes on a tangent about Star Wars lore (something that probably also happened quite often on the Mandalorian set) or the importance of a single lightsaber battle to an entire trilogy, the entire table is hanging onto whatever he has to say. It doesn't matter if it's the group of directors or creatives (which include Lucasfilm president Kathleen Kennedy, ILM visual effects supervisors John Knoll and Richard Bluff, and animation director Hal Hickel) who've been in the business for decades; they're all enraptured. You'll easily want to Google more interviews with Filoni after you finish watching the docuseries to hear more of what he has to say about Star Wars.
At those tables, it doesn't matter that Waititi directed a highly successful blockbuster, or that Howard grew up among film legends, or that many of them have already worked with the best of the best.
Disney Gallery: The Mandalorian is a show that can balance greater discussions of how vital a single lightsaber battle might be to an entire trilogy to the prequel trilogy alongside pure excitement; no matter how they came to work on The Mandalorian, they all have that love for the franchise. But even amid the more thematic and technical, there are moments of levity show us those glimpses of humanity.
Because as much as it's a masterclass in building something new out of one of the world's biggest franchises, there's still just as much joy in the big picture as the tiniest of quirks. Those lasers spark just as much joy for some of them as Baby Yoda might for the rest of us.
The first episode of Disney Gallery: The Mandalorian premieres on Disney+ May 4. Subsequent episodes will be available to stream on Fridays.