Every year, there's at least one Thanksgiving Day game NFL fans aren't thankful for. It usually involves the perennially disappointing Detroit Lions. This year, in keeping with this tradition, the Lions will face off against the hapless Chicago Bears.
Unless you are a die-hard NFC North devotee, you might opt to let this game drone in the background as you—uggh— spend quality time your family.
But, we know there are fans out there who will be tuning in, either because of their Chicago/Detroit fandom or because of the numbing boredom that comes with being stuck at your parents' house after all of your high school friends have moved away and the sweet memories of youth have faded like the autumn leaves. At least there's football, right?
Neither the Bears nor the Lions have anything left to play for this season. Chicago's solid defense has been undermined by the awful play of quarterback Mitch Trubisky. Detroit faded after a strong start. Once again, Matt Stafford piled up yardage without translating those numbers to wins, and now that he's been sidelined by a back injury, what little hope the Lions had is dashed.
The Bears feel like they are just a QB away from being competitive whereas Lions coach Matt Patricia is going to have to think about a major overhaul if hopes to keep his job.
For those hearty souls who decide they actually want to subject themselves to this game, here's everything you need to know to live stream Bears vs. Lions, including what to watch for on the field.
Chicago Bears vs. New York Giants
When: 12:30pm ET, Thursday, Nov. 28
Where: Ford Field in Detroit
Streaming: FOX, NFL Sunday Ticket
There are a number of options for watching Bears vs. Lions on streaming platforms that carry FOX. However, consult a coverage map to see what game your regional channel will be playing.
If a game is not being carried in your area, the only option might be an NFL Sunday Ticket package.
Bears vs. Lions live stream: How to watch NFL online

Both Sling Blue ($25 per month) or Sling Orange + Blue ($40 per month)  include NFL Network and a number of sports channels—like three ESPN channels, Fs1, FS2, and NBCSN—and it's still a nice perk that Sling subscribers can order a la carte packages. Sling TV also offers a special Latino package for bilingual viewers. Sling TV is currently offering a deal where you can subscribe for 40% off the regular price for the first month of your subscription. That means Sling Blue would cost $15, and Sling Orange + Blue would cost $25. (Here's a complete guide to Sling TV channels and our Sling TV review.)
For $10 extra per month, you can get NFL RedZone via the Sling Blue Sports Extra package.
How to use AirTV with Sling
AirTV solves one of Sling's biggest problems: The inability to receive all of your local channels. By purchasing a basic AirTV for $79.99 or the AirTV Player for $119.99, you can merge those local channels into your Sling TV, (or on your mobile device if you have the basic AirTV). As the Daily Dot wrote in its AirTV review, "It's practically magic."
The basic AirTV is a dual-tuner streaming device, while the AirTV Player is basically an upgraded Chromecast that has Netflix preinstalled. You'll still need to own an HD antenna because even though AirTV gets you access to your local channels, it doesn't actually physically show them to you.
But AirTV—which has no monthly fee—serves to strengthen one of Sling's biggest weaknesses compared to other live streaming services like Hulu with Live TV and YouTube TV. All those services have plenty of local channels.
---

Cost: $44.99 per month
Hulu devices: Roku, Apple TV, Google Chromecast, Amazon Fire Stick and Fire TV, Xbox One, Xbox 360, Nintendo Switch, and iOS and Android devices
Hulu local channels: ABC, CBS, Fox, NBC, the CW (check your local availability here)
Hulu with Live TV includes sports programming among its offerings, including ESPN and FS1, and as a subscriber to the service, you'll get free access to Hulu's sizable on-demand library. (Check out the full list of Hulu Live TV channels.)
---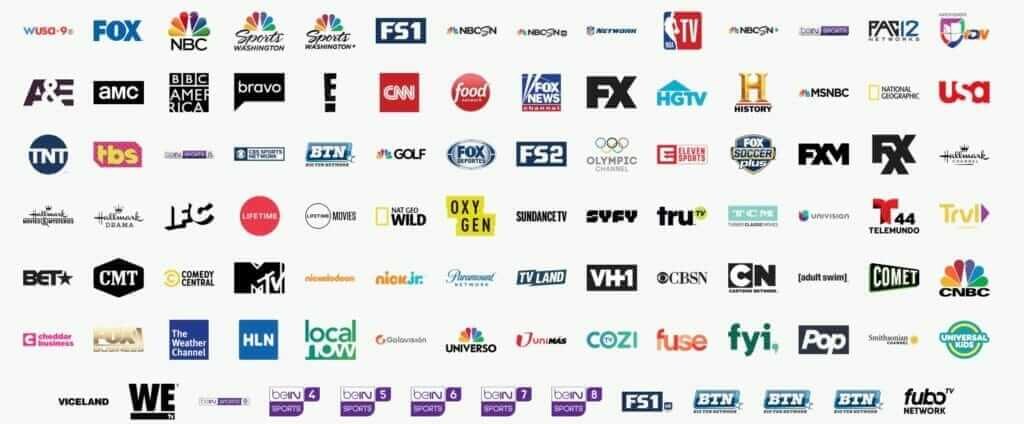 If you're a big-time sports fan, FuboTV is your best streaming service option. If you love international soccer and you're a Spanish speaker, FuboTV also offers various add-on packages, including Fubo Latino and Fubo Português. FuboTV's basic plan showcases nearly 100 channels and includes NFL Network. At $54.99 per month, you'll also get FS1, FS2, NBCSN, NBA TV, Big Ten Network, Pac 12 Network, BeIn Sports, and CBS Sports Network, along with premium channels like FX/FXX/FXM. The only notable omission for sports fans is ESPN. You can add Fubo's Sports Plus package for an additional $8.99 per month, which allows you to stream NFL RedZone, (Here's the complete FuboTV channels list.
---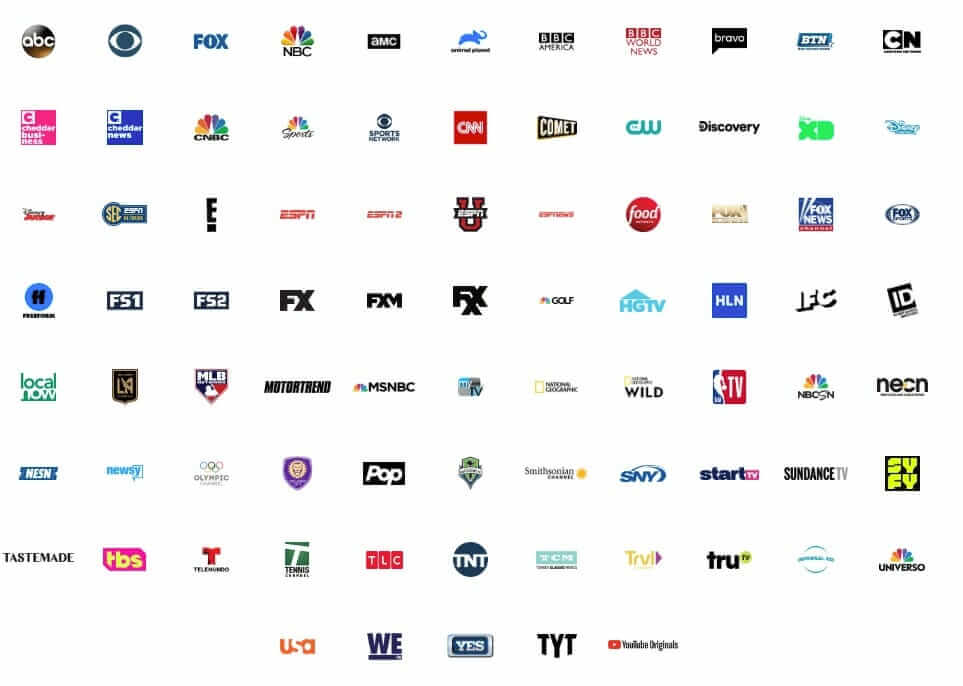 YouTube TV is a great option for college football fans, including ESPN and FS1. (Take a look at the full list of YouTube TV channels here.)
---

Cost: $73.99 per month for four months, or one single payment of $293.96
There are two—and only two—ways of acquiring NFL Sunday Ticket without DirecTV.
There's NFLSundayTicket.TV, which costs $73.99 per month for four months. It's everything you love NFL Sunday Ticket but online-only. You can stream from pretty much any device that connects to the internet (but only on one device at a time).
You can also upgrade to the NFLST.TV Max bundle for a total of $99 per month for four months or one single payment of $395.99. You can also add on NFL Game Pass, which allows you to watch replays of every game after they air, for $50 for the full season.
There's another way to watch NFL Sunday Ticket without DirecTV: Amazon Prime. While you can't pay for the package using Amazon Prime, you can at least watch all of the games on the service. To start, first download the NFL Sunday Ticket channel on Amazon Prime. It's free. From there, you'll just need to sign in with your subscription credentials.
College students can purchase NFL Sunday Ticket at a discounted price through NFLSundayTicket.TV U.
TRY NFL SUNDAY TICKET ON AMAZON PRIME
---
Chicago Bears vs. Detroit Lions: What to watch for
Fans of both of these teams have reached that point in the season where there's nothing left to do but think about the future.
In Chicago, it is time for a new QB. Neither Trubiksy nor Chase Daniel give this team a good chance to win games. Last week, the Bears squeaked out a win against the Giants the only way they can as currently constructed. They held a flawed QB to 150 yards, allowing the offense to pull off a win with a measly 19 points.
That isn't going to be good enough in most games, and even in a rather good game for Trubisky where he threw for almost 300 yards, he still threw two interceptions. More troubling, the running game that seemed to be emerging a few weeks ago with David Montgomery and Tarik Cohen has fallen back down to Earth. The tandem combined for a mere 47 yards on the ground.
Chicago's fourth-ranked defense saved the day again, as it has in the Bears' other four wins this season.
Diagnosing the problem in Detroit isn't so easy. Or rather, the problem is the whole team. The Lions dropped a game to the woeful Redskins last week. Part of the problem has been Stafford's injury. Jeff Driskel threw for 207 yards and tossed three picks in the game; Stafford's worst week wouldn't look that bad. But, you can't really point to a strength on this Lions squad.  Thanks to injuries and a so-so roster, Driskel lacks offensive weapons outside of receiver Kenny Golladay. The defense is ranked 26th in Defensive DVOA.
And that's not all. The offensive line has been awful in pass protection. The secondary has played very poorly, and only looked OK last week because of Dwayne Haskins' inexperience. On special teams last week, the Lions missed a field goal, allowed a punt return touchdown, and racked up inexcusable penalties.
It's hard to find a team playing worse than the Lions right now, but it is hard to find a QB more capable of losing a game single-handedly than Mitch Trubisky. And so, it is hard to call a winner of this game, other than your mother who will appreciate the help in the kitchen after you get so bored you start peeling potatoes to numb the pain.
READ MORE: 
For a year-round sports fix, sign up here to receive our weekly boxing newsletter. You'll hear about all the biggest fights and best knockouts from the Daily Dot's streaming sports guru Josh Katzowitz.
The Daily Dot may receive a payment in connection with purchases of products or services featured in this article. Click here to learn more.