Since the advent of prizefighting, every few years some fighter will figure out that adopting an infuriating persona and running their mouth can provide an accelerated route out of obscurity and into fame. This fighter looks at Muhammad Ali and Chael Sonnen and Conor McGregor and decides that being a heel can be a lot more lucrative than just being successful. For UFC welterweight Colby Covington, who will face Robbie Lawler in the main event of UFC Newark on Saturday afternoon that can be live streamed for free on ESPN, that revelation seems to have come late in 2017.
At the time Covington was just a name on the UFC roster—another college-wrestling standout with a winning record who had made almost no impression on MMA fans. He did his job well and went home, slowly and quietly moving up the ranks without ever making a dent on the sport's consciousness. Then came his fight with Demian Maia in October 2017.
That night in Sao Paulo, Brazil, the unassuming Californian surprised everyone by snatching a page from the Sonnen book of mixed martial arts career resuscitation and mixing it with a sinister kind of post-election white American male malignancy to create a new identity for himself. After defeating Maia, Covington called Sao Paulo a "dump" full of "filthy animals" during his post-fight interview. He then stood in the center of the Octagon and basked in the chorus of boos that rained down on him. Security was called in to escort him out of the cage and out of the arena and eventually out of the country. Covington had found his persona.
What followed was a well-calibrated social-media offensive on the entire MMA world. He lashed out at his fellow UFC fighters and fans and commentators, bragged about trysts with porn stars, hurled racial and religious insults and accusations of terrorism at Muslim fighters and managers, and mocked the marriage of two female UFC fighters. Generally, he turned himself into the sport's version of Donald Trump: a MAGA hat-wearing provocateur unafraid to push buttons, tell lies, and blow dog whistles for the sake of self-promotion.
This new Colby Covington thrived by marrying himself to one simple truth: If they're loathing you, they're watching you.
Now, nearly two years after his descent into the darkness, Covington (14-1) finally has the chance to capitalize on all his trash talk. UFC President Dana White has promised him a shot at undisputed welterweight champion Kamaru Usman (an American born in Nigeria who says he looks forward to putting the "wrath of every immigrant" on Covington) if Covington can defeat Robbie Lawler this Saturday.
Lawler (28-13) is, in many ways, Covington's opposite. While Covington riles up his opponents with words, Lawler unnerves them with silence. While Covington relies on his wrestling to smother and snuff the life out of his opponents, Lawler's greatest joy is a bloody fistfight. And while Covington is hated by a broad cross-section of MMA fighters, coaches, writers, and fans, Lawler is universally beloved, a hard-hitting former UFC champion who has proven himself incapable of fighting a dull fight in nearly 20 years as a professional.
What a capper to an already legendary career it would be if he was the guy who finally shut down and shut up the most hated man in MMA history.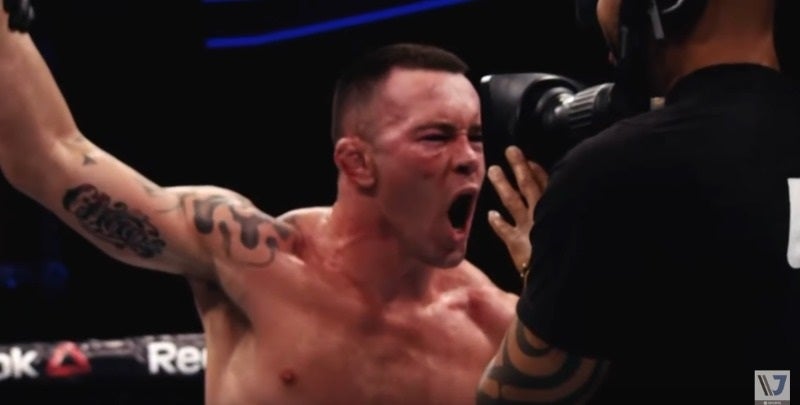 Colby Covington vs. Robbie Lawler
When: Saturday, Aug. 3, at 3pm ET
Where: Prudential Center in Newark, New Jersey
Streaming: ESPN (free with various one-week trials)
How to watch Colby Covington vs. Robbie Lawler for free
The entire UFC Newark fight card is available to watch on ESPN (the undercard begins at noon ET). And you can watch all 12 matches for free if you haven't previously subscribed to a live streaming service. Most of the major live streaming services offer ESPN, and they all come with a free one-week trial.

The cheapest way to watch ESPN online is through the Sling TV streaming service. If you purchase the Sling Orange package, it only costs $25 per month, and that includes ESPN, ESPN2, and ESPN3, plus a bunch of other great channels. If you're a huge sports fan, though, you'll want the Sling Orange + Blue package (seen above) for $40 a month. Either way, you'll start with a free seven-day trial. And for now, Sling is offering packages at 40% off, meaning you'll pay $15 for Sling Orange and $25 for Orange + Blue (Here's a complete guide to Sling TV channels and our Sling TV review.)
---

Cost: $44.99 per month (after a 7-day free trial)
Hulu devices:

Roku, Apple TV, Google Chromecast, Amazon Fire Stick and Fire TV, Xbox One, Xbox 360, Nintendo Switch, and iOS and Android devices
Hulu offers both ESPN and ESPN2, along with a great package of other live TV channels. You'll also get access to thousands of on-demand TV shows and movies, plus Hulu original series like The Handmaid's Tale. Hulu really is a nice way to watch live streams and take in content that has already aired before. (Here's the complete list of Hulu Live TV channels.)
---
PlayStation Vue offers four different tiers of channels, but you'll find everything you need for UFC Newark (and so much more) in its basic package, which includes ESPN, ESPN2, FS1, FX, Cartoon Network, and a lot more. Overall, PlayStation Vue is a great live TV streaming option, and you don't have to own a gaming console to use it. PS Vue works with Roku, Amazon Fire, and even Kodi. (Here are all of the PlayStation Vue channels and our PlayStation Vue review.)
---
YouTube TV puts all of your favorite channels in one place and lets you add up to six accounts for every subscription, all of which come with free cloud DVR. If you're a sports fan, YouTube TV is worth considering for specialty options like NBA TV and MLB Network. Overall, YouTube TV strikes a perfect balance between sports (MLB Network, NBA TV, a whole suite of ESPN channels), news (CNN, MSNBC, BBC World News), and entertainment (AMC, HGTV, TBS). (You can find the full list of YouTube TV channels here.)
---
Colby Covington vs. Robbie Lawler live stream schedule
Main event | 3pm ET on ESPN
Colby Covington vs. Robbie Lawler
Jim Miller vs. Clay Guida
Joaquim Silva vs. Nasrat Haqparast
Trevin Giles vs. Gerald Meerschaert
Scott Holtzman vs. Dong Hyun Ma
Darko Stosic vs. Kennedy Nzechukwu
Prelims | noon ET on ESPN
Mickey Gall vs. Salim Touahri
Antonina Shevchenko vs. Lucie Pudilova
Jordan Espinosa vs. Matt Schnell
Lauren Murphy vs. Mara Romero Borella
Claudio Silva vs. Cole Williams
Miranda Granger vs. Hannah Goldy
The Daily Dot may receive a payment in connection with purchases of products or services featured in this article. Click here to learn more.