Cord-cutting has been disrupting the world of home entertainment for years, but it's just now entering the realm of 4K. But with new technology comes new problems—along with a host of great Ultra HD content. If you're thinking about the making the jump from HD to 4K streaming, here's everything you need to know before hitting the store, from pricing to what kind of internet connection you'll need.
What's the difference between 4K and 4K Ultra HD?
When people talk about 4K, a lot of terms get thrown around. Let's start by breaking down the basics of what you should know. For all intents and purposes, "UHD," "Ultra HD," and "4K Ultra HD" all mean the same thing, at least in regards to consumer TVs. The HD is short for high definition, and UHD is the top resolution standard available. (For reference, it goes: standard definition (SDTV: 480p/576i), high definition (HDTV: 720p), full high definition (Full HDTV: 1080p) and then UHD.)
When you see a TV labeled either UHD or 4K (or 4K UHD), you're getting an incredible resolution of 3840 x 2160p—double what you'd see with an HD TV. (For the cinema, the resolution of a 4K image is 4096 x 2160 pixels, but those screens are usually identified as CinemaHD (C4K) or True 4K.)
HDR is another term you'll regularly hear. This stands for High Dynamic Range, which enhances the range of tones you'll get between the darkest and lightest parts of an image. You'll notice the difference the most particularly with nature shows and dark movies, but ultimately it just comes down to a slightly more detailed picture.
What kind of internet connection do you need to stream in 4K?
Before you start watching 4K, you need to take a look at your internet package. Depending on who you trust, a 4K stream takes between 15 and 25 Mbps. While broadband infrastructure has improved over the years, with just 7.7% of Americans lacking access to 25 Mbps speeds, other issues exist. Many ISPs have implemented profit-motivated data caps limiting how much users can stream or download per month before incurring an extra charge. ISPs used to claim this was to keep a handful of users from using all the internet and slowing down speeds for everyone else. Now they just offer more expensive unlimited packages and zero-rate streaming services they're invested in so they don't count against your data usage.
Beyond being politically useful to know the next time you vote, what does that have to do with streaming? 4K content is a bit of a data hog. An hour of 4K Netflix, for example, can use up to 7GB of data. If your ISP has given you a terabyte of data each month, that equals 142 hours of 4K streaming on Netflix. 142 hours adds up to 4.7 hours a day. If you have two TVs in your home as many families do, 4K streaming can quickly eat up all your digital allotment for the month. And that's before you take into account any other online activities you might have likes streaming music, uploading photos, or using the internet. Before making the jump to 4K streaming, you'll need to make sure your internet plan can handle it.
Do I need to do anything to my TV to stream in 4K?
Obviously, to stream 4K you'll need a 4K Ultra HD TV, but you also need to make sure you connect your devices correctly to your set. In particular, you'll want to ensure that your 4K compatible streaming device is plugged into the HDCP 2.2 compatible HDMI port on your set. HDCP 2.2 is a copy protection standard that makes it harder for people to record 4K programming to personal devices.
Some services, such as Netflix, require users to have an HDCP 2.2 compatible HDMI port, to view 4K content. Given the cost of creating 4K media and how much it sells for, this is understandable. Still, it can be frustrating if you've never had to utilize specialized HDMI ports before. Now you know.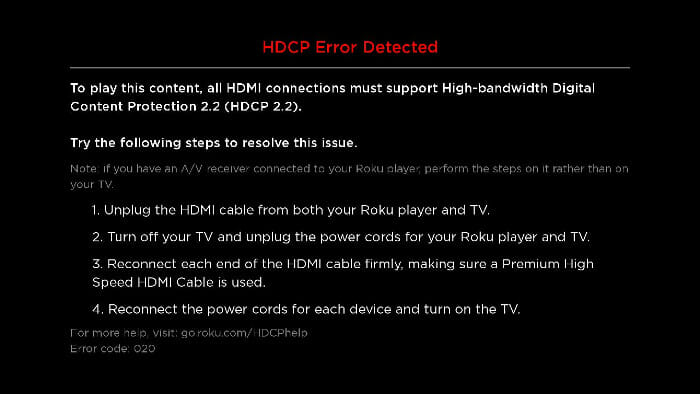 The best 4K streaming devices for cord cutters
There plenty of devices that stream in 4K on the market, including the Apple TV, but if you're looking for the best experience, it's Roku or Amazon. Keep in mind that even though these devices are capable of streaming in 4K, not every app on them streams 4K content. Still, HD streams look better on a 4K TV, so no matter what you'll see a little improvement.
If you're looking for a minimalist streaming media setup a streaming stick is the way to go. These small devices plug directly into your TV's HDMI port without the need of an HDMI cable. Amazon Fire TV Stick is a powerful, compact way to stream your favorite 4K content. The Amazon app store includes all of the major apps you could want, from Netflix to HBO Now to Prime Video. It supports 4K Ultra HD, Dolby Vision, HDR, and HDR10+, making the most out of your TV whether its new or a few years old.
Each Fire TV device also includes Alexa, one of the best voice assistants in the industry. Control your Bluetooth smart home devices, check the weather, and pull up your favorite shows all by voice command. This model includes an Alexa smart remote; to use voice commands, just press the microphone button and start talking.
Users who want 4K streaming and the benefits of an Alexa home unit should consider the Fire TV Cube. This hands-free streaming device can be controlled entirely via voice command, even when your TV is off. That includes controlling the volume of your TV or soundbar. Of course, it also comes with an Alexa voice remote for those times you want to navigate with your hands.
Beyond these incredible special features, Fire TV Cube comes with the same great functionality of the Fire Stick. Streaming Netflix, Hulu, Prime Video, HBO Now, Vudu, DirecTV Now, and more all from one device. While Fire TV Cube is comparatively expensive, by combining a smart home assistant with a top-rate streaming device, it fills a gap in the market. Buying multiple smart devices may not make sense for your family, but having a two in one might.
At $39.99, the Roku Premiere is the cheapest entry point into the world of 4K streaming. It doesn't come with all the bells and whistles of other 4K Roku devices, but you'll still be able to stream from thousands of apps. Roku has the most streaming channels and apps of any service, ranging from obscure private channels to big players like Netflix. Every single major streaming service is on Roku, along with thousands more you've never heard of. Discovering new content is part of the fun. Every Roku device also supports the company's incredible mobile app, allowing you to use features like Private Listening without a special Roku remote. Unlike streaming sticks, the Premiere is a small box that you connect to your TV using an HDMI cable.
READ MORE:
The Roku Streaming Stick+ is our most recommended 4K streaming device, the perfect mix of killer features and affordable pricing. This model features a much more powerful wireless receiver than the Roku Premiere, with up to 4x the signal range. It also supports 4K/HDR. The Streaming Stick+ also comes with a smart voice remote, letting you pull up your favorite shows with simple commands.
This model can sync with most TVs for full control, so you can change the volume and even turn off your set all from the Roky remote. While it doesn't feature a headphone jack for Private Listening, users can access that feature by connecting their set to the Roku mobile app. On top of these features, Streaming Stick+ includes the same great streaming options as every other Roku.
For most users, the Streaming Stick+ is all the Roku they'll ever need, but if you're a video power user with a large existing digital catalog, the Roku Ultra is worth a look. This model supports all the same features as the Streaming Stick+, with the bonus of digital audio out, USB, and microSD ports. Utilizing the USB and microSD ports, users can stream their existing media files, including 4K videos, directly on their Roku Ultra without setting up a media server.
READ MORE:
The Ultra also comes with Roku's most advanced remote, complete with a headphone jack on the side for Private Listening when you don't want others to be distracted by your program. At $99.99, the Ultra is expensive, but it's one of the best streaming media players for viewers with large digital libraries. Just hook up your external hard drive to your device and get to streaming.
Roku has also partnered with TCL TVs to make 4K Ultra HD sets with Roku functionality built-in. The feature set of these models is in line with the Roke Streaming Stick+. If you don't already have a 4K set, this is a cheap entry point.
The best apps for streaming 4K movies
One of the downsides of being an early adopter of 4K is there isn't currently a massive amount of content to watch. If you're looking for 4K content, these first three services are for you, while the final is aimed at users with existing 4K digital libraries. These services have 4K content, but not very much of it at the moment. Thankfully only one charges extra for 4K content.
1) Netflix
Netflix is a beloved streaming service, the first and most important to reach the mass market. That being said if you want to watch its content in 4K, you'll need to pay extra. 4K Ultra HD is only available to subscribers on the Premium plan, which is $15.99 per month. That's as much as HBO (which doesn't have 4K). The thing is, Netflix has limited 4K programming, a few licensed shows, and its original productions. The good news is you can watch hits like Breaking Bad, Planet Earth, and Stranger Things in 4K. The bad news is that you'll seldom find a mainstream movie in the Ultra HD section.
Unlike Netflix, Amazon Prime doesn't charge viewers extra to streaming 4K Prime content. What they do have in common is a limited library of streaming 4K content made up almost entirely of its original productions. Thankfully Amazon Studios puts out amazing stuff, from Oscar-winning movies like Moonlight to award-winning series like Marvelous Mrs. Maisel. Its movie studio largely focuses on small indie films, but Amazon original series range from superhero shows (The Tick) to thoughtful alternate history (Man in the High Castle).
READ MORE:
3) YouTube
YouTube is a special case in the world of 4K, a non-subscription service that provides free ad-supported Ultra HD video. Of all the services, YouTube has the most 4K content—from music videos and webseries to documentaries—but you'll have to dig to find it. I recommend going to the search bar and adding "4K" to your searches.
READ MORE:
Unlike the other streaming services on this list, Plex doesn't host any original content. What it does do is let you stream your 4K media from your computer to your streaming device with ease. With the Plex app, it doesn't matter what Netflix or Prime is showing—it just matters what's in your library.
---
The best 4K rental apps
Of all the services offering 4K movie and TV rentals on Fire or Roku devices, Vudu is the best. Featuring a massive library, incredible picture quality, and variable pricing, Vudu sets a hard standard to live up to. Vudu regularly has sales on content to rent and own in Ultra HD, from new releases to beloved classics. And if you don't mind standard HD, its free ad-supported content provides countless hours of entertainment.
Prime Video has an incredible app, but when it comes to 4K video rentals, it's best as a last resort. If usually has the same content as Vudu but at a higher price, with Ultra HD rentals starting at $7.99. Still when Vudu doesn't have an option, Prime almost always does. Just keep it in your back pocket for an emergency movie night.
While it might have the lowest profile of the 4K rental services, FandangoNow is second only to Vudu in quality. Its pricing for 4K rentals is in-line with Vudu, with even new releases like Aquaman only costing $5.99 for Ultra HD. FandangoNow may not have the staggering amount of new release indie titles that Vudu has, but for most people, it'll be perfect.
---
4K live TV streaming
Want to watch 4K Ultra HD live TV? At the moment your options are incredibly limited, with just one service offering live streaming 4K live TV. FuboTV is the only streaming TV platform with 4K content, and even then, it's incredibly limited. For example, in April 2019, the only 4K broadcasts on FuboTV were Major League Baseball games on FS 1, roughly one a week. Thankfully, FuboTV makes it easy to see what 4K broadcasts are coming up on this handy page. 4K is in beta at FuboTV, so beyond the small number of 4K programs, there are other limitations to consider.
Due to the limited nature of what you can watch, FuboTV isn't the sort of thing you should sign up for just based on 4K streaming TV. However, it's a great full-featured streaming TV platform on its own merits. The fact that it's pushing to make 4K streaming a reality on its platform reflects well on the company.
The Daily Dot may receive a payment in connection with purchases of products or services featured in this article. Click here to learn more.