Screenwriter Tommy Swerdlow yesterday took to Reddit for an AMA session that began as promisingly as one can: "I am Tommy Swerdlow, writer of Cool Runnings, Little Giants and Shrek… I wrote them all strung out on heroin."
I mean, you try writing those movies sober.
Redditors had plenty of questions from that point forward, including "How was Rick Moranis to work with?" and "How 'bout I draw a line down yuh face so it looks like a butt?!" Moranis is now Swerdlow's brother's golf partner, and as to the latter query, a sophomoric line from Cool Runnings, Swerdlow replied: "one of the best jokes i ever wrote… very proud of that childish idiocy."
Much of the conversation, of course, revolved around Swerdlow's incredible story of smack addiction and getting clean, which involved a $1.2 million heart valve replacement (paid for by the Writers Guild) and "an evening with John Candy that transcends the word 'party'. He was a beautiful, sweet and painfully insecure comic genius."
Swerdlow, who has been off heroin since 2007, stopped by not just to ask questions but to promote the crowdfunding of his directorial debut feature, The House Itself. He hopes to expand his well-received original short film The High Road, starring himself and two fellow recovering addicts (and Bill Pullman), into a longer piece. With five days to go on his Indiegogo campaign, he's raised a little more than $10,000, or a quarter of his goal.
In a video that serves as both pitch and preview, Swerdlow describes The House Itself as a drug movie without drugs, a Waiting for Godot in which, when Godot doesn't show up, "we go and get Godot." It's also "just like Cool Runnings, except instead of four black guys in a bobsled, it's three white guys in a Ford Contour looking for drugs in South Central Los Angeles."
There was much interest, of course, in the link between drugs and creativity—especially when it comes to family-friendly entertainment—and Swerdlow had much to say about the topic. He loved heroin because of "the structure. it allows you to be rebellious and at the same time, completely structures your time and focus. it gives you everything and it asks for everything."
Still, he feels it mostly held him back as an artist.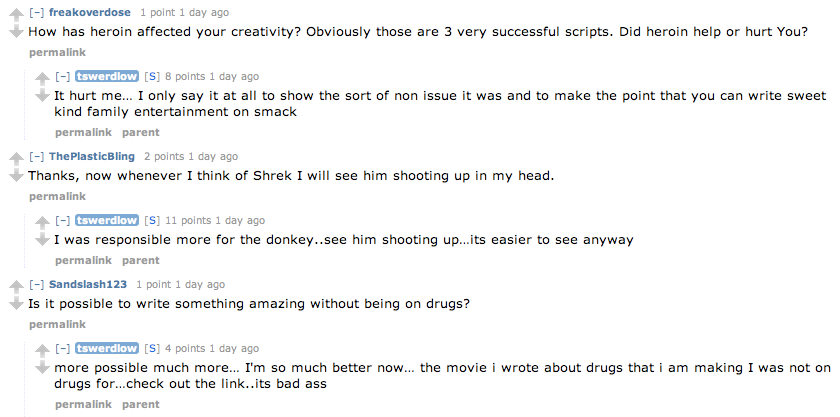 We just hope he can write another scene as inspiring as this one:
Photo via Mubi.com