In Tamborine, Chris Rock's first standup special in a decade, we first see him from behind, lost in backstage chatter, as Thundercat's "Them Changes" plays. It's a simple opening, but the song choice is a revelatory one.

The Chris Rock of 2018 has gone through some changes, and he uses Tamborine as a medium for atonement. But he builds up to it. First, he jumps into more comfortable territory: "You would think that cops would occasionally shoot a white kid just to make it look good." Rock hasn't had a special since 2008's Kill the Messenger, so he's had a decade of police violence and unrest to consider, but his approach to race is now weighted by fatherhood. 
"People come up and lie to children about the future," he says about his daughter's high school orientation, before pivoting to a bit about why kids need bullying. He draws a line to the broader issue of our current president: "We got rid of bullies, a real bully showed up, and nobody knew how to handle him."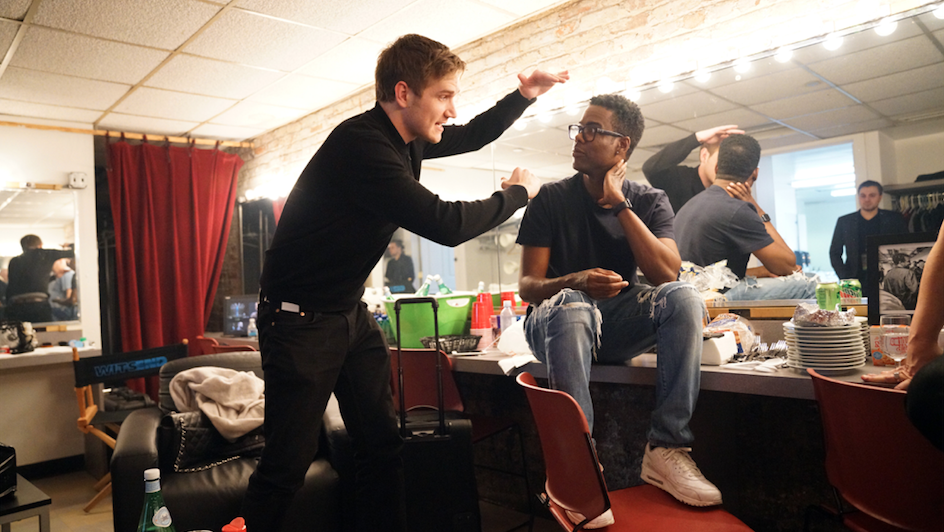 He considers religion in his life and the paradox of religious extremism, but the special finds more resonance when Rock starts talking about relationships, which has always been one of his strong points. 
He elucidates on the special's title and posits that sometimes you have to play the tambourine in the relationship to keep things running smoothly. He muses on his porn addiction and how too much can cause "sexual autism," but doesn't appear to blame that for his infidelity. In his 1996 HBO special Bring the Pain, Rock delivered a gilded bit about cheating. Twenty-plus years later, he doesn't seem surprised that he cheated, but there's more introspection in this new bit. 
"I was not a good husband," he says, before revealing he cheated with three women while he was on the road. "When guys cheat, it's like we want something new," he says. "Then you know what happens? Your woman finds out, and now she's new. She's never the same again. So now you have new, but you have bad new." 
He relates the humiliating experience of custody hearings and family court, and how it eventually made him realize he "made it." This is Rock in extreme close-up, in a more intimate venue than stadiums of the past. It's not necessarily an apology special, and not all his insights hit, but he is subtly offering advice so people don't fuck up like he did. He didn't play the tambourine, but maybe someone else can. (The Chris Rock of 2018 is also on Tinder.) However, he also makes sure to keep the insights comedic and not fall into motivational speaking.
Still not sure what to watch on Netflix? Here are our guides for the absolute best movies on Netflix, must-see Netflix original series and movies, and the comedy specials guaranteed to make you laugh.