Ryan Reynolds settled an age-old debate via Twitter on Tuesday when he spoke up about hot Hollywood men named Chris.
For centuries, movie fans have debated who among Chrises Pine, Hemsworth, Evans, and Pratt is most sexy. Last year a scientific experiment got us to Evans, but we needed a kingmaker to weigh in. Enter Reynolds. Responding to a fan, he dispensed advanced wisdom: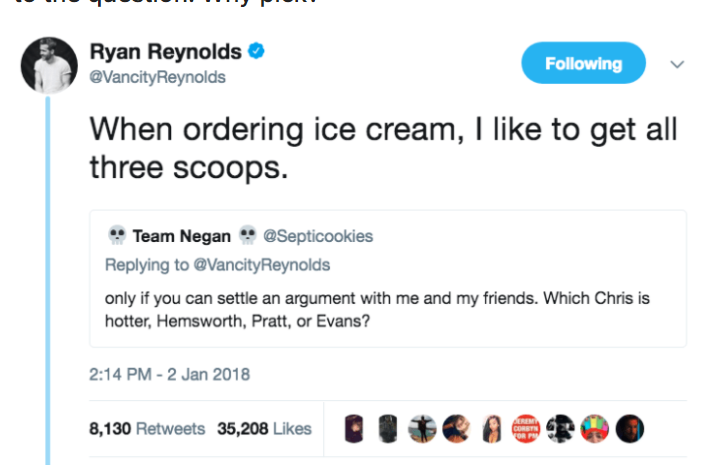 Indeed, the answer was with you all along: One doesn't have to choose!
Pine, the Star Trek actor famous for crying during the Oscars, wasn't included in the original query. But Reynolds had that angle covered, too.

Reynolds' Twitter is a wellspring for sharp zingers and relatable dad jokes. Long may it reign.
Siri just read this out loud to my daughters. Happy Thanksgiving. https://t.co/X5IBjPWuqp

— Ryan Reynolds (@VancityReynolds) November 23, 2017
H/T BuzzFeed