Australian model and actress Charlotte Dawson, who attempted suicide in 2012 after an onslaught of trolling on Twitter and later became a figurehead of the anti-bullying movement, was found dead in her Sydney apartment Saturday morning.
The host of Australia's Next Top Model had long-suffered from depression. Police said there were "no suspicious circumstances" surrounding her death. Friends grew concerned Saturday morning after Dawson's Twitter, where she was a voluminous poster, had gone dormant for 19 hours.
Dawson had a long history of battling trolls on Twitter. In August, 2012, Dawson dug up the identity of one user who told her to "go hang yourself" on Twitter, called her up on the phone, and then reported the incident to the woman's work supervisor. She was shortly after suspended from her job. When Dawson went public about what happened, she became the subject of a torrent of abuse under the hashtag #diecharlotte. It looked something like this: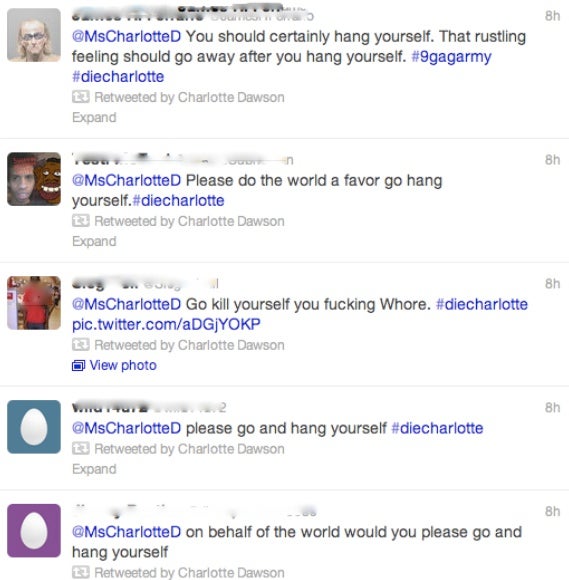 Screengrab via Encyclopedia Dramatica
Dawson later tweeted "you win," then took a combination of prescription pills and wine that almost killed her.
"It just triggered that feeling of helplessness when the trolls got to me," Dawson said at the time. "They got the better of me and they won."
 "If people are wanting you to kill yourself and you are somebody who has previously tried to end your life it's very, very easy to feel like that's exactly what you want to do."
Dawson would go on to become an anti-bullying crusader, launching a media blitz that saw her speak on national TV and radio. Last year, Australia's National Rugby League, a major Australian sports association, made her an "anti-bullying ambassador."
Police have yet to reveal the specific circumstances regarding Dawson's death. The night before, she'd sent a series of tweets bemoaning the poor state of Australia's healthcare system.
The #diecharlotte hashtag doesn't appear to have made a resurgence recently, according to social analytics tool Topsy. But many of Dawson's fans immediately made it very clear whom they blamed for her death.
Well I hope all the people that used #DieCharlotte are proper pleased with themselves

— Daniel Zennon (@dzennon) February 23, 2014
Unbelievable that a trending hashtag has resulted in a suicide. RIP CD "@Anonanonson: please put your face into a toaster. #diecharlotte"

— Kayt Louise Raphael (@Kayt_Raff) February 22, 2014
People tweeting hate comments with #diecharlotte are the most vile pieces of shit I've ever seen. Grow a paid and gtfo; disgusting bastards.

— NOTICE ME SENPAI (@ailsordinosaur) February 22, 2014
Screengrab via Holden/YouTube