Real talk: for the past seven years, there has never been an opportunity in which I didn't think that Nickelback frontman Chad Kroeger was better suited to show my friends a photograph than I would have been myself.
Something about the way he downright pleaded with listeners to "Look at this photograph" on the band's 2005 smash-hit "Photograph" that's just resonated… I haven't been able to get enough.
So you can see why I was absolutely stoked to discover that two guys in Brazil—advertisers Murilo Zeneddine and Renato Michalischen—have come up with Look At This Photograph, a quick-and-easy Web trinket that allows you to insert one of your very own photos into that frame that Kroeger so famously holds in "Photograph"'s much-maligned music video.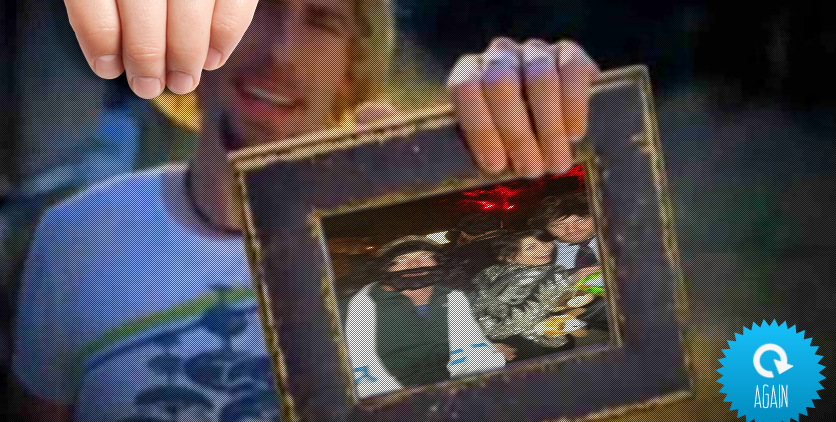 That's me and my buddy dressed up for Halloween as a cajun rabbi and a salesman in the monkey business last week. See how much cooler it is to have Chad Kroeger showing it to you than me? Don't you just want to stare at that thing for like an hour and a half?
Putting your favorite memories in Chad Kroeger's hands is fist-pumpingly easy. First, figure out which picture you want to share. Once you've figured that out, right click on the image and select "Copy Image URL." Then, paste the URL into the "Make Your Own" box on the LATP page.
Click done and voila, all of a sudden Chad Kroeger is pleading with the good young people of the world to "Look at this photograph." And when Kroeger's on the case, it's hard to say no.
Zeneddine and Michalischen's new toy is a creative one albeit not too unprecedented. Kroeger has become somewhat of an Internet punching bag in the last few years, having been the subject of such mocking tools and plugins as Nickelbacking, the Nickelblock, and this weird feminist Chad Kroeger Tumblr.
In New York City, one musician has found a small degree of Internet fame via his Motown Nickelback gag band, a soulful collection of musicians that transforms songs like "This Is How You Remind Me" into Motown hits.
You can share your creation on Facebook and Twitter, but frankly, something this great deserves its own projection on that big screen at the top of Times Square.
Photo via Chad Kroeger Appreciation/Facebook