March Madness is here.
To celebrate the arrival of one of the most anticipated events in the world of sports, CBS All Access is offering a month free. The service has over 10,000 episodes available to watch on-demand, including episodes from favorites like Star Trek Discovery and The Late Show with Stephen Colbert.
CBS All Access
There is constant competition among cord-cutting services. Between Netflix and Hulu, along with Prime and the impending Disney+, there are plenty of options to choose from. That's not even considering services akin to CBS All Access, like NBC's up-and-coming NBC Universal or Disney's ESPN+.
So is CBS All Access worth the money you'll pay once your one month is up?
The heaps of original programming that this service comes with will make it a definite yes for fans of shows like Star Trek Discovery, The Good Fight, or those looking forward to the up-and-coming reimagining of The Twilight Zone. Subscribers can choose between an option with limited commercials for $5.99 monthly, or upgrade to the commercial-free option for $9.99. CBS All Access is currently available to stream on a wide variety of devices. Smartphones, tablets, Xbox One, Macs, PCs, and Fire TV are just a few of the options offered.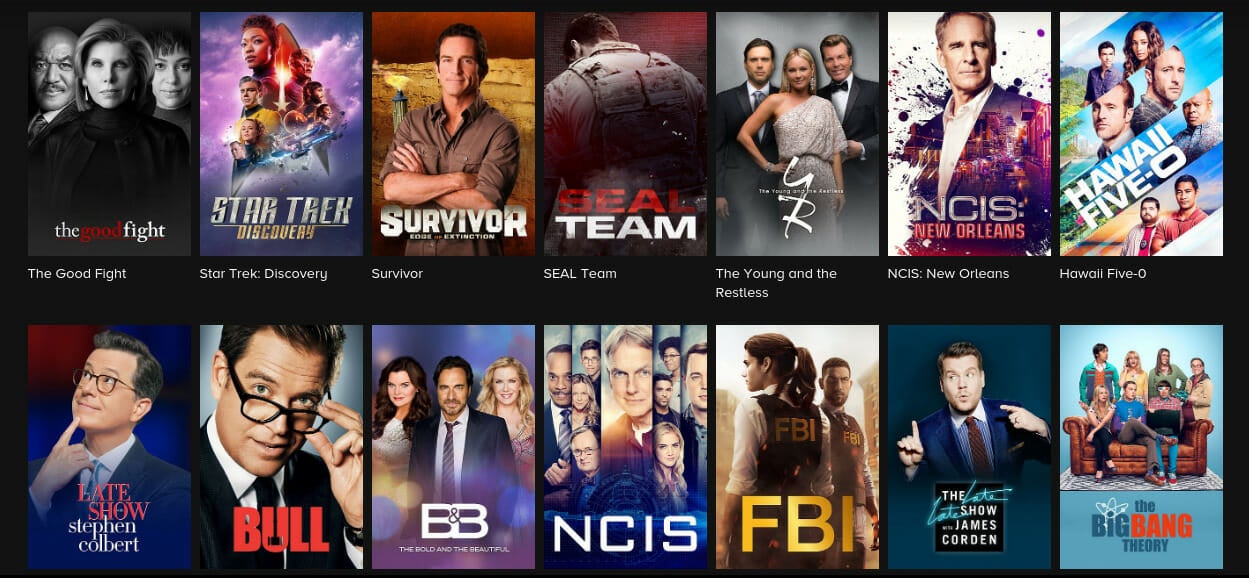 Subscribers will get access to the most recent episodes the day after they air, and some will even be able to live stream their local CBS affiliate. To get the month free, subscribers just need to enter the promo code "marchmad."
Areas offering live CBS
There is even a list of the areas CBS All Access offers access to live CBS, courtesy of Cord Cutters News. If you see your area on the list, it might be worth trying out—if only for a month.
Albany, GA (WSWG)
Albany / Schenectady NY (WRGB)
Albuquerque / Santa Fe, NM (KRQE)
Alexandria, LA (KALB)
Amarillo, TX (KFDA)
Anchorage, AK (KTVA)
Atlanta, GA (WGCL)
Augusta, GA / Aiken, SC (WRDW)
Austin, TX, (KEYE)
Bakersfield, CA (KBAK)
Baltimore, MD (WJZ)
Bangor, ME (WABI)
Baton Rouge, LA (WAFB)
Beaumont-Port Arthur, TX (KFDM)
Bend, OR (KBNZ)
Birmingham, AL (WIAT)
Binghamton, NY (WBNG)
Billings, MT (KTVQ)
Biloxi / Gulfport, MS (WLOX)
Bluefield / Beckley / Oak Hill, WV (WVNS)
Boise, ID (KBOI)
Boston, MA / Manchester, NH (WBZ)
Bowling Green, KY (WNKY)
Bryan / College Station (KBTX)
Buffalo, NY (WIVB)
Burlington-Plattsburgh, NY (WCAX)
Butte, MT (KXLF)
Cedar Rapids / Waterloo / Iowa City / Dubuque, IA (KGAN)
Champaign and Sprngfld / Decatur, IL (WCIA)
Charleston / Huntington, WV (WOWK)
Charleston, SC (WCSC)
Charlotte, NC (WBTV)
Charlottesville, VA (WCAV)
Chattanooga, TN (WDEF)
Cheyenne / Scottsbluff, WY (KGWN)
Chicago, IL (WBBM)
Chico / Redding, CA (KHSL)
Cincinnati, OH (WKRC)
Clarksburg / Weston, WV (WDTV)
Cleveland / Akron (Canton), OH (WOIO)
Colorado Springs / Pueblo, CO (KKTV)
Columbia / Jefferson City, MO (KRCG)
Columbia, SC (WLTX)
Columbus, GA / Opelika, AL (WRBL)
Columbus, OH (WBNS)
Columbus / Tupelo, MS (WCBI)
Corpus-Christi, TX (KZTV)
Dallas / Ft. Worth, TX (KTVT)
Davenport, IA; Rock Island / Moline, IL (WHBF)
Dayton, OH (WHIO)
Denver, CO (KCNC)
Des Moines / Ames, IA (KCCI)
Detroit, MI (WWJ)
Dothan, AL (WTVY)
Duluth-Superior, MN (KBJR)
Elmira (Corning), NY (WENY)
El Paso (Las Cruces), TX (KDBC)
Erie, PA (WSEE)
Eugene (Coos Bay/Roseburg), OR (KVAL)
Eureka, CA (KVIQ)
Evansville, IN (WEVV)
Fairbanks, AK (KXDF)
Fargo / Valley City, ND (KVLY)
Flint / Saginaw / Bay City, MI (WNEM)
Fort Myers / Naples, FL (WINK)
Fort Smith / Fayetteville / Springdale / Rogers, AR (KFSM)
Fort Wayne, IN (WANE)
Freeport, IL (WIFR)
Fresno / Visilia, CA (KGPE)
Gainesville, FL (WGFL)
Grand Rapids / Kalamazoo / Battle Creek, MI (WWMT)
Great Falls, MT (KRTV)
Green Bay / Appleton, WI (WFRV)
Greensboro / High Point / Winston Salem, NC (WFMY)
Greenville/New Bern/Washington, NC (WNCT)
Greenville /Spartansburg, SC / Ashville, NC (WSPA)
Greenwood-Greenville, MS (WXVT)
Harlingen / Weslaco / Brownsville / McAllen, TX (KGBT)
Harrisonburg, VA (WSVF-CD)
Harrisburg / Lancaster / Lebanon / York, PA (WHP)
Hartford / New Haven, CT (WFSB)
Honolulu, HI (KGMB)
Houston, TX (KHOU)
Huntsville / Decatur / Florence, AL (WHNT)
Idaho Falls/Pocatello, ID/Jackson, WY (KIDK)
Indianapolis / Kokomo, IN (WTTV)
Jackson, MS (WJTV)
Jackson, TN (WBBJ)
Jacksonville, FL (WJAX)
Johnstown / Altoona / State College, PA (WTAJ)
Jonesboro, AR (KJNB)
Joplin, MO / Pittsburg, KS (KOAM)
Juneau (Sitka/Ketchikan), AK (KTVA)
Kansas City, MO (KCTV)
Knoxville, TN (WVLT)
La Crosse-Eau Claire, WI (WKBT)
Lafayette, IN (WLFI)
Lafayette, LA (KLFY)
Lake Charles, LA (KSWL-LD)
Lansing, MI (WLNS)
Laredo, TX (KYLX)
Las Vegas, NV (KLAS)
Lexington / Hazard, KY (WKYT)
Lexington, KY (WYMT)
Lima, OH (WOHL-CD)
Little Rock / Pine Bluff, AR (KTHV)
Lincoln / Hastings / Kearney, NE (Grand Island) – KOLN
Los Angeles, CA (KCBS)
Louisville, KY (WLKY)
Lubbock, TX (KLBK)
Macon, GA (WMAZ)
Madison, WI (WISC)
Mankato, MN (KEYC)
Medford / Klamath Falls, OR (KTVL)
Memphis, TN (WREG)
Meridian, MS (WMDN)
Miami / Ft. Lauderdale, FL (WFOR)
Milwaukee, WI (WDJT)
Minneapolis / St. Paul, MN (WCCO)
Minot / Bismarck, ND (KXMC)
Missoula, MT (KPAX)
Mobile, AL / Pensacola, FL (WKRG)
Monroe, LA / El Dorado, AR (KNOE)
Monterey-Salinas, CA (KION)
Montgomery / Selma, AL (WAKA)
Myrtle Beach / Florence, SC (WBTW)
Nashville, TN (WTVF)
New Orleans, LA (WWL)
New York, NY (WCBS)
Norfolk / Portsmouth / Newport News, VA (WTKR)
North Platte, NE (KNPL)
Odessa / Midland, TX (KOSA)
Oklahoma City, OK (KWTV)
Omaha, NE (KMTV)
Orlando / Daytona Beach / Melbourne, FL (WKMG)
Ottumwa, IA / Kirksville, MO (KTVO)
Paducah-Cape Girard-Harsbg, GA (KFVS)
Palm Springs, CA (KESQ)
Panama City, FL (WECP-LD)
Parkersburg, WV (WIYE-LD)
Peoria / Bloomington, IL (WMBD)
Philadelphia, PA (KYW)
Phoenix (Prescott), AZ (KPHO)
Pittsburgh, PA (KDKA)
Portland, ME (WGME)
Portland, OR (KOIN)
Presque Isle, ME (WAGM)
Providence / New Bedford, RI (WPRI)
Quincy, IL / Hannibal, MO / Keokuk, IA (KHQA)
Raleigh / Durham (Fayetteville), NC (WNCN)
Reno, NV (KTVN)
Richmond / Petersburg, VA (WTVR)
Roanoke / Lynchburg (WDBJ)
Rochester, MN / Mason City, IA / Austin, MN (KIMT)
Rochester, NY (WROC)
St. Joseph, MO (KCJO-LD)
Sacramento / Stockton / Modesto, CA (KOVR)
Saint Louis, MO (KMOV)
Salisbury, MD (WBOC)
Salt Lake City, UT (KUTV)
San Antonio, TX (KENS)
San Diego, CA (KFMB)
San Francisco / Oakland / San Jose, CA (KPIX)
Santa Barbara, CA (KCOY)
Savannah, GA (WTOC)
Seattle / Tacoma, WA (KIRO)
Sherman, TX / Ada, OK (KXII)
Shreveport, LA (KSLA)
Sioux City, IA (KMEG)
Sioux Falls / Mitchell, SD (KELO)
South Bend / Elkhart, IN (WSBT)
Spokane, WA (KREM)
Springfield / Holyoke, MA (WSHM)
Springfield, MO (KOLR)
Syracuse, NY (WTVH)
Tallahassee, FL / Thomasville, GA (WCTV)
Tampa /St. Petersburg / Sarasota, FL (WTSP)
Terre Haute, IN (WTHI)
Toledo, OH (WTOL)
Topeka, KS (WIBW)
Traverse City / Cadillac, MI (WWTV)
Tri-Cities, TN / Johnson City, VA (WJHL)
Tucson (Sierra Vista), AZ (KOLD)
Tulsa, OK (KOTV)
Twin Falls, ID (KMVT)
Tyler / Longview, TX (KYTX)
Utica, NY (WKTV)
Waco / Temple / Bryan, TX (KWTX)
Washington, DC (WUSA)
Watertown, NY(WWNY)
Wausau / Rhinelander, WI (WSAW)
West Palm Beach / Ft. Pierce, FL (WPEC)
Wheeling / Steubenville, OH (WTRF)
Wichita / Hutchinson Plus, KS (KWCH)
Wichita Falls, TX / Lawton, OK (KAUZ)
Wilkes Barre / Scranton, PA (WYOU)
Wilmington, NC (WWAY)
Yakima / Pasco / Ricchland / Kennewick, WA (KIMA)
Youngstown, OH (WKBN)
Yuma, AZ / El Centro, CA (KSWT)
READ MORE:
H/T CordCuttersNews