Since NBC still hasn't fixed their crappy online streaming problems, here are three things worth seeing again from the second weekend of the Olympics.
On YouTube
The Olympic coverage on BBC is a bit different from ours. There's no Ryan Seacrest conducting stupid social media segments, no Mary Carillo wandering around the United Kingdom discovering tea, and no calming voice of Bob Costas to sooth you into a night's slumber.
Instead, British viewers are treated to what the BBC does best: measured and mature coverage, with very little goofing around. However, a clip of three BBC commentators freaking out over British runner Mo Farrah's gold medal finish is worth watching. They're jumping out of the chairs and pumping their fists as Britain brought in six gold medals Saturday—the most in a day since 1908. Now that's a reason to celebrate.
On Twitter
Once deemed ineligible to compete for having two prosthetic legs, runner Oscar Pistorius made Olympic history this weekend for being the first amputee to compete. Unfortunately his carbon-fiber legs couldn't propel him to medal contention as he failed to qualify for the men's 400 meter final.
But many users on Twitter are congratulating him for overcoming the odds against him. "Oscar Pistorius you have inspired all," tweeted one user. A picture tweeted by the Solihull Police showing Pistorius running side-by-side with a little girl, also without legs, has captured many people's attention. "If this picture doesn't inspire you [we're] not sure what will," the caption read. It's been tweeted nearly 900 times since its posting Saturday.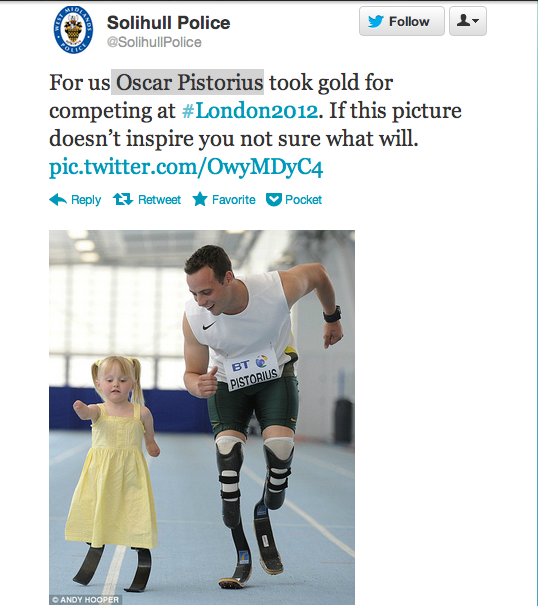 On Tumblr
With nearly 4,000 notes, it would've been difficult to miss our own Fernando Alfonso III's fantastic GIF of Serena Williams dancing to celebrate her gold medal win, but here it is again.
Williams steamrolled over Russian Maria Sharapova in just 63 minutes to capture the gold medal on Saturday. Following the 6-0, 6-1 knockout, Williams celebrated by dropping like it's hot and doing the crip walk. One writer called it a "nice homage" to her hometown of Compton, but a Fox Sports writer got his boxers and a bunch and freaked out over the mindless shuffle. For the love of GIF, can't we all just get along?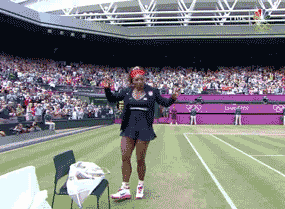 Photo via Hashgram