We've finally sobered up from last week's three-day weekend to bring you this edition of Buzzed—what you missed online because you were offline, having a life. Good on you!
Britain freaks out over Queen's Jubilee
Thousands of drenched and depressed Brits crowded the banks of the River Thames in London on Sunday to catch a rare look of Queen Elizabeth II floating in a boat. The rather charming celebration marked the Queen's 60th year of reign and no matter how pointless this whole thing is, people took notice.
More than 500,000 tweets used the word "jubilee" in the past seven days according to Topsy. One of the most popular tweets came from British rapper Example, who mocked the celebration and presumably tweeted this with his adorable accent: "The Queen's Jubilee this weekend – 'Jubilee' is actually Latin for 'traffic is fucked.'"
But perhaps a more joyous way to enjoy the Jubilee is a stroll through Instagram, where some Brits happily marked the occasion. On Hashgr.am, a web-based Instagram viewer, we found a lot of great pictures but this picture (below) of wet Brits looking mildly amused properly sums it up.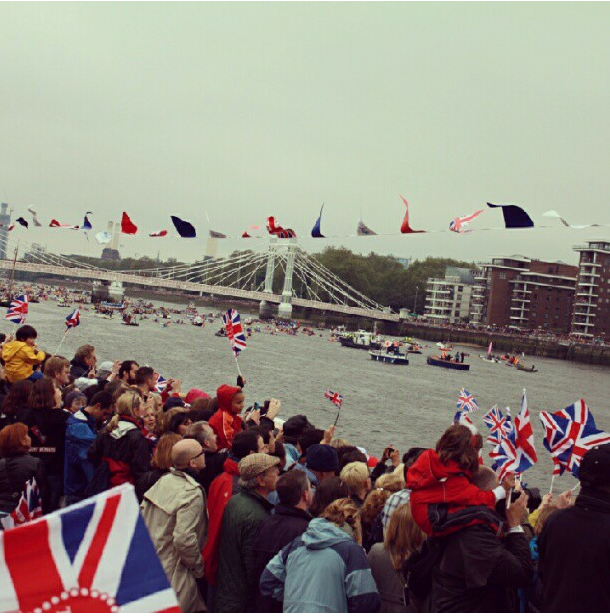 Former Family Feud host Richard Dawson dies
The former Family Feud host died in Los Angeles on Saturday. He was 79.
His son, Gary Dawson, posted a note on Facebook announcing his father's death writing that he died because of complications with esophageal cancer. "He was an amazing talent, a loving husband, a great dad, and a doting grandfather. He will be missed but always remembered," the note said.
Comedian Patton Oswalt summed up Dawson's death by poignantly tweeting "Good-bye, Richard Dawson. You wore vests like a villain, fucked Diana Dors, & handled Midwesterners with aplomb. A life well lived."
But perhaps the best way remember Dawson is this clip from an old episode of Family Feud where he can't regain his composure after an absolutely stupid answer.
Miss USA predictably makes a "Call Me Maybe" cover
Of course the pageant, I mean scholarship program, that couldn't freshen up the show if one of the contestant's fake eyelashes depended on it would create their own moronic cover of "Call Me Maybe." And they did!
Donald Trump, who took time out of his birther "fact-finding mission" to be a reasonable human being, appears in it. Along with the girls, Bravo host/bobblehead Andy Cohen and E! News reader Giuliana Rancic also bop around in the three-minute video.
Photo via YouTube