In Buzzed, we take a look at three things that trended over the weekend while you were away from your keyboard getting buzzed.
On Twitter
An intimate picture of Vice President Joe Biden with a lady biker sitting on his lap caught the eye of Twitter on Sunday. The veep was mingling with customers at a diner in Seaman, Ohio and an Associated Press photog captured this candid moment. A TwitPic from BuzzFeed's Andrew Kaczynski racked up more than 117,000 views in fewer than nine hours.
Looks like Biden is prepping for the new season of Sons of Anarchy.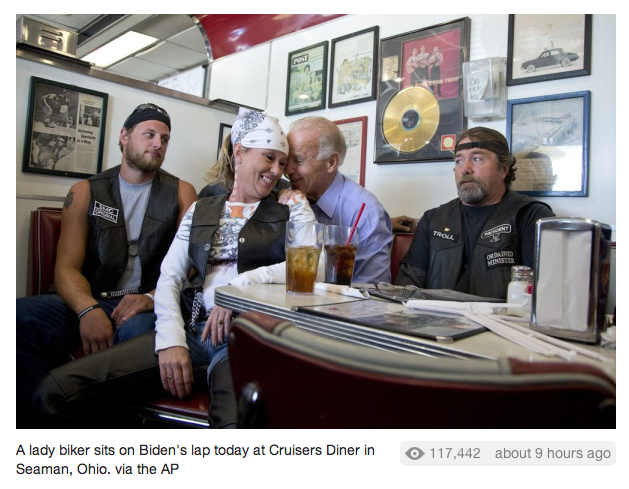 On Tumblr
Tumblr users can't handle Sunday's news of the marriage of sexy people Blake Lively and Ryan Reynolds. The blogging site exploded with shocked reaction GIFs, posts of disbelief, and pressures for Lively to pop out a baby.
But it was Ryan Lochte who was the biggest loser. Tumblr user citysleep pointed out this might have been the least opportune time for the Olympic swimmer to point out his love for the gossip girl. Jeah, that's not good.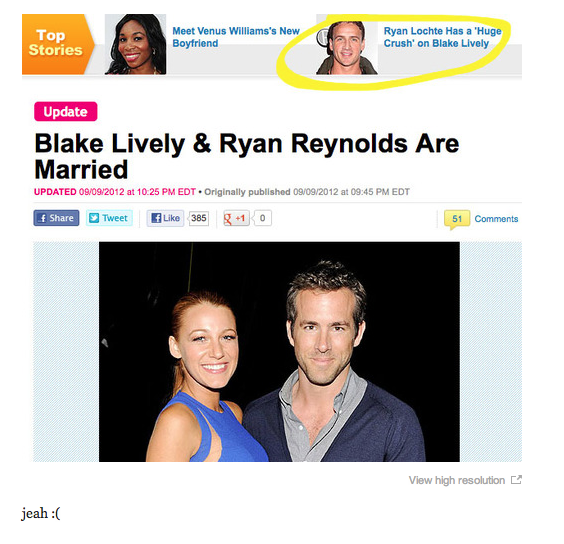 On YouTube
Let us introduce you to Lorna Bliss: an impassioned, slightly off, terrible-dressing Britney Spears impersonator from the U.K. She tried out for the British edition of The X Factor, and her audition is what you expect from a 33-year-old wearing a bodystocking and a neon bikini.
We just need Bliss to audition on the U.S. version of The X Factor, where real Brit is judging, so we can watch who makes the audience cringe first.
Photo via The X Factor/YouTube