Beyoncé released a new single, Morgan Freeman did not join Twitter, and Tumblr remembers Tony Scott.
Weekends without the Olympics are so boring, but here are three videos, tweets, and Tumblr posts you missed while you were busy adjusting back to your normal, post-Olympic-glory life.
On YouTube
In honor of World Humanitarian Day—which is a thing, apparently—perfect human being Beyoncé released a new (and really sad) music video titled "I Was Here." The holiday, put on in conjunction with the United Nations, is to "recognize those who face danger in order to help others." This year's theme? Wait for it—"I Was Here." On Sunday, good citizens of the world were encouraged to "do something good, somewhere, for someone else."
The bodacious singer told everyone in the world that in order to spread that message, they were to do something good, like making a homeless person a sandwich or not posting Breaking Bad spoilers on Twitter. In the video, she's draped in a long, flowing white dress with pictures of humanitarian workers flashing behind her, and the four-minute song has racked up 300,000 views since its YouTube release Sunday, and probably 600,000 tears.
On Twitter
Iconic actor Morgan Freeman doesn't tweet, but a lot of people over the weekend thought he did. And you all should be ashamed of yourselves! A mock account, @morgonfreeman (notice the O and not the A), tweeted something that sounds like it could've come from the all-knowing Freeman but didn't: "I hate the word homophobia. It's not a phobia. You are not scared. You are an asshole," the parody account tweeted late last week.
The nicely written tweet racked up more than 65,000 retweets when we spotted it Sunday night. However, right as we were reloading it, Twitter suspended the faux Freeman account. We got a cached screen grab of the tweet when it had 41,000 retweets, but it's a bit embarrassing to see people tweeting at the account and thinking it was actually Freeman. Don't believe everything you read on the Internet, kids.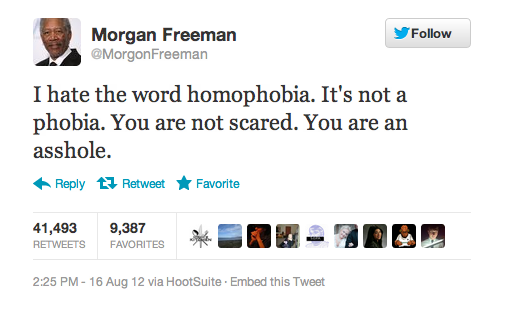 On Tumblr
On Sunday, Top Gun director Tony Scott killed himself by jumping off a bridge in California, according to police officials. Investigators found a suicide note in Scott's car. The British director and producer had quite the résumé: His IMDb page notes he was the executive producer behind two hit CBS dramas (Numb3rs, The Good Wife), directed of a plethora of action films such as Enemy of the State and Crimson Tide, and was spearheading Top Gun 2.
On Tumblr, fans wrote messages of support for Scott, who leaves behind a wife and young twin boys. "R.I.P. Tony Scott. You had a huge effect on my childhood. What terribly strange and sad news," wrote a fan. Others are posting film stills, reaction GIFs, and movie clips from Scott's career. One tribute really caught our eye, though. In a white font, over a man running in fire (an ode to his film Man on Fire, we're hoping) reads "R.I.P. Tony Scott."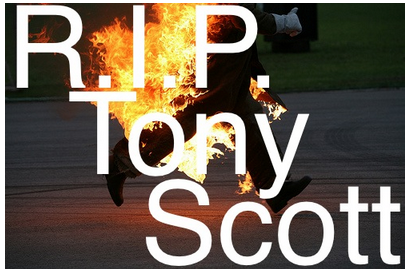 Photo via YouTube