Warning: This story contains sexually explicit material.
Try as it might, YouTube cannot possibly manage or censor the flood of porn uploaded to its site every minute.
In mid-February, YouTube pulled Wood Rocket's "Definitely the best Harlem Shake" shortly after the Daily Dot made a request for comment. In the teaser clip, eight porn actresses do the Harlem Shake in a locker room—naked. The 30-second video racked up more than 30,000 views in three days.  
It's back.
The current version, uploaded by a user named schurli740, is actually the third YouTube iteration of the porn flick teaser. It first got taken offline in mid-February before a mirror copy reemerged a few days later. This installment of "Definitely the best Harlem Shake" has been seen 1,600 times.
In terms of YouTube's larger porn problem, "Definitely the best Harlem Shake" is barely even a nip slip. It's not hardcore porn with actual sexual penetration, after all, just a few naked women shimmying next to a guy holding a pizza box.
It does, however, speak to a larger problem YouTube faces: The site's censorship is a shell game, one that relies almost entirely on users to flag offensive or sexually explicit content. If a video get's taken down, another will likely soon replace it, on another person's channel and with another set of views.
Take, for example, this hyper-sexualized Louis Pion commercial, which pits a crew of naked ladies in a shower. Or the party scene from the Sébastien Tellier music video "Cochon Ville." There's all sorts of nudity involved in the latter, and it's been up since September. More than 8,000 people have watched it—and the preroll ads that come with it.
There's a treasure chest of these types of videos located at r/youtubetitties, a section on social news site Reddit where users post "nipslips, handbras, full frontal" YouTube videos "with an ounce of nudity or a load of nudity!"  There are well over 500 posts. Only a few of the options onsite have been flagged and removed.
Again, this stuff's not exactly XXX-rated. It's the 21st century. On the Internet, it's quite easy to find much, much worse. But it is a blatant violation of YouTube's community guidelines, which prohibits users from posting "pornography or sexually explicit content."
What exactly can YouTube do to stop it? After all, the more than 72 hours of video gets uploaded to the Google-owned site every minute. It's been estimated that policing that content would cost the company $35 billion a year. And sometimes, like in May 2009, the site falls victim to an elaborately devised "porn bombing," in which hours and hours of porn videos are uploaded to the site by 4chan hooligans.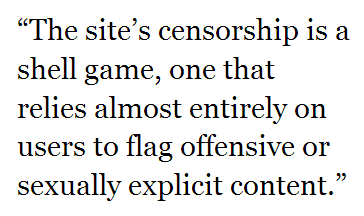 What's worse is that there's often no easy way for moderators to identify such content. Users can flag videos with "porn" or "sex" in the title, but YouTubers have learned to work around such common keywords.
Take, for example, this sex scene stripped from an episode of HBO's Game of Thrones. It's titled onsite as "Ros' scene from HBO's Game of Thrones," a description that's rather G-rated and not at all indicative of the creative sex positions the actresses engage in.
That Louis Pion commercial we mentioned earlier, the one with the girls in the shower: It's called "Louis Pion Horloger de mode Le bronzage," which is French for something about watches. That's something you can't flag unless you watch it—and it's tough to find. And really, who cares to stop it?
We'd ask YouTube for comment, but they didn't get back to us last round, when we wrote about the "Harlem Shake" porn video last week. The company just removed the video 10 minutes after our story published and acted like it never existed.
But it did, and the video came back. And should the site decide to take it down again, it'll be back there soon. That'll happen again and again and again.
You cannot stop the porn on YouTube. You can only hope to contain it.
Screengrab via YouTube